"This is a sponsored post, I am a Kmart blogger, though all opinions are my own."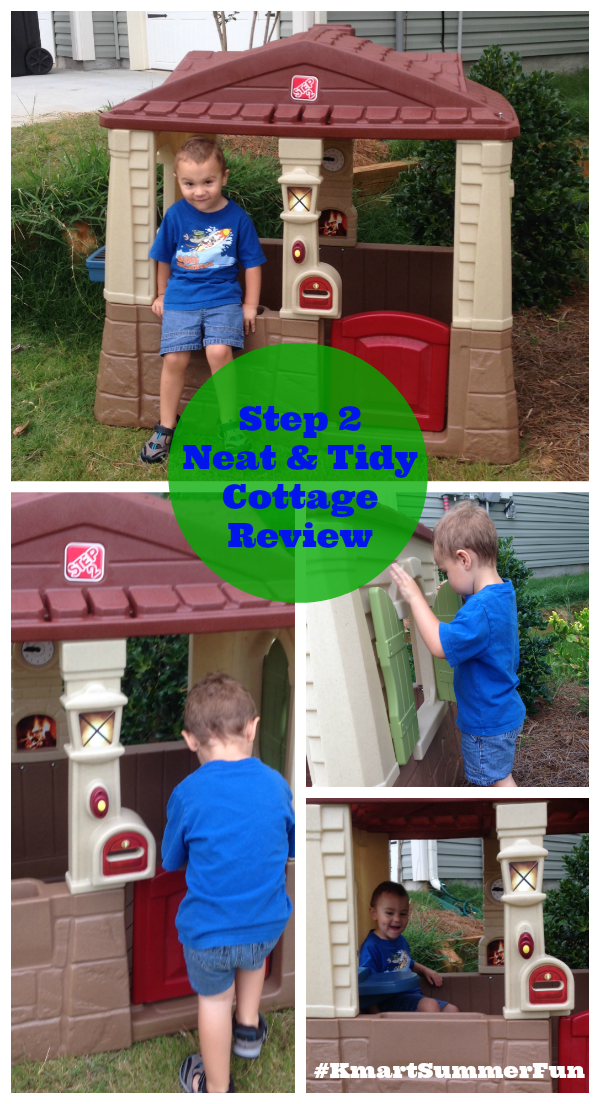 Get Outside This Summer with #KmartSummerFun!
Little Man is all about being outside this summer!  First thing in the morning he's hopping on the bed yelling "we go outside, we go outside"…it would be quite adorable except for the fact that he starts this ritual at 6:30 am EVERY SINGLE MORNING!  Trying to explain to him that we need to get clothes on before going outside is a battle all in itself…..but once we're up and out we're usually outside most of the day.
Having a small yard gives us limited space to play so I try to make the most out of every inch we have.  That's why I already LOVE the Step 2 products….they're a great quality packed full of fun in a compact space.  Little Man already had the sand/water table and adores it…so I jumped at the chance to review the Step 2 Neat & Tidy Cottage.
I must say, assembling the Neat & Tidy Cottage was much easier than I had anticipated.  Poor Little Man had to wait about 3 days drooling over the new playhouse before Hubs had a chance to help me get it assembled.  Being 4 months pregnant I thought it was going to be quite the task but I was pleasantly surprised when we had the whole thing assembled in less than an hour without any heavy lifting!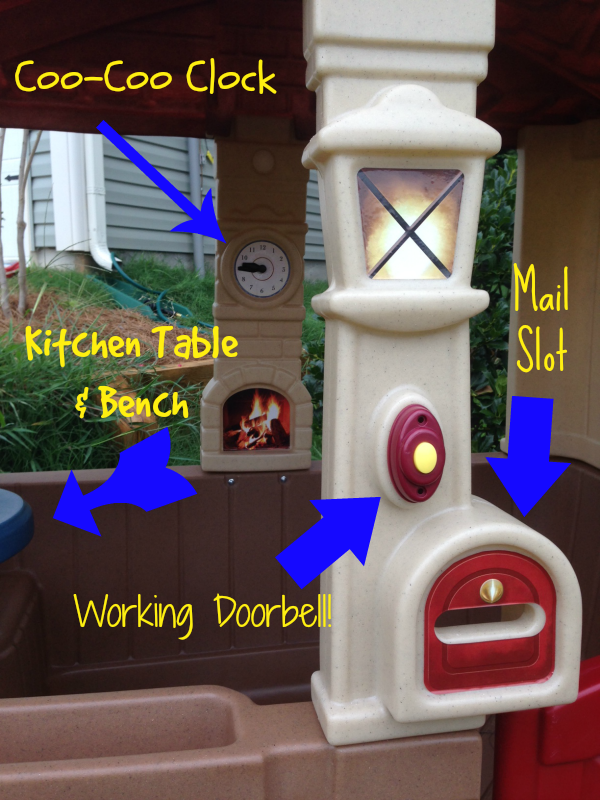 The playhouse itself if SUPER cute with it's working doorbell, mail slot, fireplace, coo-coo clock, and pass through kitchen window with a small table and seat.  The house matches our real house almost perfectly….it looks like we picked it out to match our house….which is great since I set it up out front…we've gotten several compliments from the neighbors along with some drooling from the neighborhood kids!
It makes the perfect play place for Little Man and his friends!  Every evening we go out to play and invite the other families over to partake in the fun….the parent's get time to sit and chat while the kids have a blast playing house….I can't think of a better toy for bringing the neighbors together!
So now,  instead of Little Man coming in every morning and saying "we go outside", he now is constantly asking "we play in playhouse, now"….and this is all day…but I love it because he loves the playhouse so much!  It's fun watching him play house with his friends and watch them use it as a home, a diner, a bakery, a fort…..their imagination is endless and precious!
If you're looking for some summer fun then I highly recommend getting the Step 2 Neat & Tidy Cottage for your little one…it's so much fun and at a great price!  Right now it's on sale at Kmart as part of their #KmartSummerFun campaign that encourages you to get outside with your family and enjoy all that summer has to offer!
Please follow and like us: