This post may contain affiliate links. We only share items that we love and make a small percentage of the sale if you choose to buy through our links- but there's never any added cost to you...our earnings go to important stuff like more coffee to survive the toddler years!
How to make caramel apples for Halloween.  This iconic Halloween treat is easier to make than you think…so why not whip up some caramel apples for Halloween!

How to Make Caramel Apples for Halloween
An Iconic Halloween Treat that's Easy to Make
Halloween is one of my favorite times of year…I get to totally indulge my sweet tooth!  As a kid I would always beg my parents for caramel apples when we would pass them at the store or a fair.  Well now there's no more begging as I found out how easy it is to make caramel apples.  These are perfect to make for school bake sales and Halloween parties.
Ingredients :
6+ Granny Smith Apples or Gala apples, large
2 bags of caramels
2 TBSP water
1 package of candy sticks
1 cup peanuts – chopped
1 bag of orange candy melts
1 bag of purple candy melts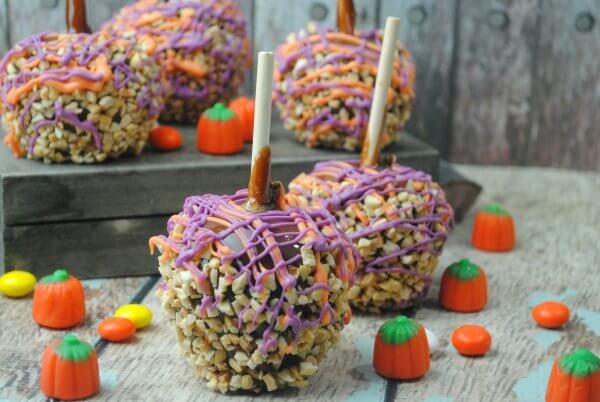 How to Make Caramel Apples for Halloween:
Grocery store apples have a wax coating. You will want to remove the coating before starting to make the caramel apples.
The easiest way to remove the wax coating is to dip your apples in a pot of boiling water for a short amount of time. When you remove the apples, one at a time, from the pot of water, use a rough cloth to wipe the remaining wax off of the apples. 
Set aside to allow your apples to cool. (Make sure that your apples are dry). Push a stick into the core of each of the apples. Cover each of your cookie sheets with wax paper, taping down each end. Spray the lined cookie sheets with baking spray. 
Next, unwrap your caramels and put them in a glass bowl with 2 tablespoons of water and put it in your microwave.
This is the time-consuming part, put the bowl of caramels and water in your microwave cooking on high for 2 minutes, stir and then return to the microwave for another minute, continue repeating this process until the caramel is fully melted.
Pick up each apple by the candy stick with a fork under the bottom of the apple dipping it into the melted caramel. If necessary use a spoon to cover the apple with the caramel.
Place each dipped apple on the wax papper lined cookie sheet. When your apples are done place in your refrigerator to cool for about 5 minutes.
Dip each caramel covered apple into the bowl of peanut bits and roll the sides of the apple in the apple bits. Place back on the wax paper.
Return to the refrigerator for 15 minutes or until the candy is firm on the apples.
Melt the purple and orange candy melts in separate bowls in the microwave, one at a time. When the orange candy is melted completely (following the previous steps) pour it into a plastic squeeze bottle and drizzle each apple and set asside to cool in the refrigerator.
Next, melt the purple candy melts and pour it into another plastic squeeze bottle and drizzle the purple candy on each apple. Return to the refrigerator until the purple melted candy is hardened.
It's important to drizzle the two colored candy melts separately or else you'll wind up with them mixing together and the final product isn't as pretty.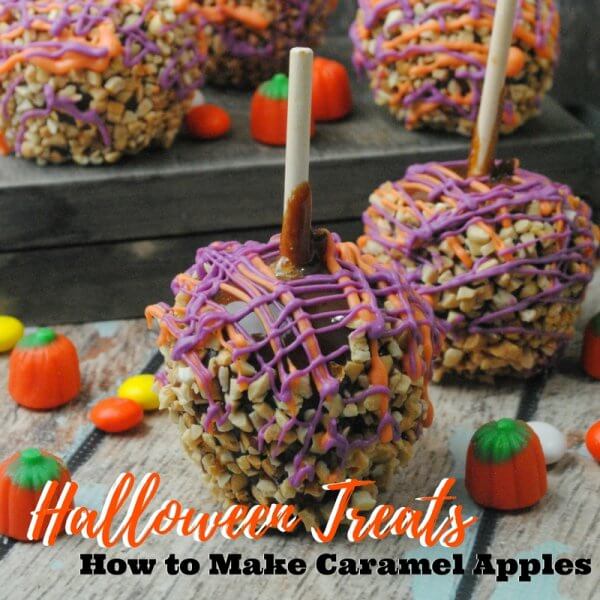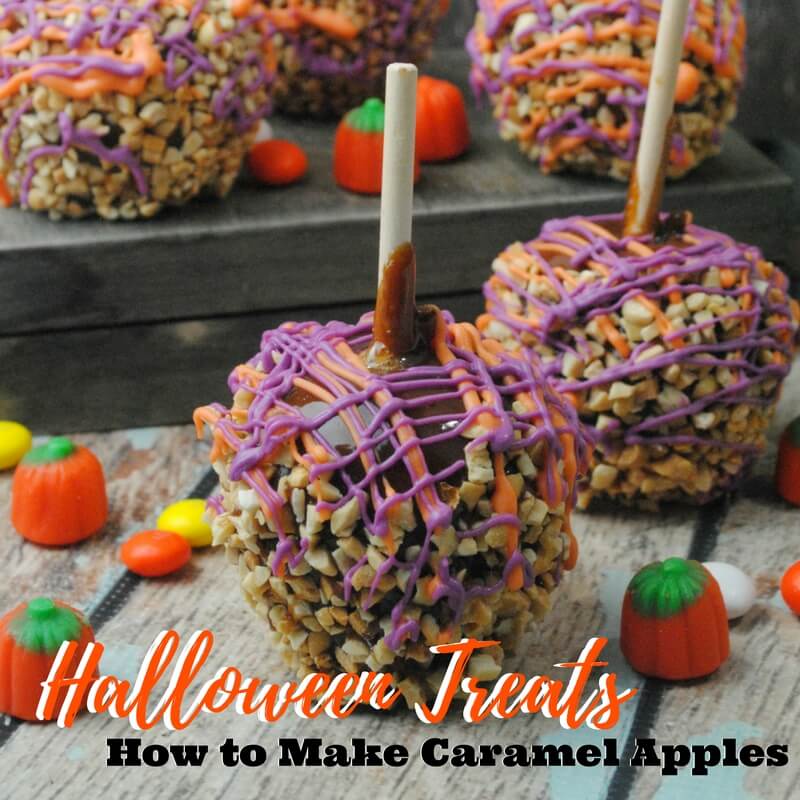 What's your favorite Halloween treat?  Share in the comments below!
You May Also Like:
Candy Corn Fall Popcorn Recipe
Sorcerer's Apprentice Mickey Cupcakes
Mickey Mouse Pumpkin Cookies Recipe
Pumpkin Snickerdoodle Cookie Recipe
Pumpkin Spice Cinnamon Roll Recipe Pops
Pumpkin Spice Pretzel Recipe
Join the Challenge
Are you ready to start spring cleaning but just overwhelmed with where to start? I'm right there with you! Join along in the 5 Day Spring Cleaning Challenge!!
The following two tabs change content below.
Melissa loves getting in the kitchen with her two children and teaching them about food, cooking, and healthy choices. She loves hosting events, traveling, and enjoying all life as to offer. Her latest cookbook "Serendipity Sweets" will be available for purchase in the fall.
Latest posts by Melissa Llado (see all)