Manic Monday Linky Party
Hundreds of crafts, recipes, DIY tutorials, family fun, and more!
I can barely contain my excitement today!!!!  Hubs and I have decided that we're going to take a sort of babymoon….except we're bringing Little Man AND a babysitter….so it'll be like one last hooray vacation for the 3 of us and then some one on one baby free time for Hubs and myself.  But that's not the most exciting part…..are you ready for the most exciting part?!  We're going to DISNEY!!!!!  
YEAH!  You know me….I'm a TOTAL Disney addict and I'm so ridiculously excited!  We're not doing the full Disney vacation we're just going to go to Orlando for a few days but we are definitely going to Disney World!  And, it's the perfect time because we'll be there for Mickey's Not So Scary Halloween Party….we did the Christmas Party a few years ago and it was awesome so I can't wait to do the Halloween Party!  
I'm a little bummed that I can't do any of the rides with Little Man….they really don't like big ol' pregnant chics on roller coasters….hmmm.  LOL!  But we're going to be at Disney World for our anniversary AND we get to experience all the fun of Halloween!  I can't wait to share it with you!  But, you'll have to wait too since we aren't going until October….but it's booked and now there's so much to do to get ready!
One last thing before the party….I wanted to share with you the weekly schedule for Serendipity and Spice…that way you know what to expect each day and can come back to see just what you want…or you can subscribe to the weekly newsletter and you'll get a full recap once a week (really, just once a week because I hate getting spammed and I know you do to…plus I don't have time to write blog posts and spam my readers with a whole bunch of email junk too! ;))
Sundays: Recipe Day
Mondays: The Manic Monday Linky Party (Sensational Post Shout Outs throughout the week on Social Media)
I even made up a super cute little button if you get a shout out!  Feel free to add it to your post if you get a Sensational Post Shout Out: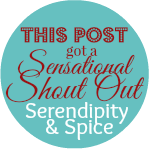 Tuesdays: Super Tip Tuesday…I'll be sharing all sorts of simple life hacks that will make you go "why didn't I think of that"!
Wednesdays: Crafty Fun
Thursdays: Round Ups Galore…. featuring some of your links from the Manic Monday Linky Party!
Fridays: The Weekly Bumpdate and Pregnancy Tips
Saturdays: Surprising Fun Saturday….who knows it could be a recipe, craft, blogging tip, Manic Monday Linky Party features….it'll be a surprise every week!
Don't forget the weekly newsletter still goes out every Monday at 9am….so make sure you get signed up so you'll get the reminder to stop by the Manic Monday Linky Party!  Don't worry, you won't get a ton of emails from me….just one a week!

Alright, so now for the party!!
The rules are simple….
1. If you link up then go visit the person linked up before you and at least 2 others and give them some comment love (do this for each post you link up)!  We're here to share the love so please don't link and run!
2. Following me would be awesome…that way you can see if you get a shout out or are featured.  Plus, it will help you to remember when/where the party.  You can find me on Facebook, Twitter, Pinterest, Google+, BlogLovin, and the weekly newsletter.  Send me a note when you follow me and I'll follow you back as well!

3.  Grab a button!  Linking back is not required but is always appreciated!  By linking back either by text link or with the sidebar button it helps others find this party and gets everyone more exposure!
4. Share on social media if you have a moment.  It would be awesome if you'd share this party with a tweet, FB shout out, Pin, or whatever!
5. Have FUN!!  Find some new friends, yummy recipes, and awesome projects!