This site contains affiliate links, 3rd party ads, and sponsored content. For more information please read our Disclosure Policy. As always, I only recommend products or services I personally use and love!
Personalized Chevron Child's Step Stool
For the Preppy Pirate Boy's Room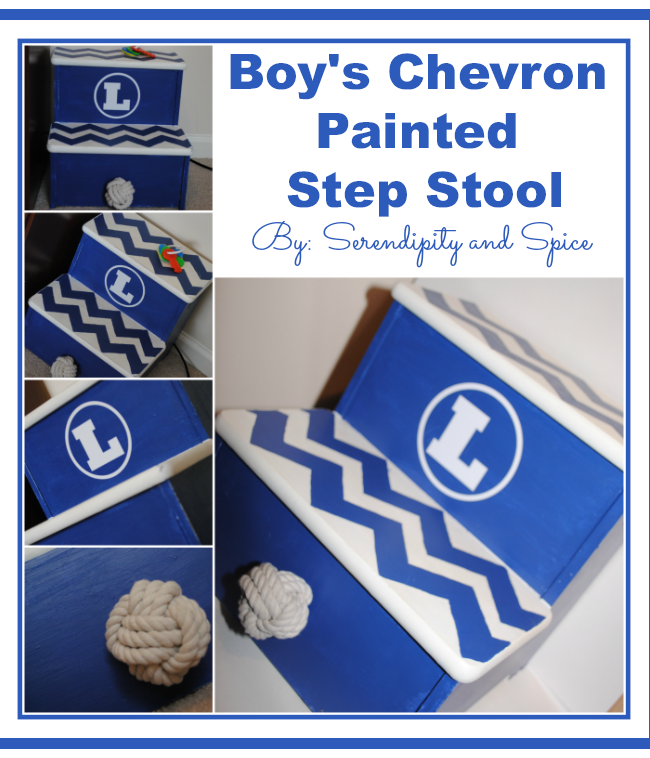 So, by now you guys realize that I LOVE yard sales– it really is true– "One Man's Junk is Another Man's Treasure!"
I give you the next piece of Little Man's preppy pirate room….. the Personalized Chevron Step Stool.  If you missed my explanation of the where the Preppy Pirate theme came from check out the anchor clock update from last week!  I so LOVE that clock….but now I'm really LOVING this step stool.
Yet again I found another $3 fabulous find at a yard sale.  Yep, just like the anchor clock this little guy cost me $3!  That seems to be my fabulous find price right now– I also found a super cute boat shelf for $3….I'll be sharing that one next week. 🙂  Anyway, when I found this little stool for $3 I almost passed on it because it was poop brown!  Yeah, poop brown and I want to put it in the bathroom so Little Man can reach the sink….gross!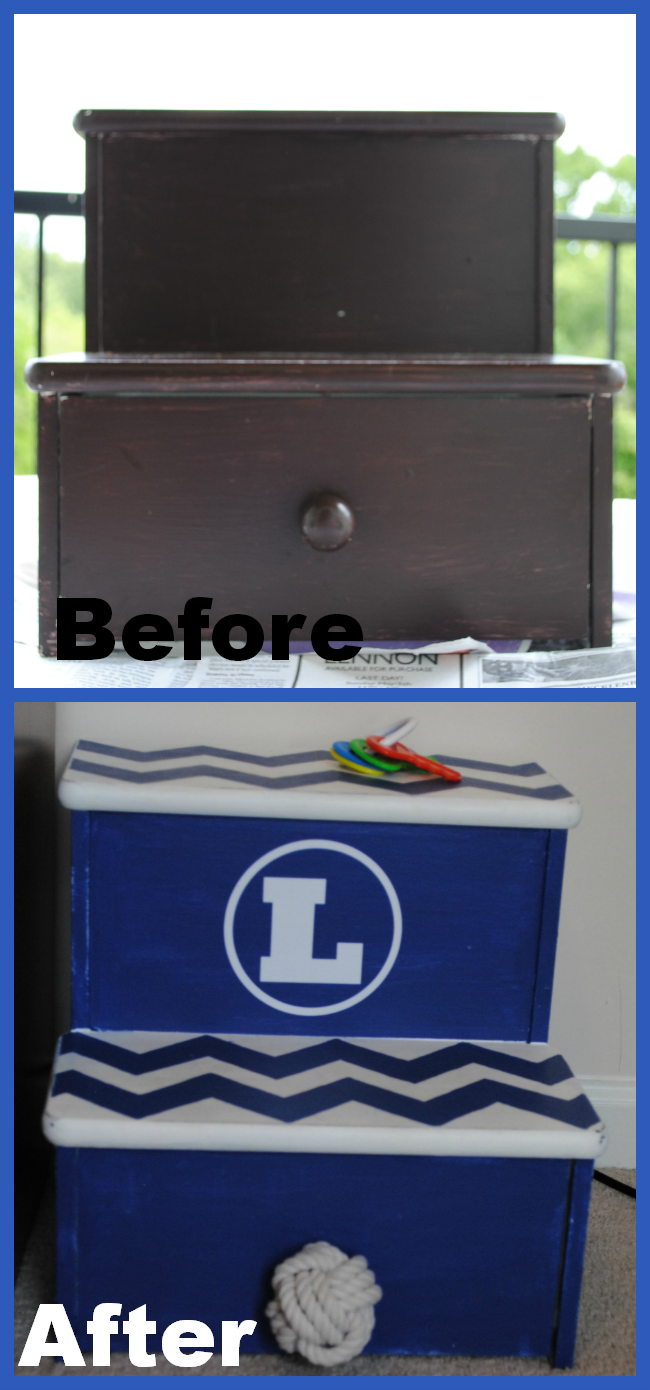 But, I reminded myself….a little paint does amazing things!  And the kicker is that someone chose for this step stool to be poop brown….it was orginally white but someone painted it poop brown.  Okay, sorry, I'm done discussing the poop brown color– but really….poop brown?!?!
I started off by priming the step stool– I love Zinsser Bulls Eye 1-2-3 Primer….this stuff will cover everything….even poop brown (okay, I'm really done!).  To make sure that none of the dark color showed through my paint I applied 2 coats of primer.
Then I painted the tops of the steps white.  I used an eggshell white so that it would look more natural when I scuffed it up a bit and so the dirt won't show as much.  I mean this is going in a boy's bathroom so I know better than to expect it to stay clean!
For the blue paint I went to Lowes and got a sample of ____________ blue.  You can get these sample bottles for just $3 and the paint is fantastic!  I'm creating a collection of sample jars because I love the colors and the paint is fantastic quality paint– you really can't beat the price.  I never use enough of the same color to justify buying a whole quart or gallon but these little jars are the perfect size.  The step stool only used about 1/5 of the jar!  I'm thinking there's more than enough to do the dresser!
Once the white steps were dry I applied painters tape and painted the base of the stool the blue.
For the chevron print I printed off a template of a chevron style that I wanted– the simple, big, lines are what I was wanting.  Then I just used a pencil and drew the lines.  I could have used painters tape but I wante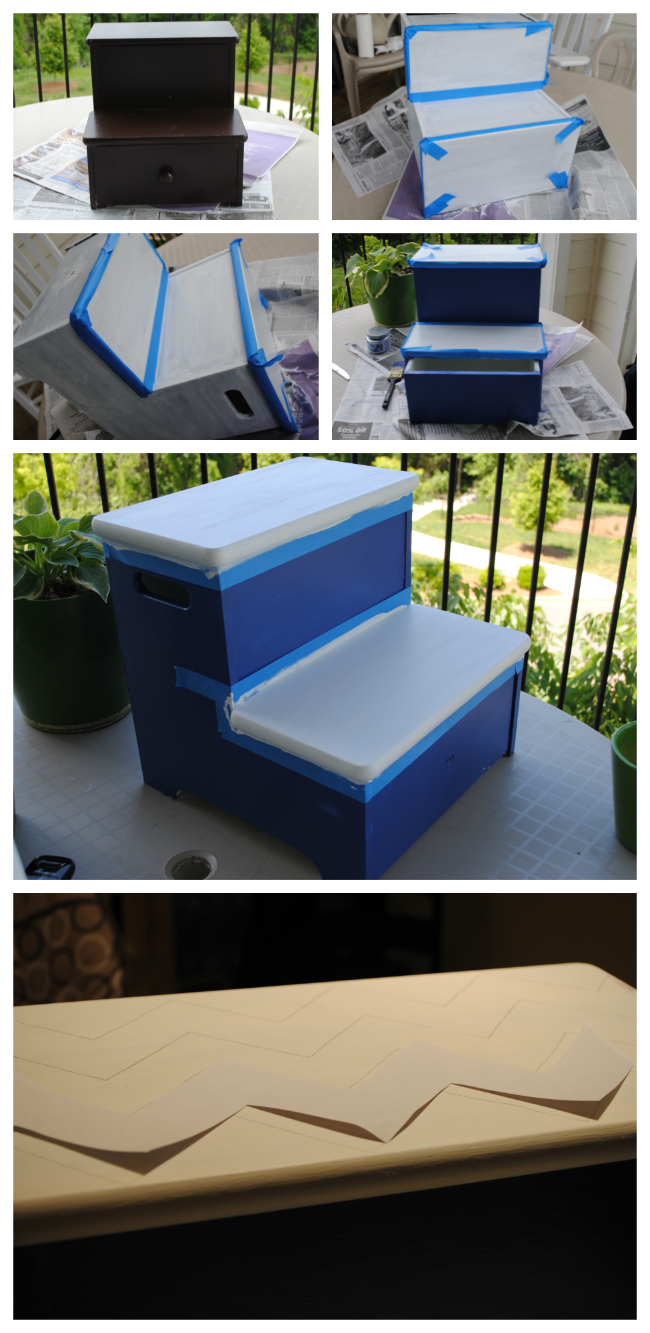 d to try to free-hand it and it worked perfectly.  I just painted in the chevron design.
Next I decided on the monogram that I wanted to do– I really like the circle with the initial inside.  So I used my Silhouette Cameo and cut some vinyl.  It easily adhered to the front of the step stool.
Finally, my favorite part….. adding the nautical touch to this piece.  I loved the idea of having a big rope knot for the handle pull but nice boating rope can get rather expensive…..that is until I was browsing through the Dollar Tree for something completely unrelated.  I saw this dog toy and thought– "this knot is PERFECT– it's EXACTLY what I want for the drawer pull".  So, you guessed it– I bought the dog toy and made it into a drawer pull!
How to make a dog toy into a drawer pull:
1. Undo the knot at one end.
2. Wrap the end in painters tape.
3. Drill a larger hole where the drawer pull goes.
4. Thread the wrapped end of the dog toy through the drawer pull hole.
5. Tightly knot the back end of the dog toy.
6. Cut off the excess rope.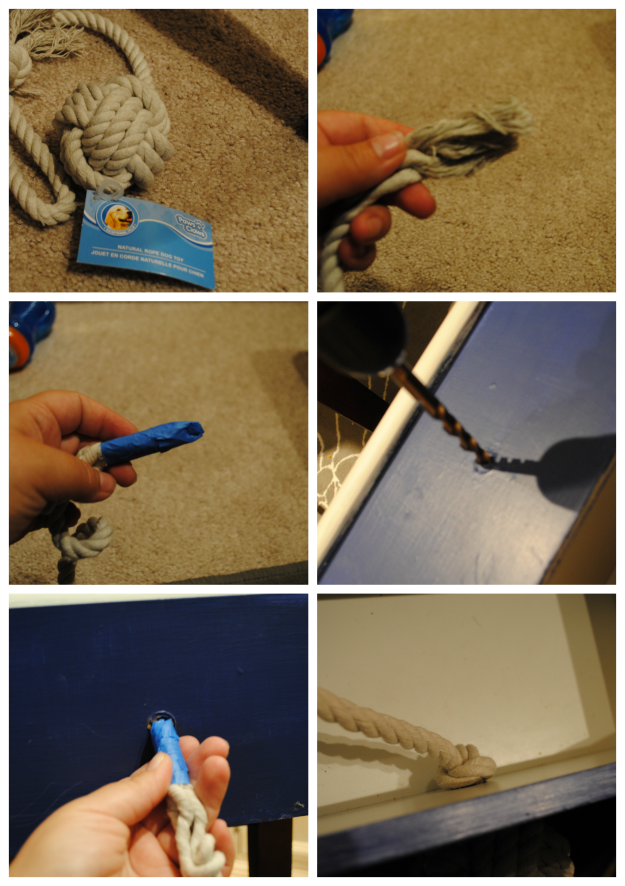 Now that's what I call a cute nautical themed step stool.  Make sure you stay tuned for more Preppy Pirate bedroom ideas!
Sharing is caring! We'd love it if you shared this post: