Progna Ghosh Sengupta
Recipe Contributor
All about Progna from "A Whiff of Spice"
Progna was born into a household that epitomizes "Live to Eat" philosophy. Being obsessively passionate about food was in her genes. Survival in new city, away from the cushioned life of home prompted her to venture in the uncharted territory called "the kitchen", and learn the nuances quickly. In no time her necessary chore become her only passion.
Along with passion for food, Diabetes was also in her genes from both paternal and maternal sides. She was more or less prepared for it, but least expected it to happen when she was about to experience the most wonderful phase of life: Motherhood!
What was deemed to be just "Gestational Diabetes", turned out to be Type 1 Diabetes! After overcoming her initial shock, she started "A Whiff of Spice", to chronicle her life with diabetes and come up with easy, delicious, yet diabetic friendly recipes. As tough and depressing as it sounds, maintaining a diabetic friendly lifestyle is not that bad.
She's fitter, lighter and more active than her pre-diabetic days.
A Whiff of Spice is her humble endeavor to bring spice back in the lives of people suffering from diabetes or any other digestive issues, which stops them from celebrating the most delicious aspect of life – Food. She truly believes that "Diabetes is not the end of the road; It's a new beginning to healthy living!"
A Whiff of Spice is all about "Making Diabetes Delicious!"
She is an eternal optimist and loves Trivia Night. Googling for random information is her favorite hobby. She's also a self-proclaimed Pinterest addict. When she is not developing new recipes, or shooting them or blogging about them, she loves doing simple crafts or crazy science experiments with her 7 year old son. They also bake a lot of muffins together.
Progna's Top Posts from Whiff of Spice:
Tomato-Basil Soup with Cashew Butter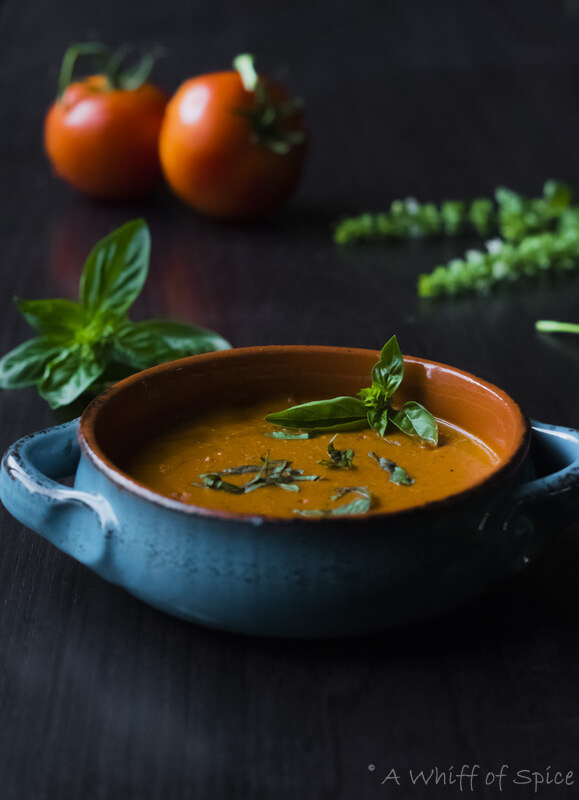 A luxurious, dairy free, vegan soup that my family is currently obsessed with. The neutral flavor of the rich, creamy Raw Cashew Butter isn't overpowering like any other nut butter. Instead, it brings a subtle silkiness to the soup. The fragrant Basil beautifully perfumes the soup, making it an awesome Lunch option. You can dunk a few whole wheat crackers or chow down a small salad with it. It can also be the perfect First Course for your dinner.
Orange – Rosemary and Smoked Salt Roasted Almonds

Orange and Rosemary, with a generous sprinkle of Smoked Salt – need I say any more? You need its astringency of the Rosemary to balance the neutral taste of almonds. The fruity, citrus(y) scent of the Orange zest complements the woodsy aroma of Rosemary perfectly. And it all comes together with some smoky Sea Salt and sweet Honey – a perfect harmony of flavors. A li'l sweet, a li'l savory; crunchy and oh-so aromatic. Perfect way to greet your guests this holiday season or gift them in cute baggies or jars.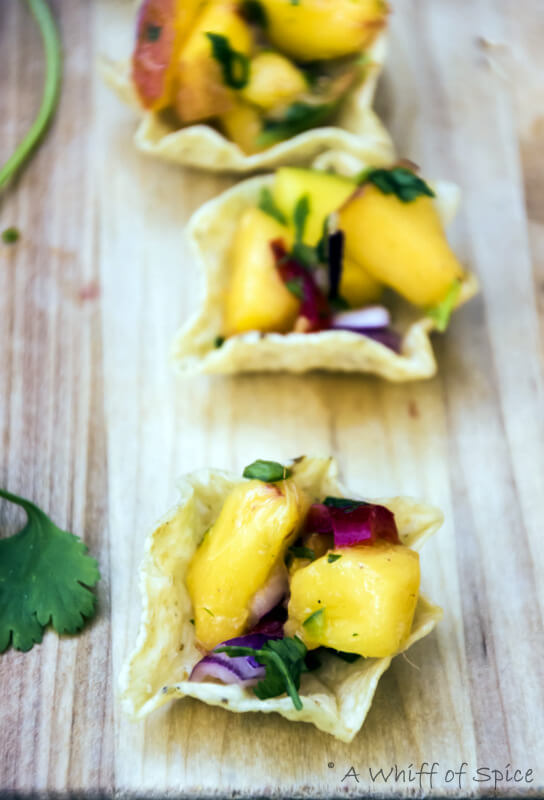 When life gives you Lemons… you make Lemonade.
But what happens when it gives you sad peaches? You make a Peach Salsa!
Sweet juicy fruit meets a zippy lime-ginger dressing! The sweetness of fruits plus the spiciness of ginger equals 'a perfect harmony of flavors'. This Peach-Mango Salsa is not only great when served with Corn Chips, but is awesome on Grilled Pork Tenderloins, Chicken Breasts or Fish!
Find A Whiff of Spice
Facebook – Twitter – Instagram – Pinterest – Google+