These cute little pumpkin spice cinnamon roll recipe pops are a fun surprise for kids to make!  They are the perfect bite size treat that everyone loves this time of year!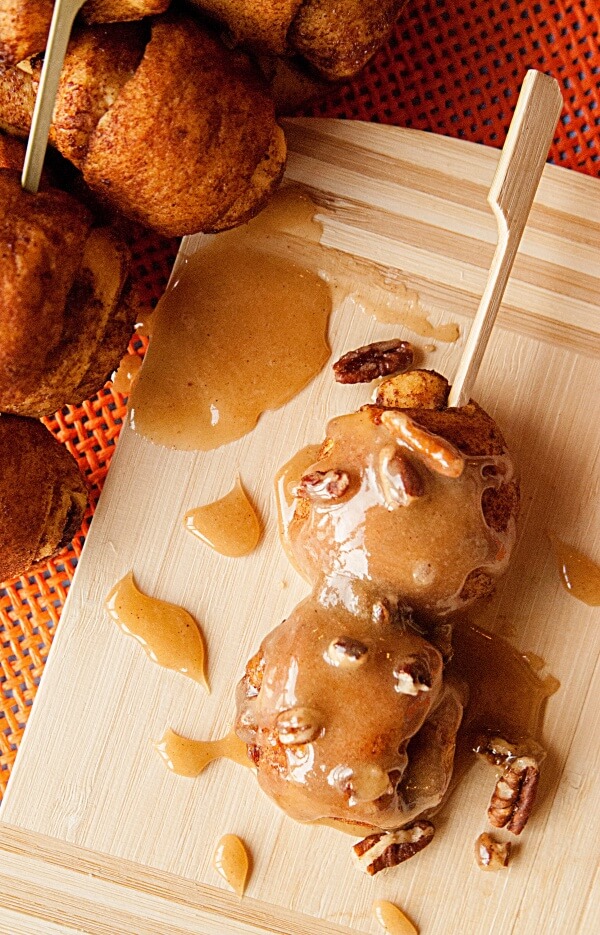 Pumpkin Spice Cinnamon Roll Recipe Pops
A Delicious Semi-Homemade Treat That Kids Love to Make
These pumpkin spice cinnamon roll recipe pops are a semi-homemade treat that I love whipping up on Thanksgiving morning with the kids.  They are so simple to make and everyone just gobbles them up….plus it helps me free up the oven and stove-top to start cooking the day's feast!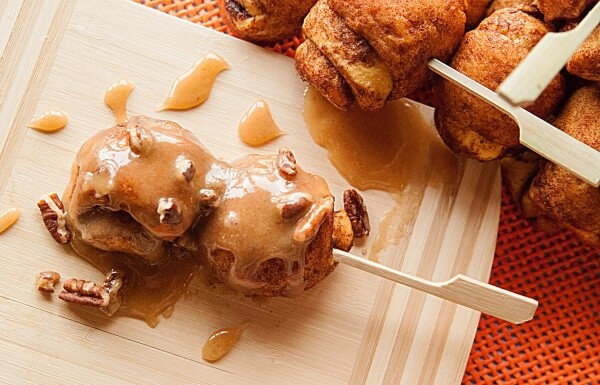 Little Man just LOVES spreading the cinnamon sugar mixture onto the crescent dough….I measure and he mixes then spreads.  Then I'll roll and cut and he'll skewer them onto the sticks.  I make the sugary sauce and he "makes the mess" pouring it all over the cooked cinnamon roll pops.
This is another simple recipe I make using Wildtree items.  If you're not familiar with Wildtree…check out this video…..it's my new love!  They make organic, all natural, GMO free sauces, spices, and easy dinner meals that I can feel good about feeding my family.  Lately I've been talking a lot about taking baby steps to a healthier lifestyle and one of those steps is cutting out the processed items we're constantly consuming.  So even though this recipe does use refrigerated pre-made crescent dough I try to sub out what I can for whole foods….it's all about the baby steps…obviously…because these pumpkin spice cinnamon roll pops are definitely some sweet sugary goodness!
Ingredients:
Cinnamon Pops
1 Can Crescent Dough
1 TBS Melted Butter
1/4 Cup Sugar in the Raw
1 TBS Wildtree Hearty Oatmeal Mix-In: Sugar and Spice
1 TSP Wildtree Pumpkin Pie Cheesecake Blend
Icing:
2 Cups Powdered Sugar
2 TSP Wildtree Pumpkin Pie Cheesecake Blend
2 TBS Melted Butter
1 TSP Pure Vanilla Extract
1 TBS Milk
Directions:
Preheat oven to 350 degrees.
Roll out crescent dough.
Mix together sugar in the raw, oatmeal mix in, pumpkin cheesecake blend.
Add melted butter to the sugar blend and mix well.
Spread sugar and butter blend all over the crescent dough.
Roll the crescent dough like a log.
Slice crescent dough into 1 inch slices and then cut those slices into fourths.
Soak your bamboo skewers in water for 10 minutes while you prepare the crescent dough– this way they don't burn in the oven.
Skewer crescent rolls pops onto wooden sticks.
Bake at 350 degrees for 10-12 minutes or until golden brown.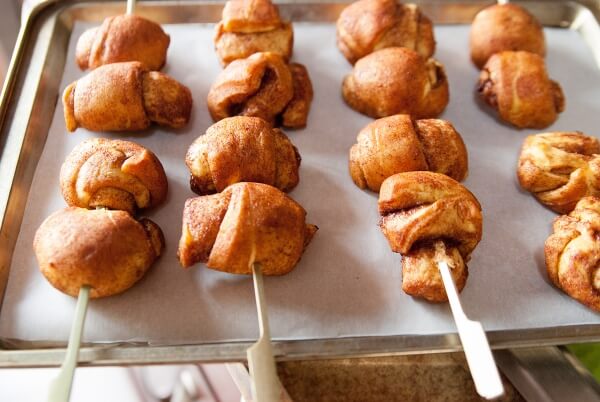 Icing:
Mix together the powdered sugar and pumpkin pie cheesecake blend.
Add in vanilla and melted butter and mix well.
Slowly add in the milk until you reach the consistency that you want for your icing.  You want a nice thick glaze that will spread easily.
Pour glaze over cinnamon pops.
You may also like:
Pumpkin Snickerdoodle Cookie Recipe
Thrive Market
- It's like the Costco of organics...this is where I get all of my sugar, flour, baking supplies, kids snacks, etc.
Zaycon Foods
- This is where I buy most of my meat products in bulk.  The quality is amazing and the prices just can't be beat!  I mean, $1.89 a pound for boneless all-natural chicken breasts!!  It is bulk but you can always split with a friend or make up a bunch of freezer meals like I do!