This post may contain affiliate links. We only share items that we love and make a small percentage of the sale if you choose to buy through our links- but there's never any added cost to you...our earnings go to important stuff like more coffee to survive the toddler years!
This is by far one of my FAVORITE appetizers of all time!  It's so simple to make and the flavor is absolutely delish!  I can literally eat a whole plate of these Sweet Chili Chicken Bacon Skewers all by myself!  They are a MUST for any gathering– especially FOOTBALL!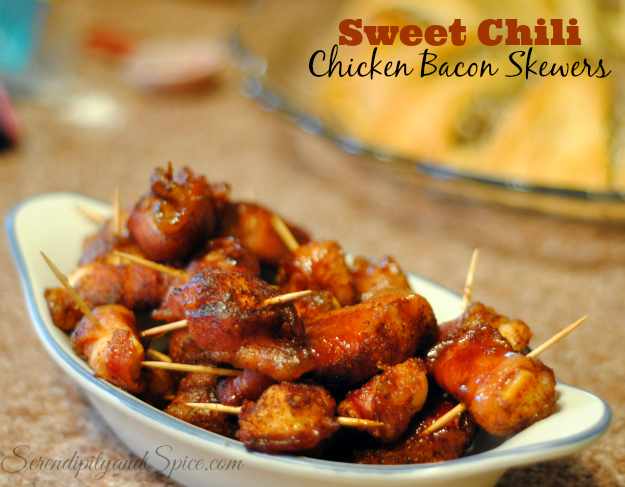 Sweet Chili Chicken Bacon Skewers Recipe
Bite-size chicken nuggets packed full of flavor…they're gone before you know it!
Okay, so you know these things are good when my 83 year old grandma puts away the same amount of nuggets as Hubs!  These are always on my must make list whenever I have get together– I'm totally making them for Super Bowl Sunday!  I love that they have the perfect combination of sweet and savory with just a hint of spicy….obviously if grandma's eating them then they're not super spicy….they just have this perfect little kick!
You know I'm a big fan of SUPER simple recipes and this one is oh so easy…you can even let the kids help make them….when Little Man is a little bit older I'll let him help but right now I'm afraid he'll try to eat the raw chicken!

Sweet Chili Chicken Bacon Skewers Recipe
Perfect combination of sweet and savory with a little spicy kick! My grandma loves these nuggets just as much as my husband!
Ingredients
2 Boneless Skinless Chicken Breasts
6 Strips of Bacon
1 Cup Light Brown Sugar
¼ Cup Chili Seasoning
Toothpicks
Instructions
Preheat oven to 375 degrees.
Cut chicken into bite size cubes.
Cut bacon strips into thirds.
Combine brown sugar and chili seasoning in a bowl and mix well.
Wrap bacon around chicken cubes.
Coat liberally in brown sugar/chili powder mixture.
Secure bacon strip to chicken with toothpick.
Place on baking sheet about 1 inch apart.
Bake at 375 degrees for 20 minutes or until chicken is cooked through.
For me, Game Day is all about the food!  Hubs is the one that gets into the games but I LOVE making all sorts of yummy apps to munch on throughout the day….like my
Skinny Dips
and make sure you check out these
Top 10 Game Day Recipes
too!
What is your must make recipe for game day?
Join the Challenge
Are you ready to start spring cleaning but just overwhelmed with where to start? I'm right there with you! Join along in the 5 Day Spring Cleaning Challenge!!
The following two tabs change content below.
Melissa loves getting in the kitchen with her two children and teaching them about food, cooking, and healthy choices. She loves hosting events, traveling, and enjoying all life as to offer. Her latest cookbook "Serendipity Sweets" will be available for purchase in the fall.
Latest posts by Melissa Llado (see all)