Busy back to school schedules doesn't mean that good eating habits need to be sacrificed!  I got the chance to review several new time saving back to school goodies in my recent BabbleBoxx.
This post is sponsored by BabbleBoxx.com on behalf of Single Edition Media.
Time Saving Back to School Goodies
Busy Schedules Doesn't Mean Sacrificing Good Food!
I must say, when I was first approached by the makers of the BabbleBoxx to do a review I was a little skeptical about all of these super simple foods for busy on the go families.  Usually, super simple or on the go means lacking in flavor or nutritional value.  But, that's not the case with these delicious time saving back to school goodies.  The kids and I gave each of the items in the BabbleBoxx a tried and true test….I mean, do you know a pickier eater than a 5 year old???
So let's check out each of these time saving back to school goodies I found inside my BabbleBoxx!
On the Go Snacks
First up we tried the on the go snacks which included popchips and Peeled Snacks.
popchips
Yes, that is the correct way to write "popchips"….they like the lowercases. 😉  We had the chance to try the popchips Ridges Cheddar Sour Cream Flavor and oh my gosh….you would seriously believe these were typical fried chips!  They are crisp, flavorful, and addictive….we may or may not have eaten the whole bag in one sitting….and when I say "we" I may or may not really mean "I".  😉
popchips are exactly what they say….the founders found a way to "pop" a chip instead of baking or frying.  Who knew you could "pop" a chip and it would taste so delicious with a lot less of the junk that gives "junk food" it's name!
Peeled Snacks
Next up the kids and I (yes, I really did have the kids with me this time) found a bag of Peeled Snacks Cheddar Peas Please.  I literally had to steal "candy" from a baby with this snack…my kids didn't want to share…they were so good!  It's actually quite funny, they flat out REFUSE to eat peas at dinner time but you toss them in a bag with some flavoring and suddenly peas become their FAVORITE food ever.  Which is perfectly fine by me because Peeled Snacks uses the highest quality organic ingredients.
Peeled Snacks Peas Please are nutrient dense and made without fillers, corn, potatoes, or other fillers like traditional chips or veggie sticks.
Get 15% off an order of $25+ at Peeled Snacks when you use code BABBLE16 through 9/30/17.
Dips and Spreads for Fast Snacking at Home
Technically these are both spreads but seriously if you send me a tub of chocolate hazelnut spread I'm going to use it as a dip and I may or may not just grab a spoon and eat it straight.  Are you seeing a pattern here in my experience with the BabbleBoxx?  Hmmmm….
Peanut Butter & Co.'s Chocmeister Chocolatey Hazelnut Spreads
They call it a spread I call it a dip….whatever it is it's GOOD!  After school today I sliced up a couple of apples and bananas to dip in the Chocmeister Chocolatey Hazelnut Spread…the kids gobbled up every single bite.  If you love a smooth hazelnut spread then this is a must have!
Peanut Butter & Co. has ten flavors of peanut butter that are all non-GMO Project Verified and made exclusively with USA grown peanuts.  It's the #1 selling all natural chocolate nut spread in the US and contains 25% less sugar than the leading brand of chocolate hazelnut spreads.
Order at ILovePeanutButter.com and receive 20% off any $25+ order using code LessSugarChoc through September 30, 2017.
Sabra Spreads with Hummus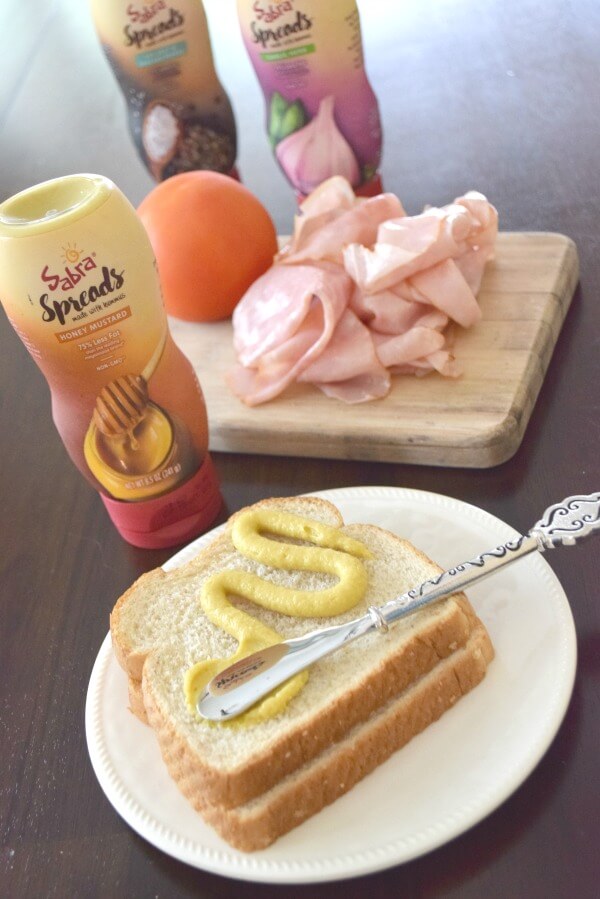 Already being major fans of Sabra Hummus I knew that these spreads would be extremely popular in my family.  The flavors are perfect for spreading on sandwiches for lunch or crackers for a snack.  We actually used each of these spreads as a dip with grilled chicken the other night for dinner….and they were perfect!
Sabra Dipping Company has come out with three new spread flavors including Garlic Herb, Honey Mustard, and Sea Salt & Cracked Pepper.  We loved each one!
Simple Dinner for a Busy Night
Finally we tried a super simple dinner that was ready in less than 20 minutes!  I combined the Veetee Rice with the Kahiki Crispy Tempura Chicken to make a delicious meal after an evening out at soccer practice.
Veetee Rice
So, Little Man has started peewee soccer….yep, I'm an Official Soccer Mom now!  Anyway, it's taking some getting used to with the schedule changes and being out in the evenings.  So dinner time has been a bit chaotic and I've been struggling getting dinner ready at a decent time on soccer nights.  Luckily there were several packs of Veetee Rice in my BabbleBoxx including Jasmine, Basmati & Wild Rice, Whole Grain & Quinoa, and Rice Pilaf…so this week has been super simple.
The Veetee Rice is as instant as you can get without sacrificing any flavor….they have been at it since 1987 and focus on producing quality food.  When paired with Kahiki frozen Asian food you'll have a delicious meal ready FAST.  I mean seriously….being able to microwave rice in just 2 minutes and have a delicious meal ready is faster than grabbing take out!
Find a local retailer.
Kahiki Frozen Chinese Foods
Kahiki frozen Chinese food has everything you need for a full authentic dinner including crispy tempuras, StirFresh items, egg rolls, Yum Yum Stix, etc.  They actually started out as a Polynesian restaurant in Columbus, OH and is known for it's 100% natural ingredients and authentic flavors.
We chose the Kahiki Tempura Chicken because it's sourced from local Ohio farms and uses the freshest products possible.  I love that the tempura chicken is so versatile and we can mix up the recipes for a unique dish in a flash.
Get a Buy 1 Get 1 Free coupon for Yum Yum Stix, Bowl & Roll entrees, or Eggrolls when you download Kahiki's FREE Asian Dinner Party Planner.
So there you go….so simple and delicious food choices for those busy days of back to school!
What are you most interested in trying? Share in the comments below!