SOLO: A Star Wars Story hits theaters this week and anticipation is mounting by the moment! Check out these fun facts you didn't know about SOLO: A Star Wars Story and get your FREE SOLO: A Star Wars Story Activity Pack!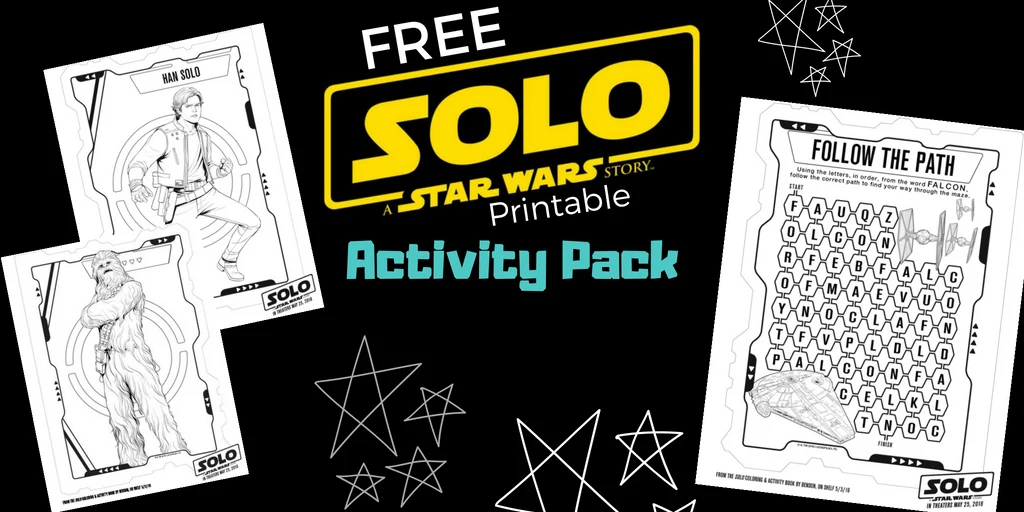 Fun Facts About SOLO: A Star Wars Story
Plus, a FREE Printable SOLO Activity Pack
VEHICLES & SPACESHIPS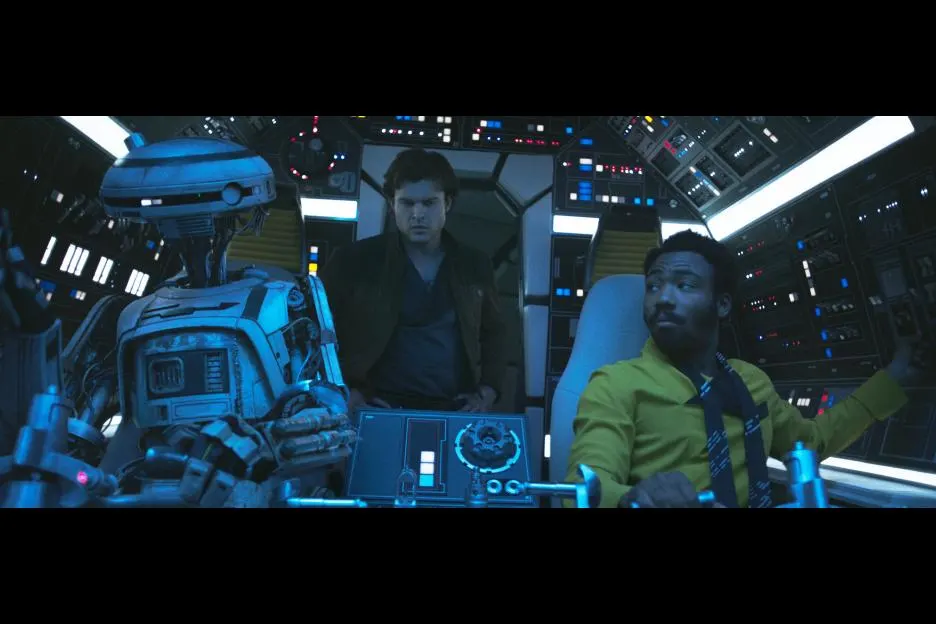 Han's speeder is dressed with items as diverse as a Morris Minor bonnet hinge, a set of baguette warmers and a refuelling nozzle from a Vickers VC10 aircraft.
The 1960s-style chrome bezels and switchgear for the dashboard were purchased at a second-hand auto parts sale.
The final design of the white stripes on Han's speeder were the result of almost 100 variations of width, shape, length, color, and position!
For stunt work, two of Han's speeders were built on a custom-built chassis with a V8 engine, allowing them to reach over 100 mph!
During the shoot, more than 80 tires were used on the two stunt-driving speeders due to wear and tear.
Two of Moloch's speeders were also built on a custom-built chassis with a V8 engine.
There is a real air intake from a helicopter incorporated into the Moloch vehicle grille design.
Three electric tugs were built, incorporating some triangular flood defense barriers for their front bodywork, which were obtained from a government surplus supplier.
The tugs were christened Huey, Dewey and Louie, after the Disney cartoon ducks because they looked quite like ducks.
Their names are written in Aurebesh on the fronts.
A speeder that appears in the background in Corellia is very well traveled. It first appeared in Star Wars: The Force Awakens in Abu Dhabi; it was then revamped and traveled to Iceland for "Rogue One: A Star Wars Story," and was then revamped for a second time and shipped to the U.K. for this film.
A Corellian factory vehicle and a mining vehicle in Kessel use a similar engine component to that which appears on Rey's speeder in Star Wars: The Force Awakens.
During the kit-bashing process, as part of the skiff design, parts of Anakin's podracer were used on the concept model.
When this model was scaled-up, these design details were also scaled up and can be seen on the finished vehicle.
The engine surrounds on the skiffs are actually made from the chrome wheel trims from a 1966 Singer Chamois car.
PRODUCTION DESIGN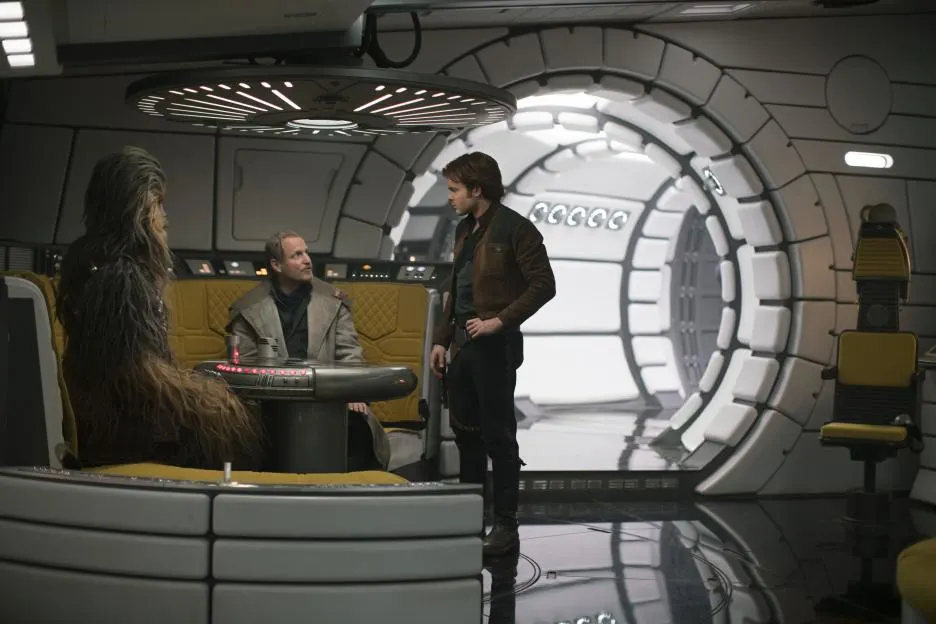 The bridges in the frontier town of Fort Ypso were made "wobbly" using springs from a Land Rover.
The exterior Millennium Falcon build weighs 31 tons and has to be moved around using two cranes.
The interior Millennium Falcon set on C stage took three months to build. It is the largest interior Falcon set ever made on any Star Wars film due to the addition of new areas.
On the Interior Millennium Falcon cockpit set, rear projection screens have been utilized so that the actors can see and react to pre-designed animations flying and entering hyperspace!
CREATURES
Over 500 designs for the creatures were produced in the design process for the film.
Six Eyes is the most sophisticated mechanical head ever produced. It has 50 servos inside the head with on-board intelligence.
This is the first film to feature Chewbacca in a lead role, so to achieve this level of onscreen
action, production produced eight suits and 10 heads.
PROPS
[clickToTweet tweet="WOW…totally didn't know all of this about SOLO: A Star Wars Story…and there's a free activity pack full of #starwars fun! #SOLO #freebie" quote="WOW…totally didn't know all of this about SOLO: A Star Wars Story…and there's a free activity pack full of #starwars fun! #SOLO #freebie"]
Nine copies of Beckett's rifle were made. It is the rifle that ultimately becomes Han's pistol.
Beckett, played by Woody Harrelson, has two pistols in the film. There are 10 copies of each one for various purposes, such as soft ones for the fight scenes.
Enfys Nest's chainsaw pike had 14 copies of it made from a stunt version to ones that open. One version was even made with pyrotechnic capabilities.
There are 25 pairs of the iconic gold dice that hang in the Millennium Falcon. Three of these were made by Tiffany.
An R2 unit was turned into a BBQ fire pit for one of the scenes.
Moloch's staff features a carving of many faces; one of these faces has glasses on as the designer decided to carve his own face into the staff.
In Dryden's yacht there are display cabinets, and among all of the treasures in them are some that might be recognized from another film franchise: "Indiana Jones." There are the Sankara Stones from "Indiana Jones and the Temple of Doom," the fertility idol from "Raiders of the Lost Ark" and also the Holy Grail itself.
Over a hundred E-11 mudtrooper blasters were made for the battlefield scenes on Mimban.
VISUAL EFFECTS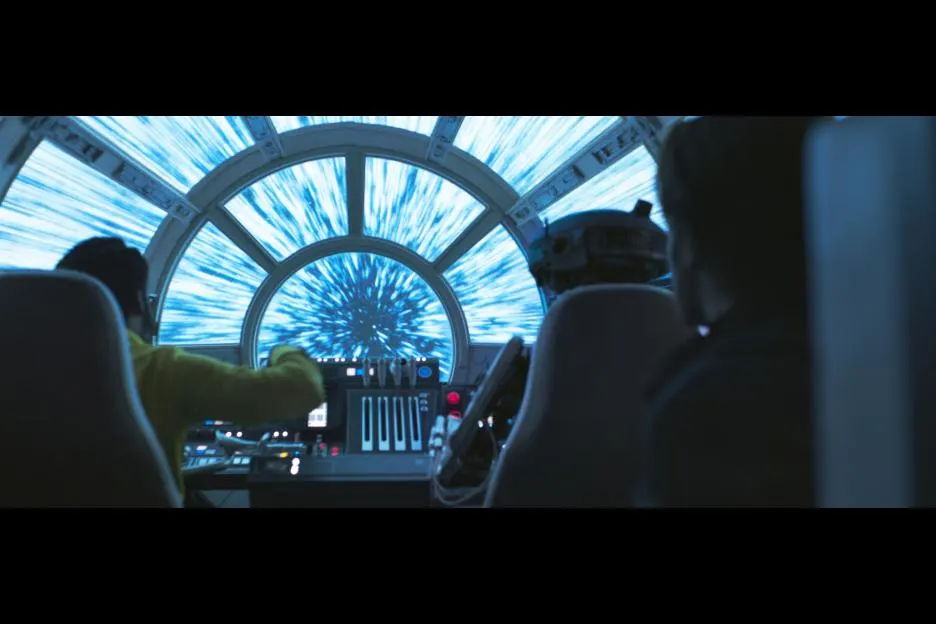 The visual effects crew spent approximately 44 hours of airtime in helicopters in the Dolomites and Fuerteventura scouting, shooting plates and photo-modeling.
They also measured and mapped the interior and exterior of Fawley Power Station and most of the surrounding site with sophisticated laser scanning equipment (Lidar). Around 200 acres in total!
The visual effects team digitally scanned over 500 characters, props and sets.
The on-set data wrangling team captured photo reference (still images), witness camera data (small video cameras), and set survey data along with other reference information. This data will total about 40TB, which will be sent to Industrial Light & Magic, who will use the data to assist in creating the visual effects shots for the movie.
Did you know all of those fun facts about SOLO: A Star Wars Story? Hubs is counting down the days for Star Wars Land to open over at Disney's Hollywood Studios! Until then, I'm going to go ahead and order one of these fun Disney family decals since they're free!
And, don't forget to grab the SOLO Activity Pack!

What others are reading: