Midwood Smokehouse restaurant is a family friendly hidden gem in Birkdale Village! This was a hosted dinner but as always all opinions are my own and I only share what I truly love on Serendipity and Spice!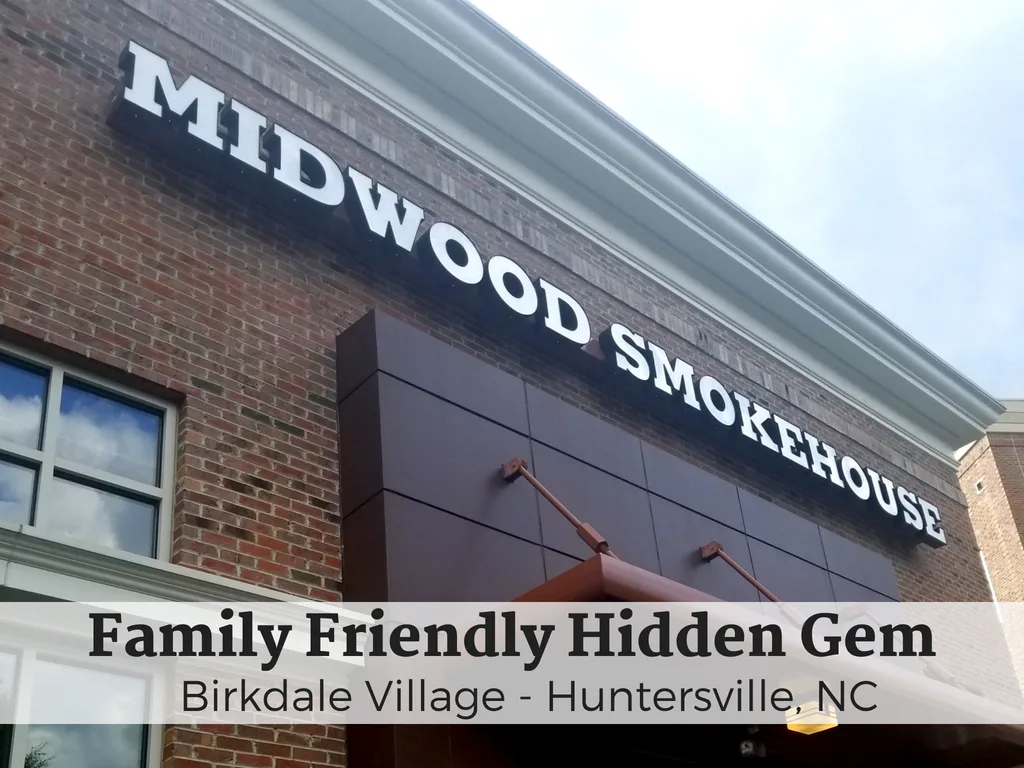 Midwood Smokehouse Birkdale Village Review
A Hidden Gem for Families in Huntersville, NC
[click_to_tweet tweet="Who knew @MidwoodBBQ is the hidden gem of #BirkdaleVillage…can't wait to go eat there! #MidwoodSmokehouse #CharlotteEats #Yum" quote="Who knew @MidwoodBBQ is the hidden gem of #BirkdaleVillage…can't wait to go eat there! #MidwoodSmokehouse #CharlotteEats #Yum"]
This week my family and I were invited by Midwood Smokehouse in Birkdale Village to have dinner and see what we think. They were hoping for a good review but it was not a stipulation in coming for dinner. When I share places on here it's always with the understanding that I may write about them if I truly love the experience. Well, Midwood Smokehouse went above and beyond in providing an amazing experience…and it wasn't because they knew I would potentially write about them on this blog…our server had no idea until the end of the evening.
I refer to Midwood Smokehouse as Birkdale Village's "hidden gem" because they are a bit hidden. When you turn into Birkdale's main entrance you take the first street on the right…literally a few feet from the entrance and they are right there on the right.
Since it was such a beautiful evening we decided to eat out on the patio and I must say that when you have younger kids this is by far the best decision to make! I had no idea until we sat down that the patio is the perfect spot because they have it set up with FUN in mind! Now, it was most likely originally set up for adults to have fun with the cornhole game and lifesized Connect4. But, it was perfect for the kids and everyone there was more than happy to let the kids run and play!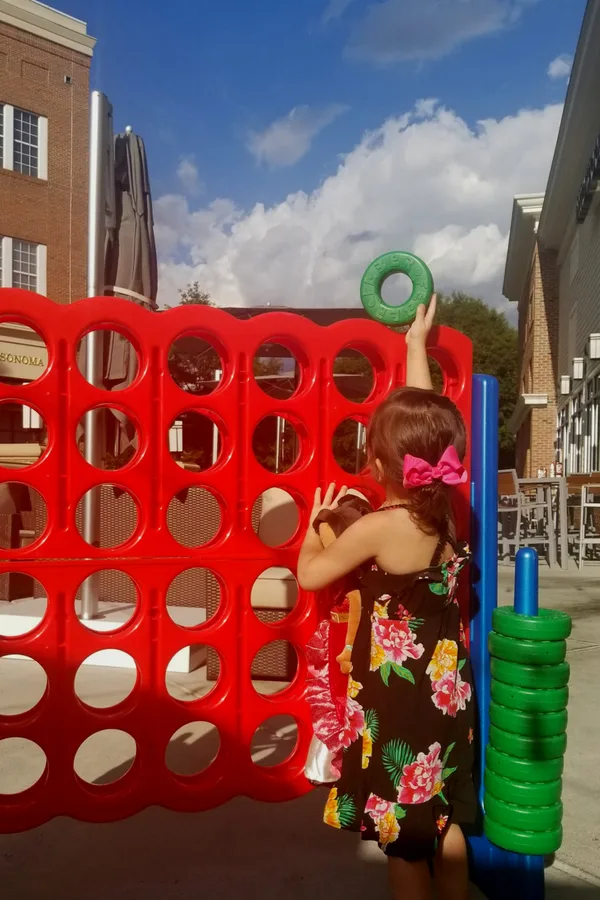 While the kids played, Hubs and I sat on the big comfy couches enjoying the lovely weather while waiting for our dinner to arrive. This was so much better than having squirming kids stuck in a booth asking when dinner would be there…parent's you know what I'm talking about!
When our appetizer arrived it was inhaled by everyone! The addition of BBQ pork is beyond amazing inside cheese dip…seriously, you have to try it!
The service was fantastic! Our server was so friendly and constantly checking on us and refilling our drinks. When our food arrived we were shocked at the portion sizes…they definitely don't skimp on the food! I ordered the beef brisket burnt ends which has been smoked all day and is covered in the most delectable BBQ sauce made with the Carolina's own Cheerwine Soda….Oh My Goodness…talk about AMAZING!! And the baked beans are made with pork BBQ added in…mmmmmm!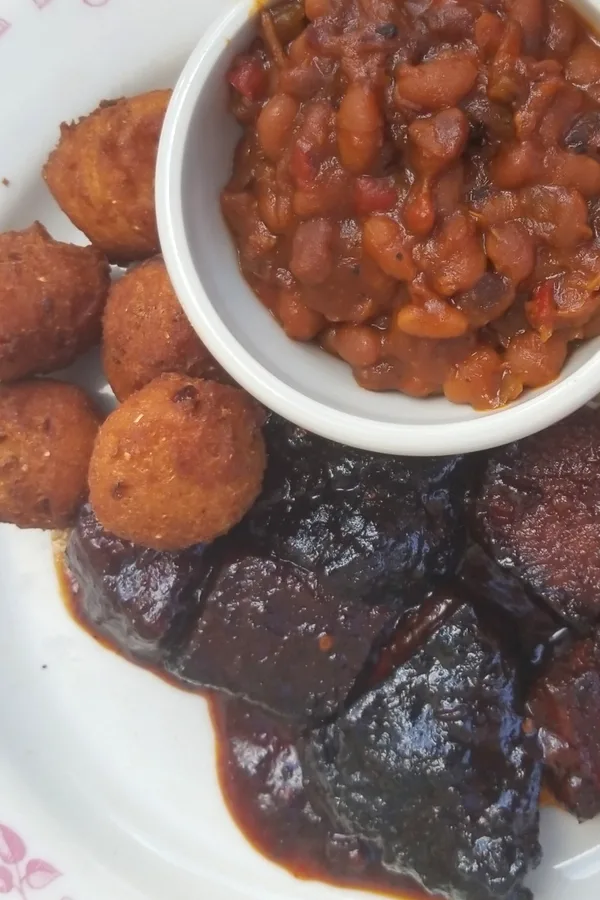 Hubs went for one of the many combo meals and he got the chicken and ribs combo…which were fall off the bone tender! And his meal came with the choice of 4 different BBQ sauces… Authentic Eastern Carolinas Vinegar Based BBQ, a Spicy Mustard Based BBQ, Midwood's Own BBQ, and a Spicy Vinegarette…all of which are made in-house.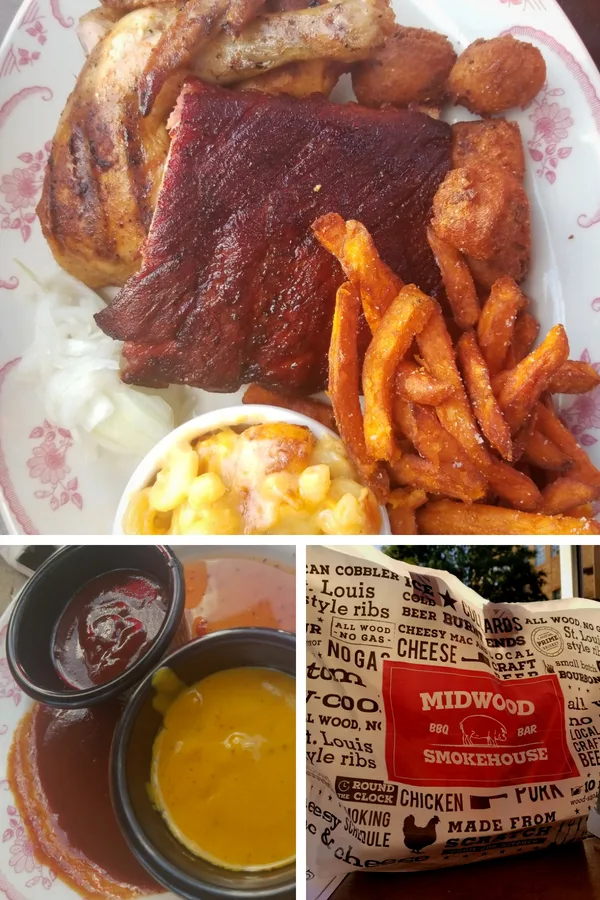 There was so much delicious food we had to get a bag to-go! But, that didn't stop us from trying the chocolate cake!
If you're in the Charlotte, NC area then I highly recommend going to checkout the Midwood Smokehouse in Birkdale Village…we can't wait to go back again!!