Manic Monday Linky Party
Well apparently my scheduler is not wanting to publish my posts on time– sorry the party is up late again this week! I'm going to have to figure out what's going on!!
This week's Manic Monday Linky Party is brought to you by Zulily! They are having a fantastic BLOW-OUT SALE!!!
I'm loving these little chocolate signs for just $5.99— there's about a dozen of them and they'd make perfect little gifts for my girlfriends!
Or this Collector's Edition A Christmas Story box set for just $17.99 would be a fantastic gift for my brother…he LOVES that movie!
And, of course, something for myself– this Do It All Calendar for just $7.49….I just saw the same one in Office Max for like $20!!!
I know Little Man would LOVE this My First Draw & Dabble Easel Set!
Anyway, if you haven't checked out Zulily today you REALLY need to! They have so many awesome Christmas gifts at wonderful prices….they have cookbooks starting at $6, children's books starting at $7, baby toys starting at $6.49, piggy banks for $4.99, kitchen stuff, home stuff, clothing, and so much more!!
Alright, now on with the Manic Monday Linky Party!!!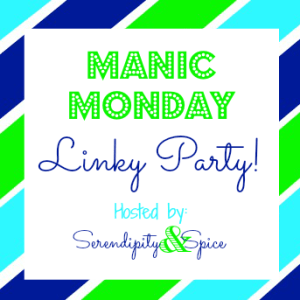 So the rules are simple…..If you link up please visit at least 2 other people for each link and show them some love! That is why we are here right?!

I'd love it if you subscribed to my weekly newsletter (it only comes once a week on Mondays to remind you of the party and let you in on anything you may have missed the previous week) or at least follow along on Facebook, Twitter, and/or Pinterest….I like to do shout outs on these and hope that you'll see you post featured!

And, finally, please only link up family friendly posts including recipes, crafts, kid fun, family fun, DIY, etc. Giveaways are welcome but please no shops or affiliate links.

Thanks so much and HAVE FUN!!!!
Oh, and before I forget— don't miss out on this FANTASTIC Pamper's Prize Pack that I'm giving away this week!!
*By linking up you give Serendipity and Spice permission to feature you utilizing a photo and link back to your site. NOTE: Link ups are always random so if you don't see your link at the bottom like most linky parties it's because it's inserted randomly so everyone gets an equal chance at being seen up top. 🙂