Manic Monday Linky Party
Crafts, Recipes, Toddler Tales and so much more….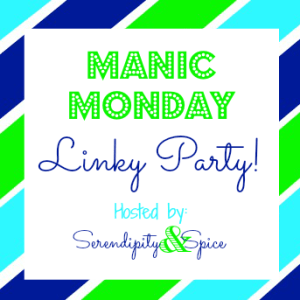 Merry Christmas Eve Eve!!!!
I hope everyone has a wonderful Christmas this week! We are visiting with family and packing in as much Christmas Cheer as possible because we have to rush back home the day after Christmas to finish wrapping up the house build…it's quite exciting! We have the final walk through and inspection with the builder on Friday– I'm so excited I haven't seen our house in 2 weeks and I know they've done a TON to get it completely finished. Then we finish up everything else for our closing next week and we start the BIG move! So there will be no posts this week- I'm taking this week off to get ready for all the excitement!
I can't wait to start showing you guys our new home after the new year…..I have so many ideas already Hubs is rolling his eyes and watching the checkbook! 😉
I'm thinking of adding a "House Tour" tab on the site with before and after photos….what do you guys think???
Alright, now on with the Manic Monday Linky Party!!!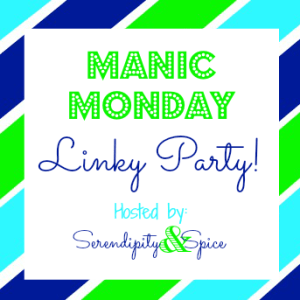 So the rules are simple…..If you link up please visit at least 2 other people for each link and show them some love! That is why we are here right?!
I'd love it if you subscribed to my weekly newsletter (it only comes once a week on Mondays to remind you of the party and let you in on anything you may have missed the previous week) or at least follow along on Facebook, Twitter, and/or Pinterest….I like to do shout outs on these and hope that you'll see you post featured!
And, finally, please only link up family friendly posts including recipes, crafts, kid fun, family fun, DIY, etc. Giveaways are welcome but please no shops or affiliate links.
Thanks so much and HAVE FUN!!!!
*By linking up you give Serendipity and Spice permission to feature you utilizing a photo and link back to your site. NOTE: Link ups are always random so if you don't see your link at the bottom like most linky parties it's because it's inserted randomly so everyone gets an equal chance at being seen up top. 🙂