Manic Monday Linky Party
Crafts, Recipes, Toddler Tales and so much more….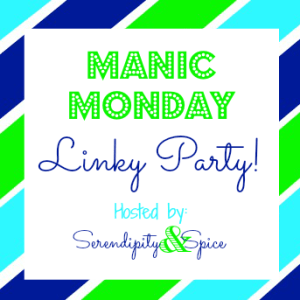 This past week I got to attend A Sweet Night at the Capital…a blogger event hosted by Dixie Crystals! It was so much fun and the location was AWESOME! It was located at The Swan House in Atlanta….the filming location of "The Capital" in The Hunger Games: Catching Fire. Now, to be honest, when I first heard about the event I didn't really understand the significance behind the name of the event because I had never seen The Hunger Games….so, being the diligent writer and researcher that I am, I rented both movies and watched them the day before the event! And now I have to admit…..I'm completely hooked! I'm now counting down the days till the release of Mockingjay Part 1! That's where you'll find me on my birthday weekend!
Stay tuned because I'll be sharing all the details later this week!! It was so much fun….and I'll have behind the scenes photos of The Swan House….including The President's Office!
On with the Manic Monday Linky Party!!!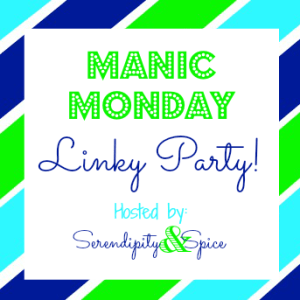 So the rules are simple…..If you link up please visit at least 2 other people for each link and show them some love! That is why we are here right?!
I'd love it if you subscribed to my weekly newsletter (it only comes once a week on Mondays to remind you of the party and let you in on anything you may have missed the previous week) or at least follow along on Facebook, Twitter, and/or Pinterest….I like to do shout outs on these and hope that you'll see you post featured!
And, finally, please only link up family friendly posts including recipes, crafts, kid fun, family fun, DIY, etc. Giveaways are welcome but please no shops or affiliate links.
Thanks so much and HAVE FUN!!!!
*By linking up you give Serendipity and Spice permission to feature you utilizing a photo and link back to your site. NOTE: Link ups are always random so if you don't see your link at the bottom like most linky parties it's because it's inserted randomly so everyone gets an equal chance at being seen up top. 🙂