Manic Monday Linky Party
Crafts, Recipes, Toddler Tales and so much more….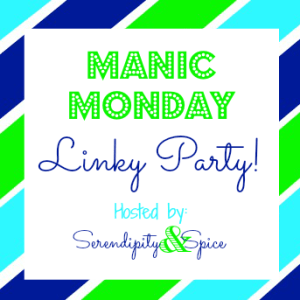 Wow, I can't believe it's been over a month since the last Manic Monday Linky Party!!! It has been quite the month and I must say I'm super excited that May is finally over and June is here!
We experienced a tragic loss in our inner circle of friends a couple of weeks ago and it put quite the tailspin on all of our emotions– there's just no describing the feeling of the loss of a child. Needless to say I haven't felt like writing the last few weeks– I've been cherishing every possible moment with my Little Man and our friends….you never know what may happen so it's important to take the time NOW.
On a happier note we did find out some exciting news that I shared with you last week….make sure you check it out here. 😉
Little Man and I are starting swim classes today…yeah! What fun stuff do you have planned for this Summer?
Okay, on with the Manic Monday Linky Party!!!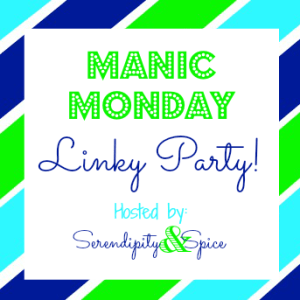 So the rules are simple…..If you link up please visit at least 2 other people for each link and show them some love! That is why we are here right?! I'd love it if you subscribed to my weekly newsletter (it only comes once a week on Mondays to remind you of the party and let you in on anything you may have missed the previous week) or at least follow along on Facebook, Twitter, and/or Pinterest….I like to do shout outs on these and hope that you'll see you post featured! And, finally, please only link up family friendly posts including recipes, crafts, kid fun, family fun, DIY, etc. Giveaways are welcome but please no shops or affiliate links. Thanks so much and HAVE FUN!!!! *By linking up you give Serendipity and Spice permission to feature you utilizing a photo and link back to your site. NOTE: Link ups are always random so if you don't see your link at the bottom like most linky parties it's because it's inserted randomly so everyone gets an equal chance at being seen up top. 🙂