It's Linky Party Time!!!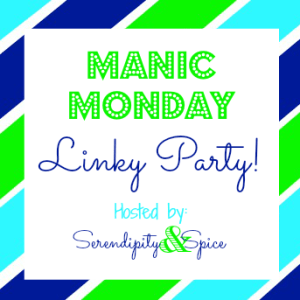 Let's talk about Linky Parties for a minute…. have you ever thought about hosting a linky party? I will tell you that hosting a linky party (at least correctly hosting one) is very time consuming but can be truly rewarding too! I started hosting the Manic Monday Linky Party before my blog was even a month old and I will admit– it truly helped me grow my blog tremendously!
I've read posts from other bloggers stating that the last thing the blog world needs is another linky party but I disagree! I think linky parties are a great way to network, promote each other, and help everyone succeed! Linky parties are a GREAT way to get your posts in front of new audiences! Now, there are weeks where I'll have 100+ link ups but only 50 or so visits to other sites by the time I do the weekly features– but overtime more and more non-bloggers are checking out those parties. For instance a linky party from 2 weeks ago has had over 800 views and 200 click throughs!!!
And, personally, I prefer linking up to smaller blogs who host parties because 90% of the time their audience is more engaged and I see a much higher amount of visits from the smaller blogs I link up at! Especially if they feature me! I've pretty much stopped visiting the large linky parties because my stuff just gets lost in the mix…I've really started looking for those smaller link ups (under 100) because 1. I LOVE supporting those bloggers that are just getting started, 2. I feel like I don't get lost in the crowd, and 3. I don't feel like everyone is linking up and moving on– they're actually looking through the other links!
So, how do you even begin hosting a linky party? I started by signing up for InLinkz— they have a free version and a paid version. The paid version gives your readers the thumbnail pictures (which really helps traffic!!) and it's VERY inexpensive (like $2 a month cheap!). Then decide when you want to host a linky party– I tried to pick a day that there weren't many parties going on so more people would stop by and link up. Once you get your party up and running that's just the BEGINNING! Each week I go through the Linky Party list and do shout outs via Twitter, Facebook, and Pin Pin Pin. Then I do a feature day each week. And whenever I do round-ups (like the 20+ Lemonade Recipes post) I'll go back through linky party lists and feature those link ups.
Yes, linky parties can be a LOT of work but the payoff is amazing! I've made some great bloggy friends through my party. I notice those who link up week after week and try my best to give them shout outs and let them know I appreciate them stopping by! There have been bloggers that linked up and I've seen the post I've pinned of theirs go like wildfire on Pinterest and that makes me happy to see them achieve so much!
So, if you've thought about hosting a linky party then why not give it a try! And if you host a party– leave me a note below and I'll come by and check it out! 🙂
Alright, enough of my spiel….let's get to the PARTY!!!
Note: Link Ups are always RANDOM at the Manic Monday Linky Party — so if you don't see yours at the bottom– have no fear– it's randomly inserted– that way everyone has equal chances at getting a feature! 🙂
By linking up you give SerendipityandSpice.com permission to feature your post using a photo, description, and link to your site.