I know, I know…it's a little late and we missed last week. I'll be sharing with you tomorrow what has been keeping me so busy lately and MIA. It's VERY exciting news!!!
So let's get this Linky Party going!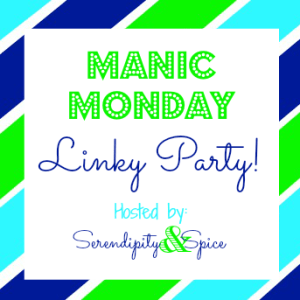 Note: Link Ups are always RANDOM at the Manic Monday Linky Party — so if you don't see yours at the bottom– have no fear– it's randomly inserted– that way everyone has equal chances at getting a feature! 🙂
By linking up you give SerendipityandSpice.com permission to feature your post using a photo, description, and link to your site.