I'm feeling very accomplished this week! I've got some posts written and just have to finish editing some photos. Little Man has been using the potty! And we're finally back into a good routine!
Since I've been so productive this week I had a chance to check out this new stream of income called SponsoredTweets….yep, it's exactly what it sounds like….advertisers pay you to tweet about their products….you can check out my first sponsored tweet here (and if you'd RT it I'd totally owe you several RTs!!
Really, once I it shows up in my stream I'll go RT 3 of your recent tweets
OR respond with a comment and I'll comment on 3 of your recent tweets)!!!
Anyway, so far I really like SponsoredTweets…you don't have to be a blogger– just have a Twitter following and you can get paid several dollars for each tweet AND it takes like 30 seconds to send a tweet out!

Now It's Linky Party time!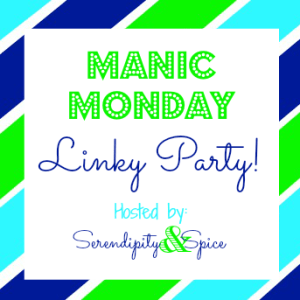 Note: Link Ups are always RANDOM at the Manic Monday Linky Party — so if you don't see yours at the bottom– have no fear– it's randomly inserted– that way everyone has equal chances at getting a feature! 🙂
By linking up you give SerendipityandSpice.com permission to feature your post using a photo, description, and link to your site.
This linky party is brought to you by Inlinkz. Have you ever thought about starting your own linky party? Inlinkz is the best and most affordable link-up tool options– they have a free version and paid versions starting at just $2 a month! Go check out Inlinkz and get your linky party going!