A few of his favorite things for the perfect date night and Valentine gift for him!
Valentine's Day is right around the corner….are you ready?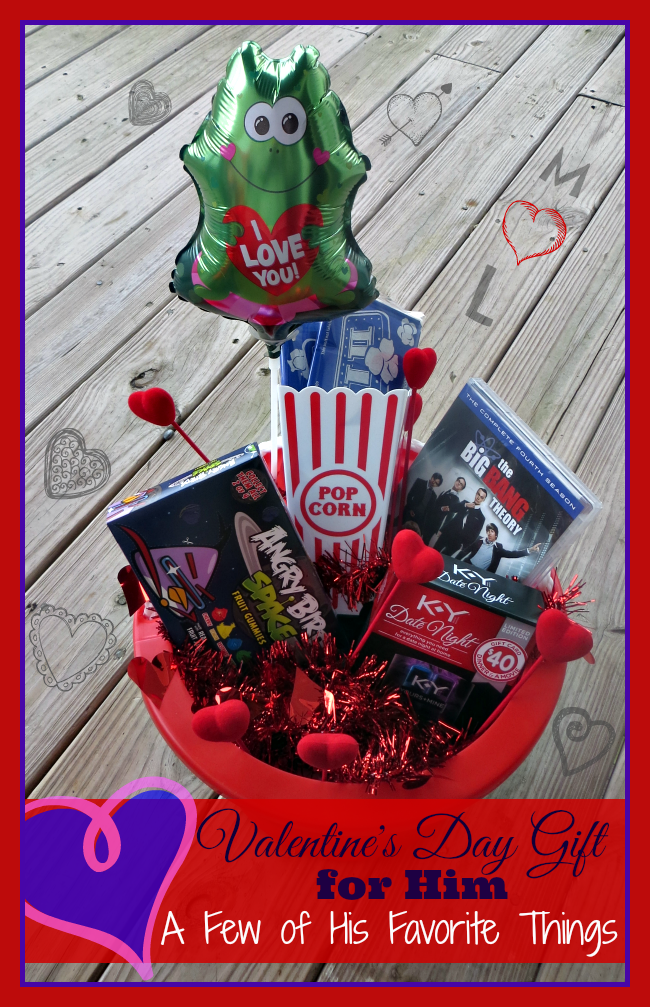 So trying to squeeze in a romantic date night can be quite a daunting task when you have a toddler causing havoc at every turn! I would hire a babysitter or find someone to keep Little Man while Hubs and I have a nice romantic evening….ALONE…..but everyone else is celebrating the Holiday of Love too…..so we gotta sneak it in after bedtime. Which I really don't mind….the sneakiness makes it more romantic I think.
This year Hubs and I are going to celebrate a quiet Valentine's night together, in our new home, snuggled on the couch, reading love poems to one another, gazing lovingly into each others eyes, with a fire blazing in the hearth, and candles flickering to really set the mood, classical music will be wafting through the air……. OH WHO AM I KIDDING…..we have a toddler…..remember! Even if we didn't have a toddler screeching through the house with the exuberance and destruction of a tornado we just aren't that sappy. We will, however, put Little Man to bed early and enjoy some grown up time together.
In celebration of Valentine's Day I've put together a bucket full of Hub's favorite things (now I am singing These Are A Few of My Favorite Things as I pack the bucket). Valentine's Day has always been considered the ultimate date night until now….it's so different with kids…..but I've found a way to put the ultimate date night into a bucket of fun!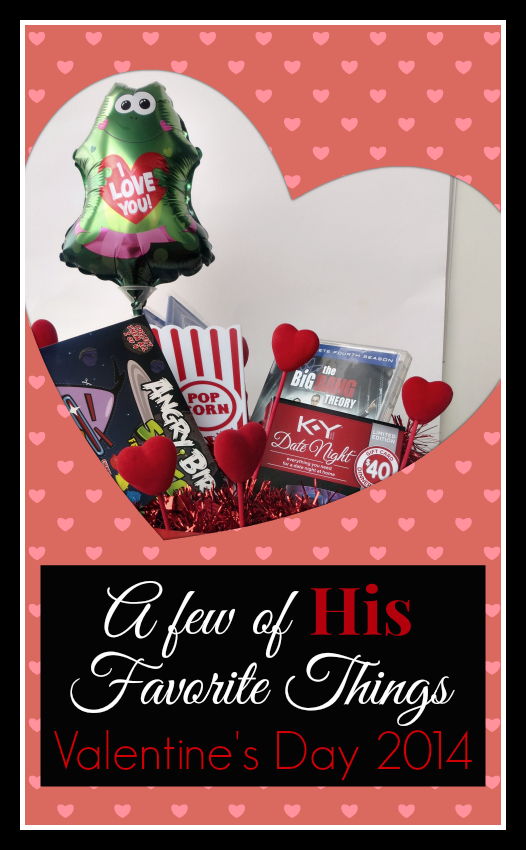 Here's what's in the Bucket of Favorite Things:
1. The Big Bang Theory Season 4
We LOVE The Big Band Theory….probably because Hubs is like Leonard (yeah, he's my Star Wars loving, super smart engineer that talks about things WAY over my head, super sweet, sometimes awkward, love of my life) and I'm totally Penny (just change the beautiful waitress by day, aspiring actress at night part to sweat pant wearing worn out mom by day, aspiring writer at night….then we're totally the same….maybe….okay, so I'm stretching). Anyway, it's a great show and we're always watching it when there's nothing else on.
2. Popcorn and Individual Popcorn Holders
Yeah, so Hubs is always joking about having to always share his popcorn now that he's married and has a kid. Well not anymore….he gets his own popcorn holder….plus I thought they were SUPER cute!
3. Angry Birds Star Wars Candy
Yep, they make EVERYTHING for Angry Birds Star Wars….and Hubs LOVES it….he's completely addicted to the game.
4. KY Yours+Mine
This is my subtle little way of giving Hubs his favorite gift of all this Valentine's Day. 😉 The even cooler thing is that KY is giving us a date night as well in this specially marked KY Yours+Mine set. Right now when you buy specially marked KY Yours+Mine there will be a Date Night special that helps you bring home the romance. You will receive a promotion code for 2 free gourmet meals from Plated.com that will be delivered straight to your door. AND, you'll get a $5 VUDU movie credit so you can stream a movie right from home.
Anyway, you should have seen me a Walmart buying this Valentine's Day gift for him….let's just say people were probably wondering about me and my buggy of interesting items….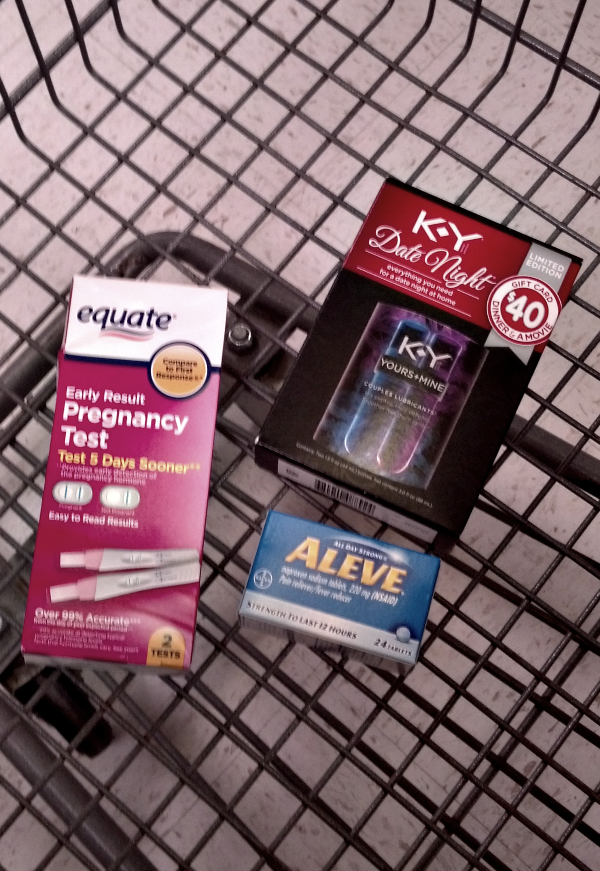 And for those of you wondering….the Aleve is for my back that I've killed during this crazy move….and the pregnancy test was negative….but we're gonna keep on trying 😉
I must say that I had NO IDEA where I would find the KY Yours+Mine when I went into Walmart but was pleasantly surprised to find it tucked in the corner near the pharmacy. It was located on the shelf right next to the feminine hygiene products and the pregnancy tests….hence why I decided to pick one of those up too! 🙂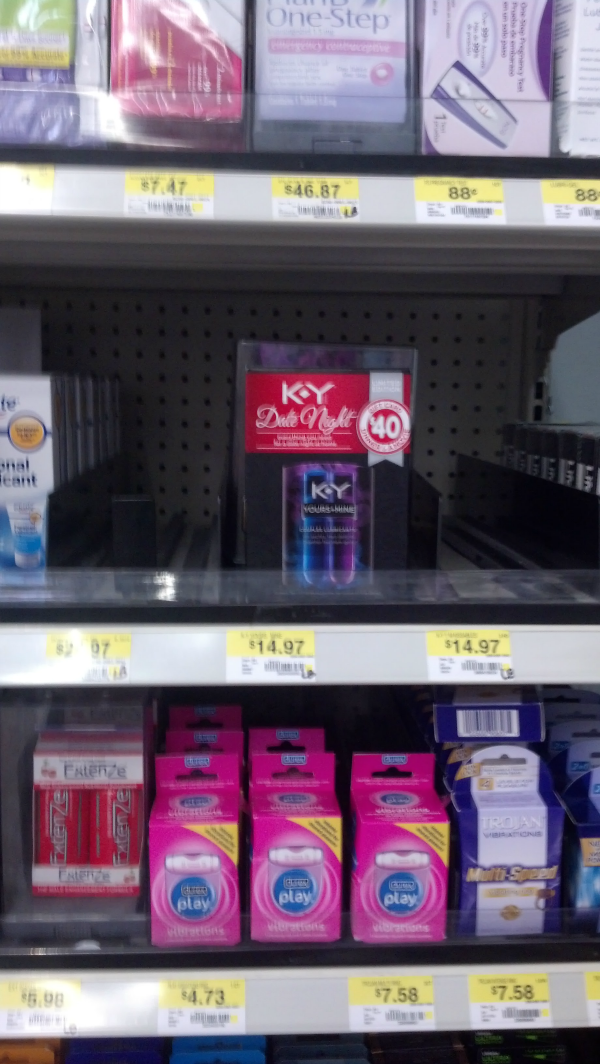 What are you doing for Valentine's Day?