What to Expect When Building A House
Can I afford to build a house?
Many people are afraid of new construction because they believe it's not an affordable option. Trust me, I was one of these people– catch up by reading The Road to Building a Home– then you'll see this is totally NOT the direction I thought we were going when we started our house hunt! With a budget of $200,000 I thought that there was no way we could BUILD a house and stay on budget!
Well we did (we actually stayed well under budget) and I'm going to share with you all the steps of building a new home in this new series called: What to Expect When Building a House.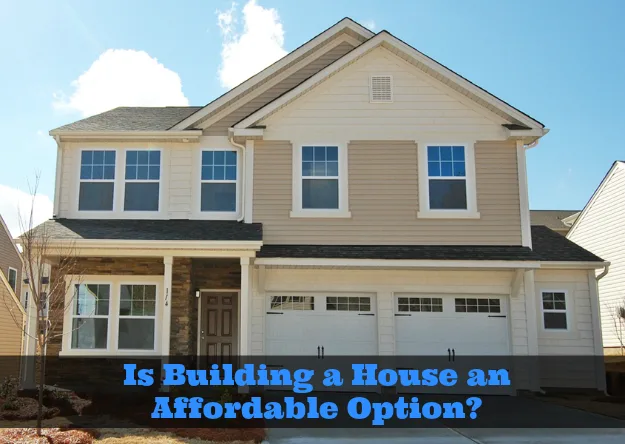 So, let's start off with the elephant in the room– the MONEY $$$$
Money is a very touchy subject that can even bring out the worst in the most loving of people. (You know I'm talking about Hubs here
). Whenever we start discussing finances the grumpy factor goes up several notches in the room! Anyway….building a house can be a VERY scary thing when it comes to money!
Alright, so let's talk money and new construction.
1. Set your budget!
You've got to know how much you can/want to spend before you even start looking…or else you're going to fall in love with a $400,000 house when you can only afford a $175,000 house. Work with your partner and come up with a monthly payment that you feel comfortable with and stick with that! There are numerous mortgage payment calculators out there that can help you figure out how much house you can afford….Hubs and I ran figures over and over using MortgageCalculator.org and it really helped us figure things out.

Now, you need to remember there are other monthly expenses not figured into the mortgage calculator like: HOA fees, Homeowners insurance, property taxes, PMI, points the bank may be charging, so always assume an extra $300-$400 a month just to give yourself some wiggle room.
2. Don't be ashamed of your budget!
Everyone has different circumstances and you shouldn't feel bad if you think your budget is low. I have friends who's budgets were closer to $300,000 and they were able to spend that much on a house– that's fantastic for them! But our budget doesn't even come close to that– so instead of worrying about what other people think– I'm on a mission to find MY dream home in MY budget.

Trust me, there are homes being built in ALL price ranges– you just have to decide what's most important to you: size, style, location, upgrades, etc. Because you can't have it all—- well, unless you have that $300,000 budget and in that case– what are you doing here! Well, I guess if your living in Los Angeles or New York $300,000 doesn't go very far in terms of housing– but in my area that would be a REALLY nice house– so that would fall under location, right?
3. Get a Realtor!
Before you even step foot in a new construction neighborhood arm yourself with a buyer's realtor. Your realtor will be the go between for you and the builder's agent. The builder's agent is there to SELL you stuff- to make a PROFIT for the builder. A buyer's agent is there to get YOU a good DEAL. Ask for recommendations, scout some out online, interview a few…..find someone YOU get along with and that understands YOUR wants/needs.

I found my agent back when we were thinking of renting. She wants what's best for me whether it is renting, buying, or building. She NEVER tried to get me to go higher than my budget and did her best to find me the specifications I wanted within my price range. If you feel like your realtor is just looking for a larger commission– find a new one– there are realtors out there that truly enjoy HELPING their clients find HOME.
4. Pick a floor plan that gives you some wiggle room in pricing.
This is so important– especially for resale! You DO NOT want the biggest house in the neighborhood. The biggest house equals the most expensive house and it will be tough to sell! Go for middle of the road if you can. You need to leave yourself AT LEAST $10,000 in wiggle room for upgrades– you'll do best if you leave yourself $20,000 as the upgrades can add up quickly.
5. Don't go crazy on upgrades!
When you and your realtor go to the new construction office you will be viewing the model. The model is NOT what comes standard– it is FULL of upgrades! Ask the builder's agent for an itemized list of all the available upgrades (note: they do NOT want to give you this because they want to upsell you at the design center– but they have to give it to you if you ask– so ASK!– it took me 3 days of my realtor hounding the builder's agent but we got it and it made things significantly easier).

The itemized a la carte upgrade list will give you the price of everything you want to upgrade. Want granite in the kitchen– it will tell you how much an upcharge there is for that. Want a patio added out back– it'll tell you. Want an extra window– yep, it'll tell you that too. Many times builder's will have a Designer Package that they'll try to sell you with all of the most popular upgrades but it's usually cheaper to do what you REALLY want (aka expensive/structural changes– not cosmetics) a la carte and then the plus stuff you can add over time– remember, you're buying so you can continue to make changes for a long long time– not everything has to be done all at once.

For example, this is what I'm adding at the design center: wood floors downstairs– the cost, amazingly enough, is the same as if I go to Home Depot or Lowes and have them come and install it afterwards. Granite counters– this was BIG on my wish list. Structural changes should always be done by the builder– it's usually cheaper that way– extra windows, the side light by the front door, moving a closet, adding on a screened in porch (I didn't even know this was an option– or how much cheaper it was for the builder to do until I saw it in the a la carte pricing…that's why it's so important– you may miss out on great values– the screened in porch is costing us 1/4 of what it would cost if we added it on later!).

Stuff that I'll add later (these items had HIGH mark-ups and I could do them cheaper later: upgraded lighting, stainless steel appliances, ceramic tile in upstairs bathrooms, backsplash, crown molding, window casings, upgraded front door, blinds, etc. For example– the builder wants $1500 for 3″ faux wood blinds– I can buy the SAME 3″ faux wood blinds for $385 at Walmart— yeah, I come out of pocket for it after closing but I save $1100! The stainless steel appliances that the builder wanted to charge $1500 for– although they were name brand they were the bottom of the line. Hubs and I checked Home Depot and Lowes- we picked out Consumer Reports top rated stainless steel appliances for $1700– so we'll just sell off the new black appliances the builder is providing and we'll not only save money on the upgrade but we'll get better appliances that will last!

I always suggest comparing the a la carte menu with the prices at Lowes and Home Depot online– this will give you an idea on whether the item is a good investment or if you should just wait to do it later down the road.
6. Take your time and compare.
Compare builders in your area. Check out their layouts, price per square foot, upgrade packages, what's included in the base price. Some builders include the lot while others don't….make sure you ask. Luckily we are one of the last houses being built so we didn't get to choose a lot so there was no lot premium. But take into account that when builders divide the land they know that some lots are going to be more desirable than other lots and they will charge for them…..anywhere from $5000-$25000 and more….so take that into account when looking.
So if you're considering buying a house don't overlook the option of building. Not only do you get a move in ready house with everything the way YOU want it but it could also be a more energy efficient option– saving you more money down the road. The appliances, electrical, plumbing, HVAC, roof, etc are all BRAND NEW so those won't need replacing anytime in the near future.
I never thought we would be building a home but it's much more affordable than I ever realized!
Stay tuned as I continue to share with you our journey and What to Expect When Building a House….I'll be taking you through the whole process from Design Center to final move in day and beyond!