This post may contain affiliate links. We only share items that we love and make a small percentage of the sale if you choose to buy through our links- but there's never any added cost to you...our earnings go to important stuff like more coffee to survive the toddler years!
This weekend we got to experience a Day Out with Thomas at the North Carolina Transportation Museum in Spencer, NC.  If your child loves Thomas and Friends as much as mine then this is an event you don't want to miss!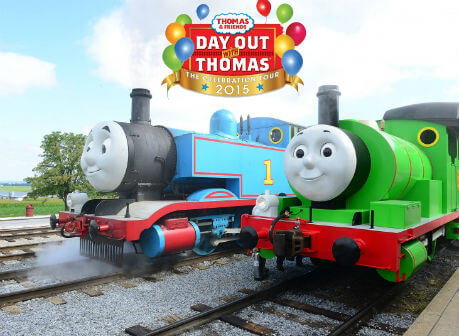 A Day Out with Thomas at the NC Transportation Museum
A Traintastic Good Time!
Little Man just loves Thomas the Train and he REALLY LOVES trains in general….he goes bonkers every we pass over the train tracks or we stop at a railroad crossing…he's always on the hunt for trains!
His love of trains made a Day Out with Thomas a MUST!  For just two weekends Thomas and Percy choo choo on into the North Carolina Transportation Museum located in Spencer, NC.  Along with the trains arrive loads of Thomas and Friends fun!
Check out all the fun:
A Day Out with Thomas was more than just a train ride….that was just the beginning of the fun!  There were trains galore to see…..miniature trains, large real life trains, old trains, new trains, etc.  When you go for A Day Out with Thomas at the NC Transportation Museum you get more than just the Day Out with Thomas activities…you get access to the entire transportation museum….there's so much to see.
Thomas and Percy will be leaving the NC Transportation Museum October 5th….so make sure you go out and see them next weekend.  And if they come to your town give them a visit….you're little ones will love it!
*Disclaimer-  I did receive complimentary passes to facilitate this review.  As always all opinions are 100% my own.
Join the Challenge
Are you ready to start spring cleaning but just overwhelmed with where to start? I'm right there with you! Join along in the 5 Day Spring Cleaning Challenge!!
The following two tabs change content below.
Melissa loves getting in the kitchen with her two children and teaching them about food, cooking, and healthy choices. She loves hosting events, traveling, and enjoying all life as to offer. Her latest cookbook "Serendipity Sweets" will be available for purchase in the fall.
Latest posts by Melissa Llado (see all)