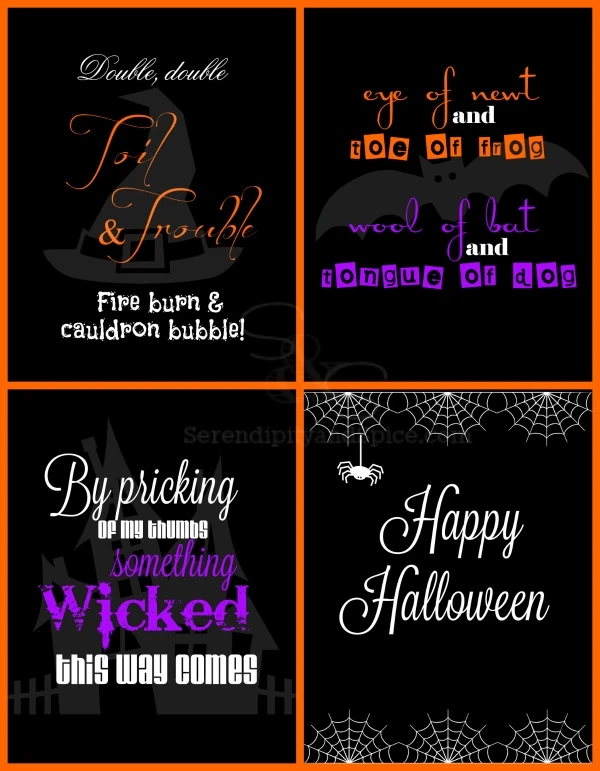 Halloween Free Printables
The Witches Cauldron Spell
Oh how I love Halloween! It's the first major sign of Fall…there's a crisp in the air and everything stirs with a sense of magic! We go all out at our house for Halloween…well, pretty much the whole month of October! We have a LOT to celebrate in October….Hubs and I got married on October 1st and Little Man was born on October 24th…although, not the same year! Anyway, I must say that October is one of my favorite months….the weather is usually PERFECT, it's the BEST time to visit Disney World, the Fall scents are amazing, the rich jewel tone colors are gorgeous, and everything is magical!
So each Friday I'm going to start bringing you a new free printable…we're going to start calling it "Free Printable Fridays" because I LOVE making printables! Printables are a great way to decorate for the season or change around your decor for super cheap! I usually print these out at the one hour photo because it costs like $2 for an 8×10 printable and they come out so much better than in my home printer…no fading! Although you can definitely print these out at home as well to save a little moolah. 🙂
I get tired of looking at the same stuff all the time so I'm constantly changing things up! Hubs is always surprised when he walks through the door and sees that I've done yet another project….he never knows what to expect…even from his super preggo wife…I'm still crafty…just not as limber….no hanging off ladders to precariously hang stuff for this gal anymore! Needless to say, since I'm having to be more cautious and careful, Hubs' "honey-do" list has grown dramatically! And, I have found easy ways to update a room without all the hijinx I would perform before!
I've purchased four 8×10 frames that are now hanging by the front entrance which I plan on changing out regularly to create a vignette for the seasons. These are great for displaying printables….which are so much easier than painting and storing a canvas for each season!
Each of the pictures displayed above will print out a beautiful 8×10 picture…although, you can choose to print any size you wish. I like 8x10s because they look nice in a collection together….especially when you have a big empty space to fill. Feel free to print all four or choose just one…whatever works best for your space!
Halloween Free Printables
Printable 1: Double Double, Toil & Trouble…
Printable 2: Eye of Newt & Toe of Frog…
Printable 3: By pricking of my thumbs…
Printable 4: Happy Halloween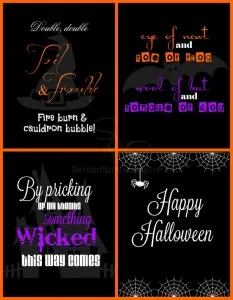 I hope you enjoy these printables! Please send me a picture if you make a vignette with them…I love to see what creative ideas you come up with!
What's your favorite Halloween saying? Share in the comments below!