ABCmouse.com Review on whether ABCmouse is really worth the cost. ABCmouse.com is an educational platform for children 2-8 years old which helps children dive into reading, math, science, art, and more.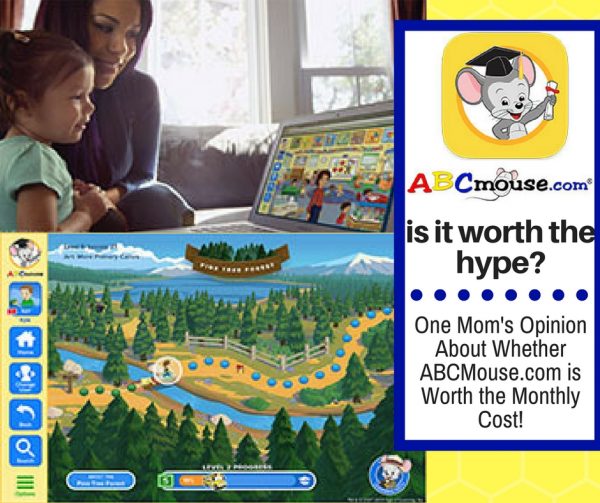 ABCmouse.com Review: IS ABCmouse worth the cost?
An Unbiased Review of ABCmouse By a Skeptical Mom of 2
If you're anything like me then you've seen the ABCmouse commercials all over Disney Jr and Nick Jr….because, let's face it, with 2 kids under 6 those seem to be the only channels we get these days. And I have to say- ABCmouse has an advertising budget that must be INSANE….they're like the sole sponsor of Disney Jr!
Anyway, over the last several years I've seen hundreds….no, more like thousands, of these commercials and I always thought "who would PAY for that when there are so many free educational websites out there for kids?". Seriously, it seems like a complete waste of money….right?
Well, this Christmas we bought the kids an iPad a completely new territory for us. A few years ago we bought each of the kids their own Kids Amazon Fire tablet and loved it– you can read all about why I love the Amazon Fire Tablet for preschoolers here. Anyway, we went with an iPad because that's what Little Man is using in kindergarten this year. In fact, our school district issues iPads to all of the kids from Kindergarten through 3rd grade– then they get MacBooks from 3rd grade until graduation….my how times have changed since I was in school! So, since we've always been an Android family we decided that we should get an iPad so Little Man can practice and learn how to use it at home.
In our hunt for educational apps for the iPad we kept running into issues like:
The FREE Apps weren't REALLY free
The FREE Apps were VERY short and simple
The FREE Apps were riddled with Pop up ads and click bait
The kids would easily get bored with an app and want something new
The paid apps add up QUICKLY
I must say, over the years, ABCmouse.com has gotten into my head with all of those commercials and after 3 days of no school during Christmas vacation, my curiosity finally got the better of me. But first I needed to do a bit of research and check out the reviews online…
ABCmouse.com Reviews
From all of the ABCmouse.com reviews I could find, they seemed to be split across the board. People either loved ABCmouse or hated it….there wasn't much to be found in between.
Billing Issues with ABCmouse.com
Let's start off with why people hated it. The most common reason I could find was that many people experienced billing issues and were not getting much luck with customer service. There are lots of complaints about trying to cancel their service and continuing to be charged along with several reviews that stated they were charged for the full year instead of the month to month option.
Knowing this, I knew that using my personal bank account would not be the route for me in purchasing our subscription. I decided to put ABCmouse on our Discover card since we have a zero liability clause with our card. If you don't have Discover then I would suggest using Paypal or a prepaid credit card with the amount of the service.
Age Range for ABCmouse.com
The other main complaint that I found regarding ABCmouse was that it is too juvenile for older children. I can see how this will probably be the one and only year that Little Man uses ABCmouse. It is a bit on the juvenile end of the spectrum, especially for kids who are used to playing with iPads and Xboxes. But, for Miss Jellybean, I see her enjoying the lessons for the next several years.
Parent Tracking for ABCmouse.com
One of the most popular reasons that parents love ABCmouse is the Progress Tracker for Parents. In the parent's backend, you are able to track each of your children's progress and dive into what they like doing the most, where they excel, where they need help, and so much more. I have to admit the progress tracker section is very impressive and helps me to know where to help Little Man in his reading and math skills.
Extensive Educational Curriculum for ABCmouse.com
Another winner for many parents is the extensive educational curriculum offered by ABCmouse. With over 8500 educational activities and more being added regularly there are a plethora of entertainment options available for kids. ABCmouse structures the learning experience around activities for everyone…there's painting activities, singing, storytelling, reading, science foundations, math games, prizes, and more. The kids don't feel like they're learning…they just feel like they're playing video games but secretly they're learning tons of great foundational elements.
My personal review of ABCmouse.com
After checking out all of the online reviews and doing plenty of research on ABCMouse, I decided to give it a try. Now, let me start off by saying that Little Man has had a little bit of exposure to using ABCMouse.com because they offer it in the children's center of our local library. Check and see if your local library offers ABCMouse.com and go check it out a few times before making the commitment.
I already knew that Little Man enjoyed the games but he gets very frustrated with using the mouse to play the games because he couldn't always get it to line up right. Ah…the tribulations of the modern world where everything is touchscreen. Knowing that he would be using ABCMouse primarily on the iPad I figured he would be fine.
And boy was he!
He was so excited to have ABCMouse.com at home, he played so many levels he acquired 100 tickets on his first day. And now that school has started back, his tenacity for playing hasn't faltered at all. He wakes up 15 minutes early and gets completely ready for school on his own so he can play it before school. That right there is a parenting WIN! No more fighting to get him ready for school….he knows, if he wants to play on the iPad then he has to be completely ready to walk out the door.
Now, Little Man just turned 6 about 2 months ago. He's in kindergarten and just starting to learn how to read….he knows several sight words but that's about it. So, ABCMouse.com seems to be the perfect mixture of play and challenge to keep him entertained and learning. But, Little Man also hasn't been exposed to the Xbox or other gaming systems– so the juvenile nature of ABCMouse doesn't bother him. I'm thinking that by next year he will be "too big" to play ABCMouse.
On the other hand, Miss Jellybean just turned 3. She's in preschool and is working on recognizing shapes, colors, and the alphabet. She has a much more difficult time playing ABCMouse on her own and needs more guidance from me. In my opinion the games are a bit too advanced for her because she gets very frustrated and doesn't have the zeal that Little Man has when it comes to playing ABCMouse.com.
Is ABCMouse.com Worth the Cost
When they are running the special for 49% off and it's just $59.95 for the year then I say grab the year of ABCMouse.com IF your children are between 3-6 years old. Outside of that age range and I think ABCMouse will either be too juvenile or too advanced.
At just $5 a month that makes it cheaper than purchasing a couple of apps for your device. And they offer over 8500 games and learning activities….so that alone is well worth the price!
Personally, I love that I can give Little Man the iPad as a reward for doing his chores, being nice to his sister, helping out around the house, etc. and I know that he's still learning and practicing his reading. So it's a total WIN/WIN for me!
But, what I like even more is that I can watch his progress from the Parent Dashboard. I'm really impressed with how they have set up the dashboard so you can see how your child is trending and what activities he/she prefers. This helps me figure out other learning activities to do with him that aren't using the iPad.
For example, Little Man really loves the "fill in the blank" type activities. By seeing that these are the activities he's drawn to in the app then I can search on Pinterest for fun printables or check out Target for some fun letter games. I kinda feel like I get the cheatsheet in parenting by letting him play "games" and I know how to teach him better. 🙂
The only worry I have and I haven't tested out yet is the billing issues that some people have cautioned about. To get around this I would suggest using a Paypal account where you can simply go into Paypal and cancel the auto billing on your own or use a prepaid credit card– that way you don't have to worry about being billed unless you want to be billed.
So, as long as you take those precautions for the billing issues then I say jump on ABCMouse.com if you find it on sale. They typically do a discount making it roughly $5 a month when you purchase the full year– I don't know if they offer this discount when you do the One Month Free Promotion but the $60 for the year option is a pretty awesome deal so I just went for that one.
Note: I was not contacted, paid, or compensated by ABCMouse.com to write this review. I purchased the one year program and chose to share my findings with you. ABCMouse does offer a small referral fee for anyone who purchases it through the links above. This referral fee helps me pay all of the hosting fees to keep this site up and running. If you choose to purchase ABCMouse.com I would appreciate you buying it from a link above at no extra cost to you. Thanks!