This Cookies and Cream Popcorn recipe is the perfect little treat for family movie night. I love making this Cookies and Cream Popcorn recipe because it's super simple and so delicious….everyone gobbles it up in no time!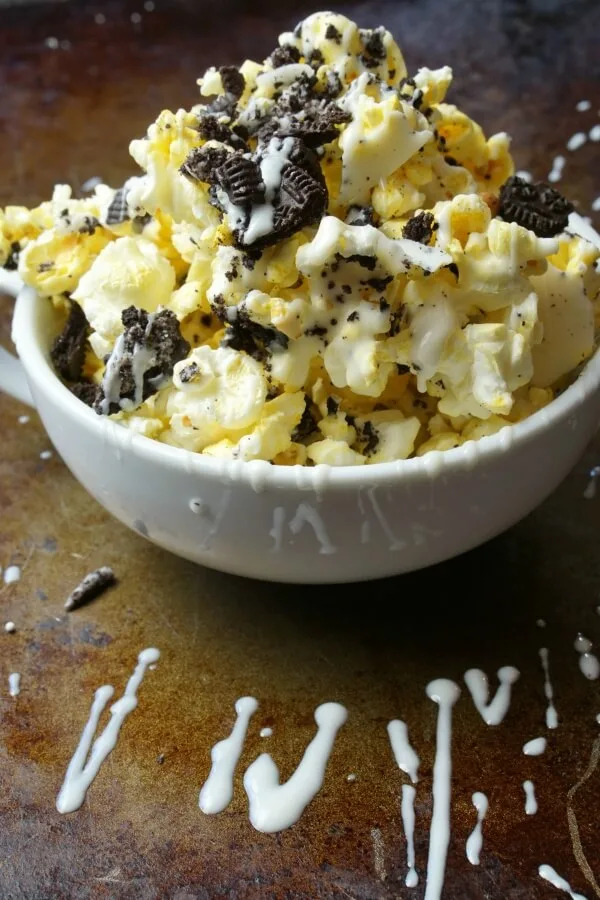 Cookies and Cream Popcorn Recipe
A Delicious Family Movie Night Treat
Okay, so you guys all know how much I love Oreos! We may be working on taking simple and affordable steps to a natural lifestyle and healthy eating….but you've got to enjoy life a bit too! This popcorn is definitely worth the cheat!
I know you're probably wondering…."Melissa, if we're following along to go all natural and healthy then WHY are you sharing a recipe that's definitely NOT natural….I mean OREOS….hello?!".
Here's the deal, so many people give up on their New Year's resolutions of eating healthy and going all real food because they try to do it cold turkey and don't allow themselves any of the treats from before. I believe that anything goes as long as you do it in moderation. If you love Oreos…like I do…then flipping EAT Oreos. Don't deprive yourself because they're "bad for you"….enjoy a couple and move on. Now, don't eat Oreos every day…that would definitely NOT be a good idea…but indulging every once in awhile is totally fine.
Okay, so the kids LOVE it when I make this cookies and cream popcorn recipe….let's be honest….so does Hubs and I totally don't complain when it's requested. This popcorn is the perfect mix of sweet and salty! Pair it with a fun movie for the ultimate family movie night.
Cookies and Cream Popcorn Recipe
Ingredients
10 cups popped popcorn
8 ounces white almond bark
2 teaspoons coconut oil
10 crushed black and white cookies
Directions
Line a cookie sheet with parchment paper and spread popcorn over it.
Chop almond bark into smaller pieces and place in a microwave safe bowl with the coconut oil.
Heat mixture in 15 second intervals until softened.
Drizzle the softened bark over the popcorn with a teaspoon.
Immediately sprinkle the crushed cookies over the popcorn.
Allow to set for 5 minutes and enjoy.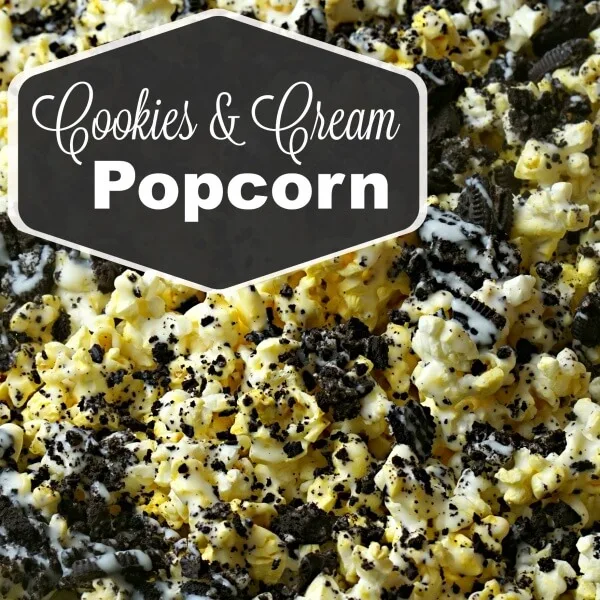 That's it….told ya….SUPER simple!
You May Also Like: