Disclosure: I got this product as part of an advertorial.
My First Puzzle Review and Giveaway
The PERFECT puzzle set for toddlers!
Alright, so Little Man has REALLY gotten into puzzles lately! Every time we go to the library he gets excited because he knows that the children's section is full of different puzzles to do and it keeps him completely entranced for the 20 minutes or so that I spend picking out new books for the week…it's FANTASTIC!
Anyway, I decided that we needed to start getting some puzzles for him to do at home as well. Do you know how excited this Little Man was when one of "Mommy's" packages was actually for him?! He was over the top thrilled….and once he realized it was a puzzle he was even more excited!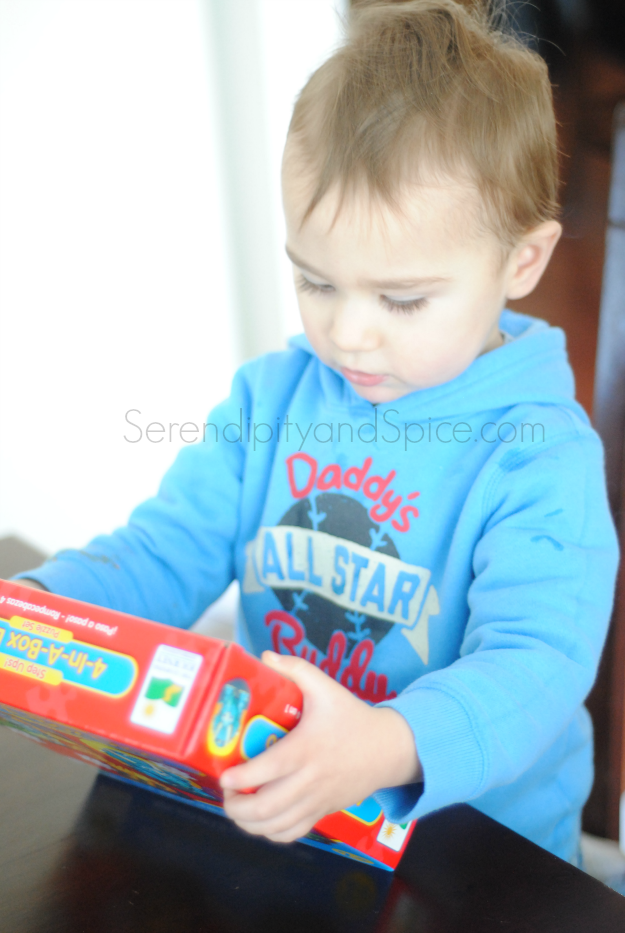 I mean look at that face…he's completely mesmerized! So I know you're probably thinking "well my kid loves playing with the empty boxes…so what makes this one so special?!" Well, Little Man does love playing with empty boxes as well….sometimes I don't even know why I bother buying the toy….I could just give him the box and he'd be happy. BUT….I really did like this puzzle and so did Little Man and Hubs had to get in on the action too….it turned into a fun impromptu family playdate!
First off I was expecting small pieces….but these puzzle pieces are nice and large…perfect for tiny hands and limited motor skills.
Next, I loved the fact that each puzzle was separate…AND they were labelled on the back so you know which piece goes with which puzzle….it really helped us sort the pieces for Little Man and caused less frustration.
Finally, I was impressed with the quality of the pieces. The colors were sharp and vibrant. The pieces were sturdy and thick. And they fit together relatively easy….Little Man got the hang of it in no time!

Don't you just love that he clapped for himself when he finished?! I swear that kid will take me to the brink of insanity but then he does something just so adorable that I melt completely…..Hubs says it's nature's way of keeping them alive. 😉
Anyway, if you have toddlers ages 2 and up I highly recommend this puzzle set…I was quite impressed! NOW, you can enter to win one for your Little One…or a friend if you don't have a Little One!
a Rafflecopter giveaway

I received one or more of the products mentioned above for free using Tomoson.com. Regardless, I only recommend products or services I use personally and believe will be good for my readers.