These gluten free lunch ideas for kids will have your little one happy and you worry free. Does your child need gluten free lunches? Then check out this list of the most delicious gluten free lunch ideas for kids!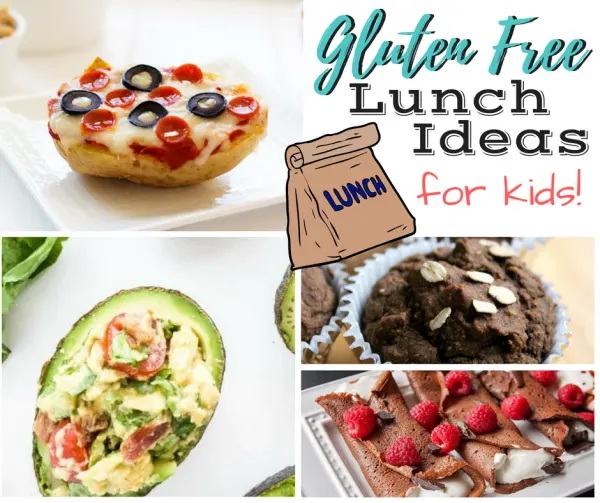 Gluten Free Lunch Ideas for Kids
School Lunch Foods For Children with Food Allergies
Does your child have a food allergy? The other day I shared with you my peanut free school lunch ideas for those children who are either allergic to peanuts or are in a peanut-free classroom. Well today I'm continuing on with the school lunch theme and rounded up some of the most delicious sounding gluten-free lunch ideas for your kids!
In addition to making ham and cheese roll-ups, salads, or bento boxes with fruit and veggies; here are some more gluten free lunch ideas….
Gluten Free Blueberry Muffins from Living Montesorri Now
BLT Stuffed Avocado from Wholesome Yum
Grain Free Meatballs from Health Home and Happiness
Chocolate Crepes from The Bewitchin Kitchen
Marathon Cookies from The Monday Box
Homemade Hummus from Snotty Noses
Fruit Swords and Magic Wands from Rainy Day Mum
Tortilla Chips (Keto, Gluten-Free) from Wholesome Yum
Baked Potato Pizzas from Amanda's Cookin'
No Green Stuff Veggie Slice from Kidgredients
Mini Egg and Bacon Quiche from Danya Banya
Easy Cheesy Broccoli Chicken Casserole from Something 2 Offer
Healthy Snowman Snack from Red Ted Art
Chocolate Covered Coconut Bars from Frogs and Fairies
Two Veg Gluten Free Fritters from Kidgredients
Rainbow Omelette Cakes from Eats Amazing
Granola Cereal (Paleo, Gluten-Free, Sugar-Free) from Wholesome Yum
Apple Gingerbread Muffins from Strength and Sunshine
Hash Brown Casserole from A Girl Worth Saving
Strawberry Spinach Salad from Jar O Honey
Crepe Roll Ups from Health Home and Happiness
Tuna Salad from Raising Generation Nourished
Mrs. Fields Gluten-free Cookie Alternative from It Takes Time

You may also like:
School Lunch Ideas Kids Will Eat
Nut Free Lunch Ideas for Back to School
Easy After School Snacks for Kids