This shop has been compensated by Collective Bias, Inc. and its advertiser. All opinions are mine alone. #SnugHugs #CollectiveBias
Make this Huggies Snug & Dry Diaper Monkey Pal for a fun first birthday gift. Put together a practical first birthday gift that mom and baby will love with this diaper monkey pal.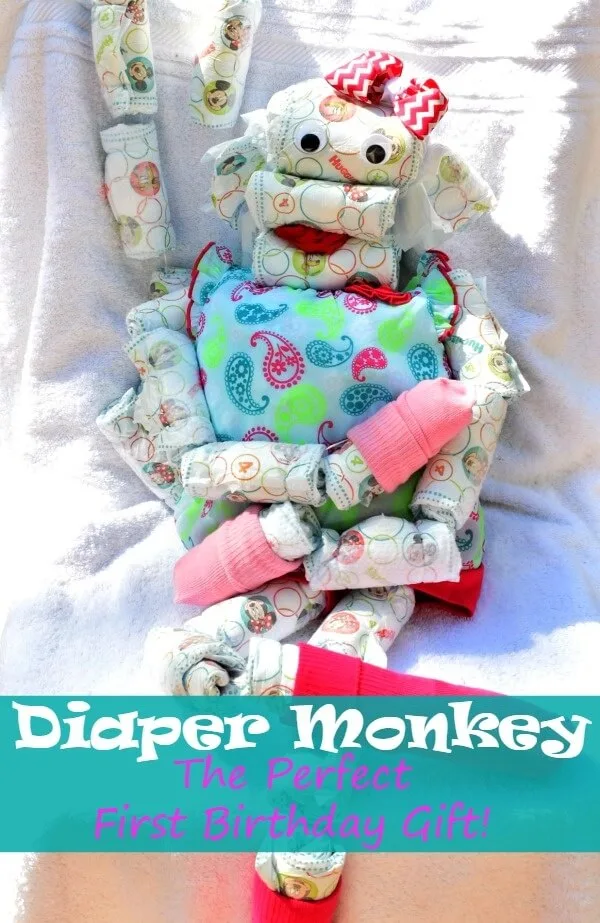 Huggies Snug & Dry Diaper Monkey Pal
A Cute Yet Practical First Birthday Gift
I always have a hard time trying to decide what to get as a first birthday gift. Money is so impersonal, everyone gives toys– and as a mom of 2 I already know the kids have more than enough toys, clothes are nice but kind of boring for the child….so I've started giving these diaper monkey pals as first birthday gifts.
The kids LOVE these diaper monkey pals and it gives them a "toy" to play with, moms LOVE these diaper monkey pals because they're practical and gives them a ton of diapers along with a cute outfit and accessories. Plus, you'll be the talk of the party with such a fun and unique gift!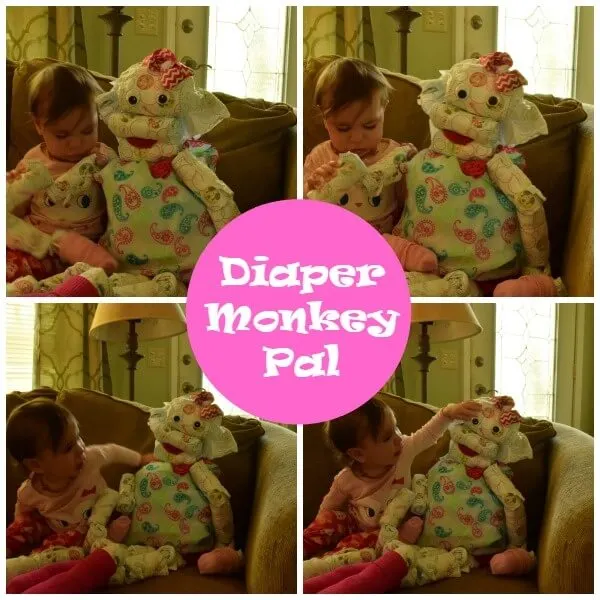 It takes about 60 diapers each to make these diaper monkey pals– so I like to buy the BIG box of Huggies Snug & Dry diapers at Sam's Club…it's so convenient because I can pick up a box while doing my other shopping. Plus, the value is fantastic because Sam's Club members save over $10 on a box of Huggies Snug & Dry diapers– plus, when you use the Ibotta app you'll save an extra $7!
I prefer to give Huggies Snug & Dry diapers because they have the triple layer protection to keep little ones dry…especially when they actually sleep through the night! These diapers provide up to 12 hours of protection and keep babies dry…which keeps mommy happy as well!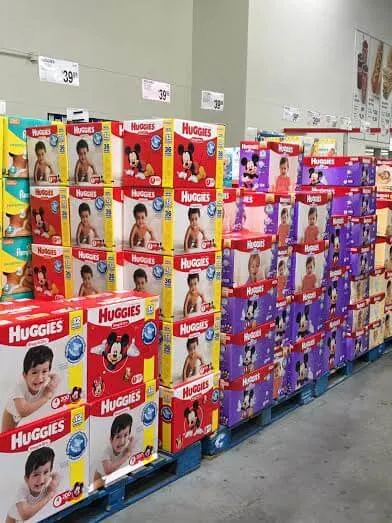 Most one year old's that I know where size 4 diapers so that's what I buy but I suggest asking the mom what size diapers her little one is in. I love that I can get 200 Huggies Snug & Dry size 4 diapers for such a great price…even though the diaper monkey pal only needs 50 diapers to make I still give the mom the rest of the box because she's definitely going to need them.
Okay, ready to make these adorable diaper monkey pals? They are much easier to make than they look– I promise…you're going to love making these as a unique first birthday gift!
Diaper Monkey Pals Tutorial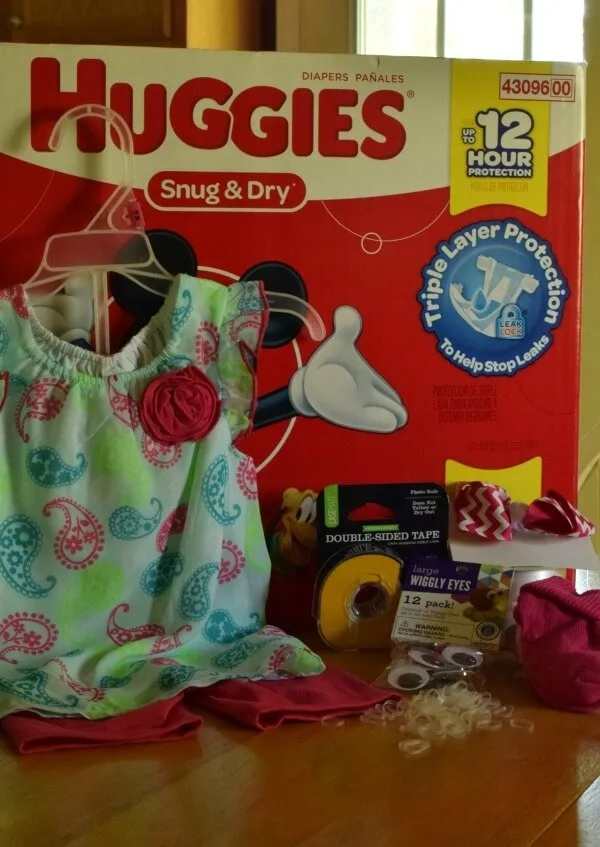 What you'll need:
Huggies Snug & Dry Diapers
1 spool white string or ribbon (I use curly ribbon for presents)
1 Pack Clear Rubber Bands (small)
2 Pairs of Socks
Cute Clothes
Hairbow (for girl)
Googley Eyes
Double Sided Tape or Glue Gun
Directions:
Roll up 27 diapers and secure with 2 small clear rubber bands one on each side of diaper.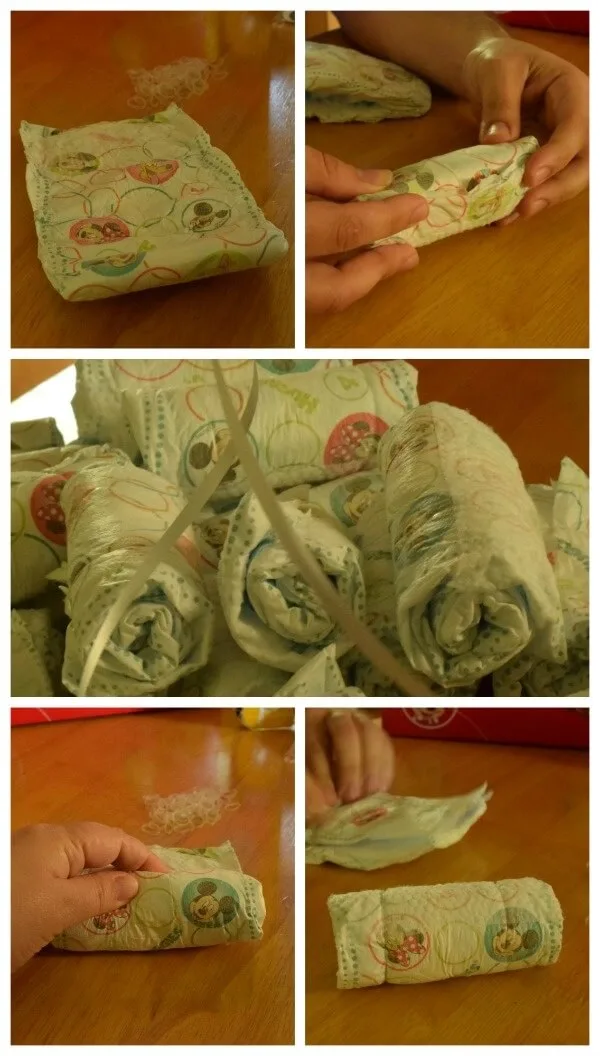 Cut ribbon into a 3 foot piece– make 3 of these. Thread 8 rolled diapers onto each 3 foot section of ribbon. These will be your arms, legs, and tail.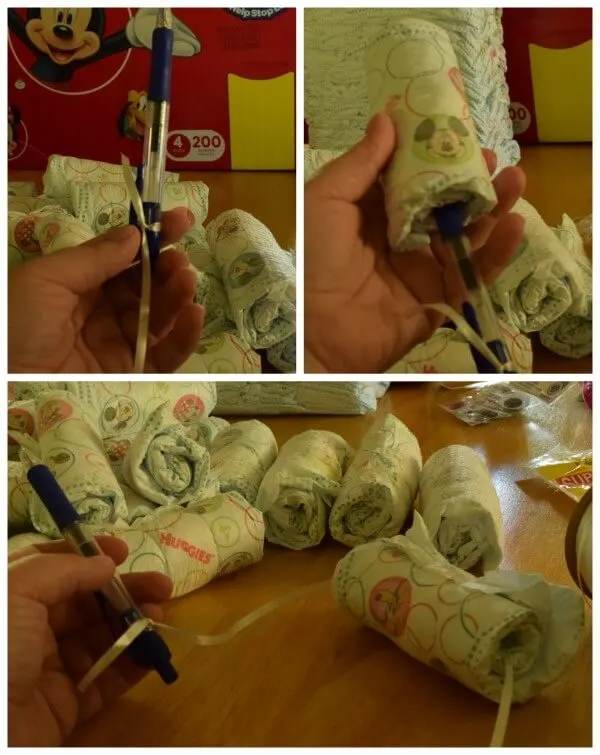 Once your tail, legs, and arms are done you're going to make your body. The body is made up of 2 sections. Take one diaper and open it up, place one of your diaper chains that you made above inside the diaper. Then take 10 folded diapers and place those inside the diaper as well. Secure the diaper closed by tying a piece of ribbon around the diaper. Wrap another diaper around the outside of the body to secure all of the diapers inside. Do this twice…you will have 2 identical bodies.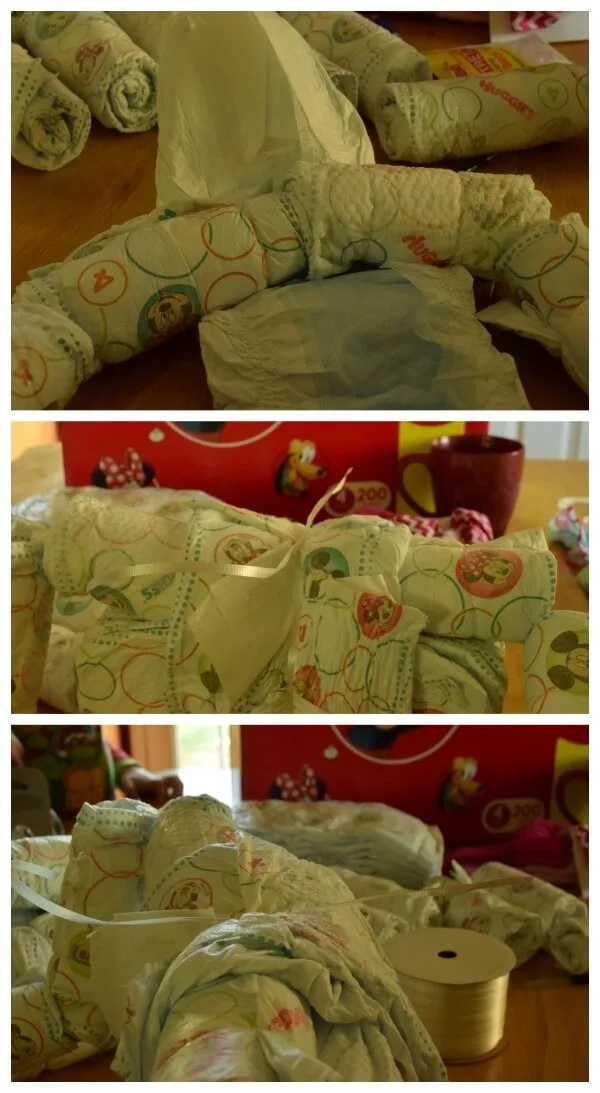 Secure the two body pieces together with the legs coming out of the bottom of one body and the arms coming out of the top of the other body. Next you'll add the tail (you're final string of 8 diapers) to the back of the body. Secure everything together with the ribbon…note- you'll have to wrap the ribbon several times to make it sturdy.
Now let's make the face. You'll take your last 3 rolled diapers to make the face along with 5 folded diapers. Unfold one diaper and put the 4 remaining folded diapers inside along with one rolled diaper at the end (the folded end of the diaper not the open end). Tie a piece of ribbon around the diaper right underneath the rolled diaper.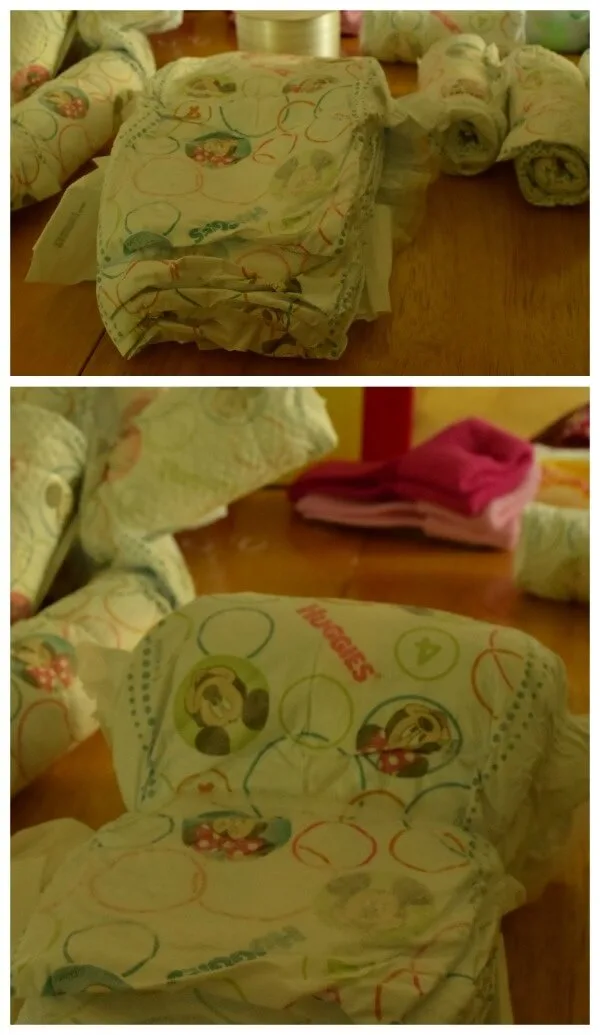 Then secure the last 2 rolled diapers to the head by threading the string through and tying them to the diaper pack.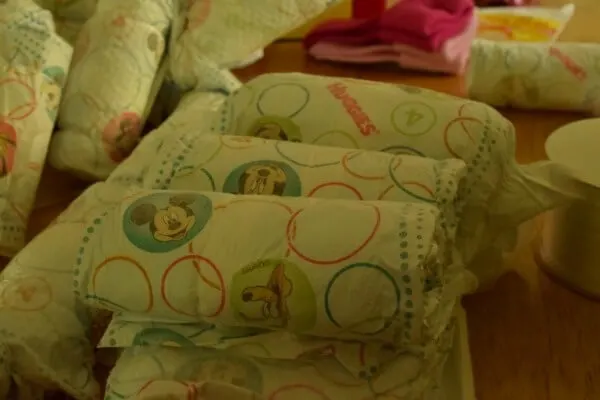 Now tie the head onto the rest of the body and you're ready to dress your diaper monkey pal!
Once your diaper monkey is dressed you'll add on the eyes, hair bow if it's a girl, and red napkin for the tongue. Just use double sided tape or your glue gun to secure the eyes and bow. The napkin can just be folded and placed in between the last two rolled diapers.
I like giving Huggies Snug & Dry diapers as a first birthday gift because parents still need diapers. It's a year after all of the baby showers and newborn gifts so all of those diapers are probably long gone. But by giving Huggies Snug & Dry diapers for a first birthday it's giving a gift that I know is needed.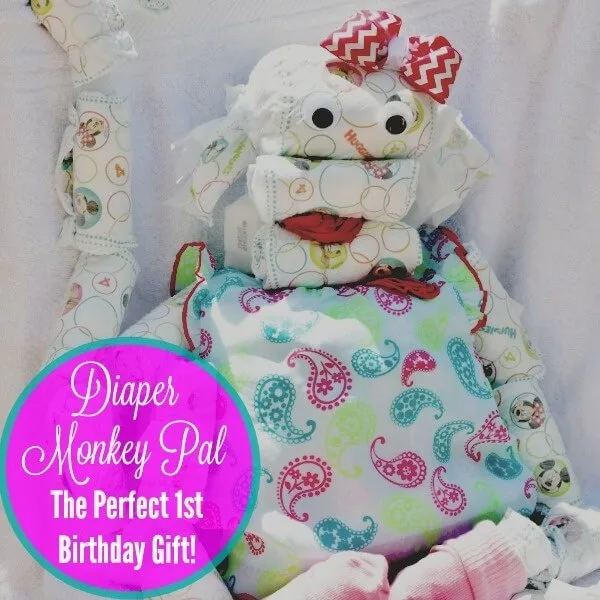 What do you like to give as a first birthday gift? Share in the comments below!