Okay, so, it's been awhile since I've done a New Blogger Series post but I felt like this needed to be addressed.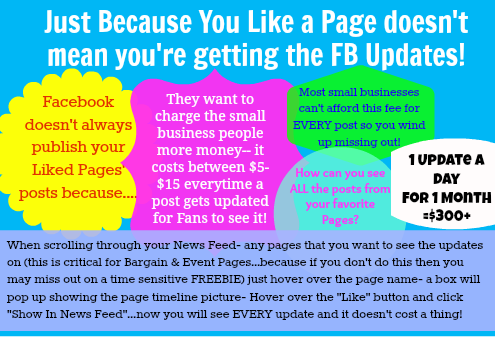 Like many of you I'm tired of FB nickle and diming me to death. I think it's wrong that people who have already taken the time to "Like" my page still don't
get all of my updates…. well, UNLESS I pay Facebook to go ahead and show them my updates…..ridiculous!
But, it is what it is and I just have to deal with it. For much of my Blog stuff I've switched over to Google+ and if you haven't yet you really need to read Why You Should Get On Google+ Now. But, let's face it– Facebook isn't going anywhere just yet. I'm still guilty of using it for a majority of my personal stuff and I realize that people are more likely to read an update on Facebook than open an email newsletter.
So, as a craft blogger and now a deals/events blogger (you can check out that site here) Facebook has become critical to my traffic. Lake Norman Mom receives 90% of it's traffic from Facebook updates– could you imagine how much more traffic it would get if more than 15% of the Fans saw the regular updates in a timely manner?!
But what can we do? I certainly can't afford to spend $5-$15 to promote each status update! That would average out to about $300+ a month if I only posted ONCE a day! Yeah, I'd need to do a heck of a lot more sponsored posts…just to pay for advertising!
The best alternative we have to combat the greediness of the FB execs is to educate and inform readers. Most readers don't realize that they don't see every update and those that realize they're getting updates far later than when they should (like a time sensitive magazine subscription update I posted about that was only valid Tuesday and about 20% of my fans didn't even see the update till Wednesday– yeah, deal over, Fans mad!) they don't realize there's a way to fix it.
So, I made up this colorful chart to help educate our Fans! So feel free to Pin this image and share it share it share it! Hopefully, it will help us all increase our FB traffic!