This organic chicken spinach pasta recipe is an easy dinner for those busy nights and a family favorite dinner recipe! Make this chicken spinach pasta in about 30 minutes and dinner is done! #HTOrganics #Sponsored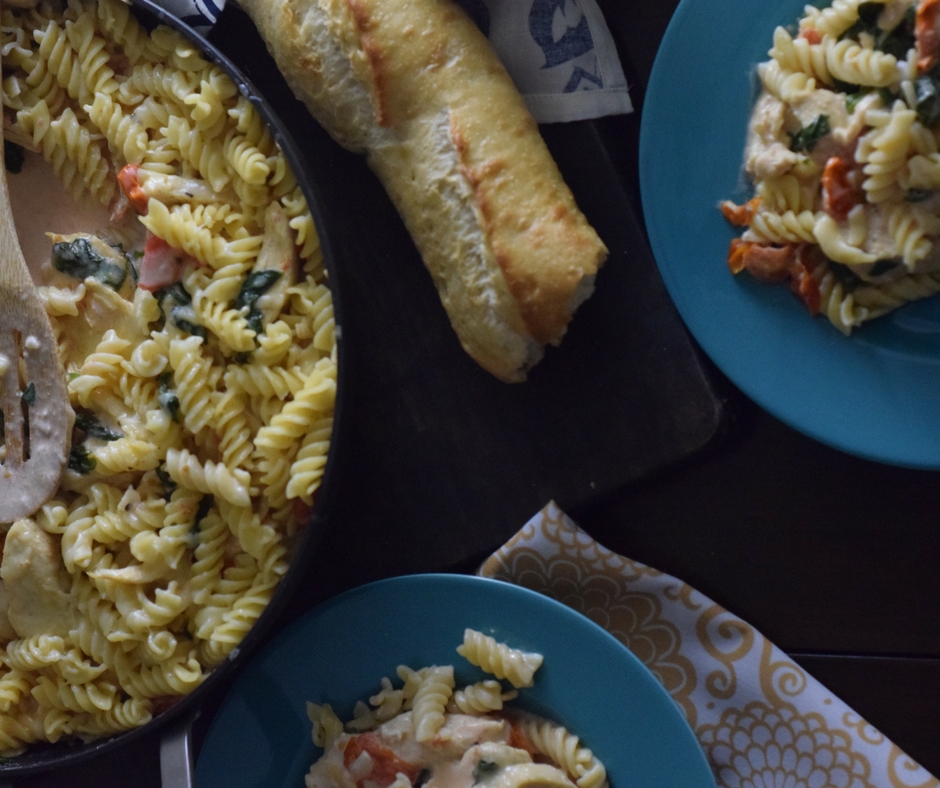 Chicken Spinach Pasta Recipe with Fresh Tomatoes!
This easy dinner combines fresh tomatoes, chicken, spinach, and pasta in a delicious creamy sauce.
This post is sponsored by Harris Teeter Organics. As always, all opinions are my own.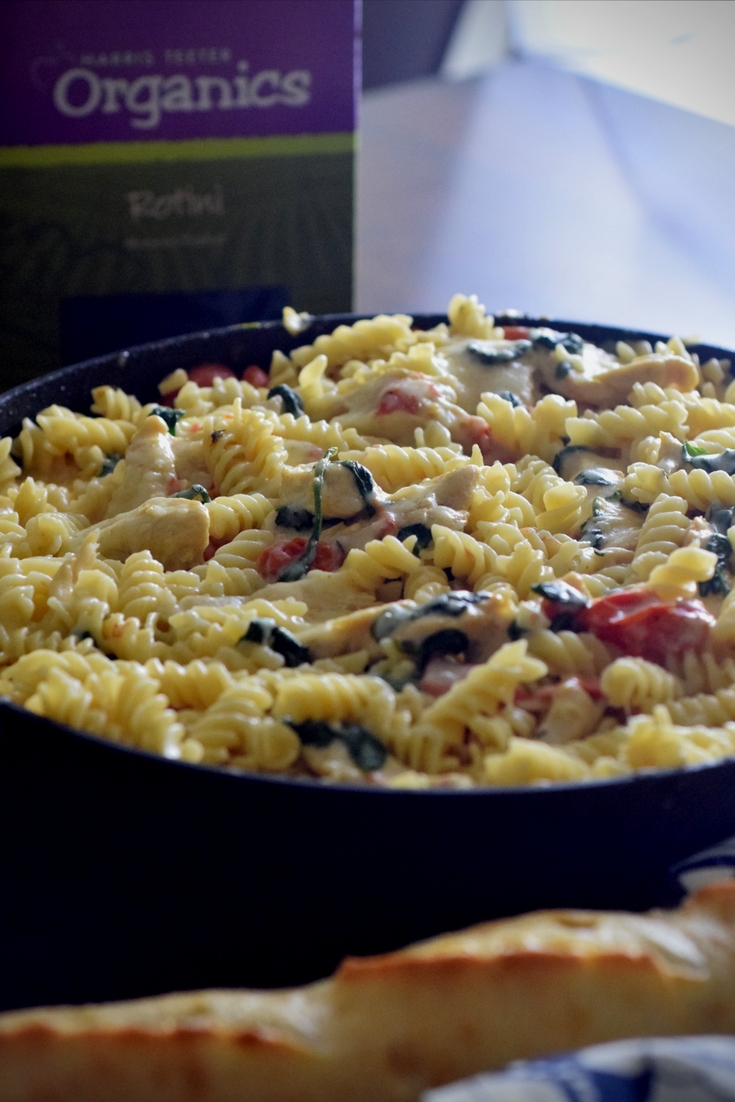 Over the last few months Little Man has been learning how to play soccer, and now the time has come for him to actually start a soccer league. Yep, I have officially landed the title of "Soccer Mom"…and I love it! Little Man is nuts about soccer!
The problem is that soccer practice is on Monday nights which leaves us rushing from school to soccer to getting dinner on the table….as if Mondays weren't hectic enough!!
Luckily, there's a Harris Teeter grocery store right next to the soccer field which makes grabbing groceries for a last minute dinner super easy. I love that I can pop in right after a soccer game and grab all of the ingredients I need without breaking the bank.
We're trying to switch more of our foods to organic varieties and Harris Teeter Organics makes that a super affordable option considering many of their HT Organics items are right in line or even cheaper than the non-organic choices. Plus, if there's ever a Harris Teeter Organic product that doesn't meet my standards they'll refund it completely AND give me the same product in my normal brand for free. You can learn all about the Harris Teeter Organics brand here.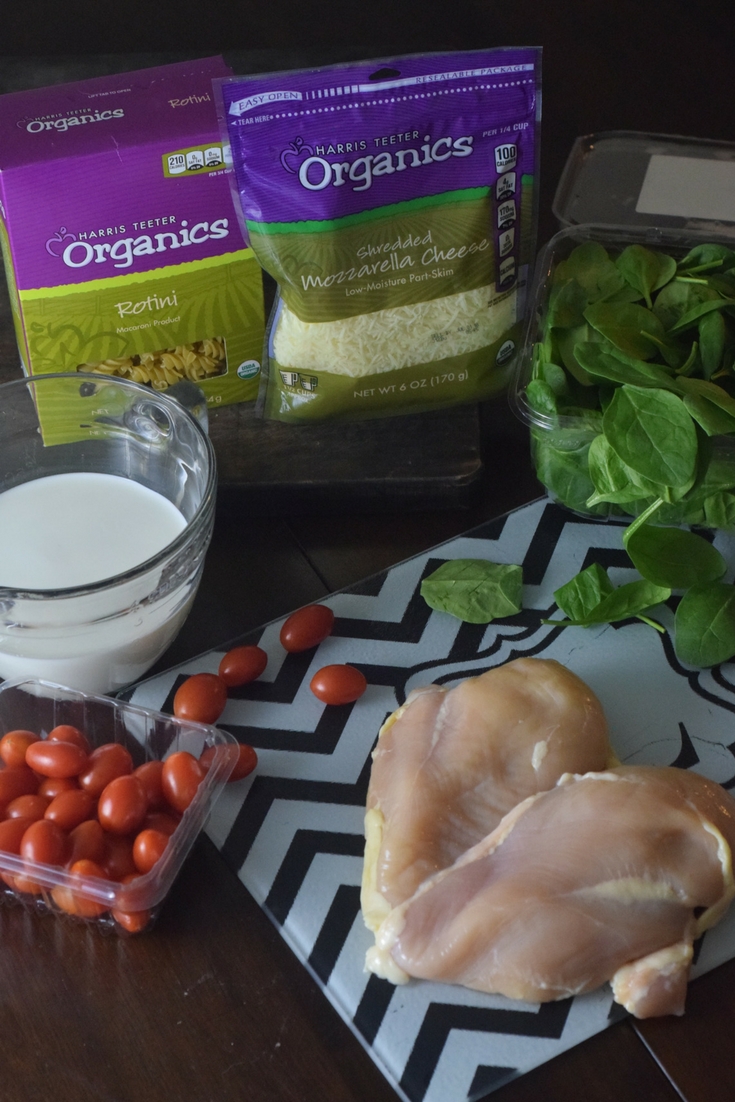 [clickToTweet tweet="Check it out: Chicken Spinach Pasta dinner using #HTOrganics an easy dinner for those busy nights! #YUM @harristeeter" quote="Check it out: Chicken Spinach Pasta dinner using #HTOrganics an easy dinner for those busy nights! #YUM "]
Anyway, this chicken spinach pasta is a family favorite and I love that I can have it on the table in about 30 minutes.
I also like to grab a baguette over at the Harris Teeter bakery because it goes perfectly with this dish. But I do warn you…when they're fresh out of the oven and still warm it's soooooo difficult to make it home with the baguette intact. They're soooooooo delicious!
Alright, so you're going to love how easy this meal is to make.
First off, I swing through the produce section and grab 1 head of garlic, a package of Harris Teeter Organic baby spinach, and a pint of organic Roma tomatoes. Then I stop by the butcher to grab a couple of fresh boneless, skinless, chicken breasts. I take a trip down the pasta aisle and grab a box of HT Organics pasta…this time I chose Rotini but you can pick whatever you like. I like using Rotini because the sauce sticks to it really well…I also like using the pasta shells to mix things up for the kids.
Finally a quick trip by the dairy section to grab HT Organics Mozzarella Cheese and half and half cream. You can use heavy cream for a thicker sauce but my family prefers a lighter sauce so I've found that half and half works perfectly. Everything else I use is found in my spice cabinet and is totally optional.
Then it's home to start cooking!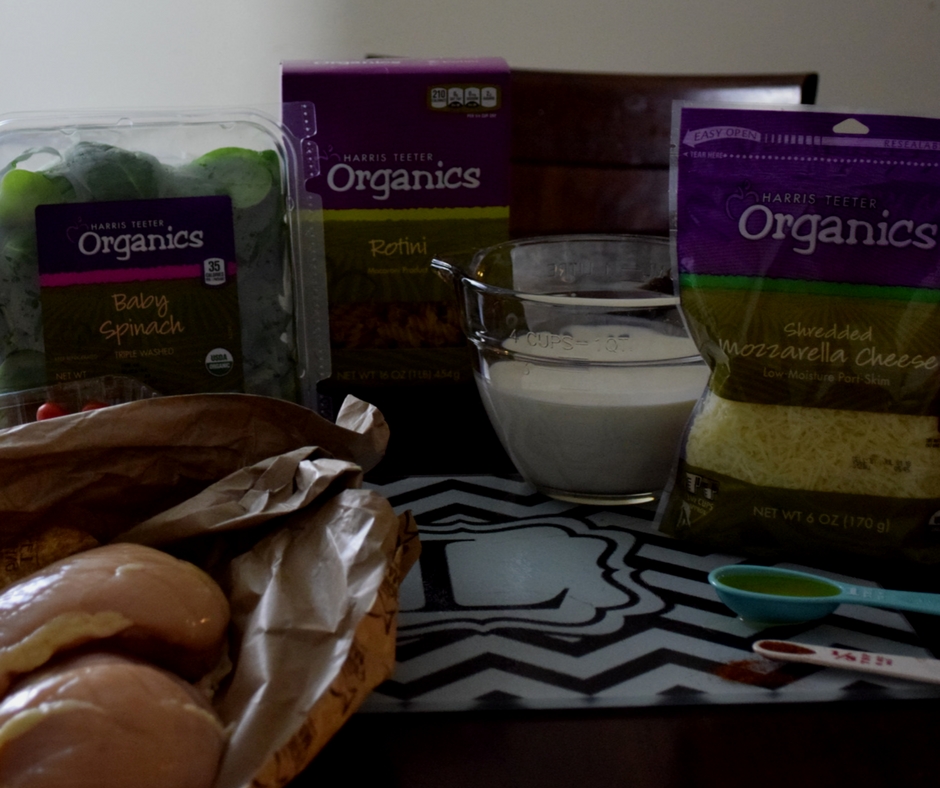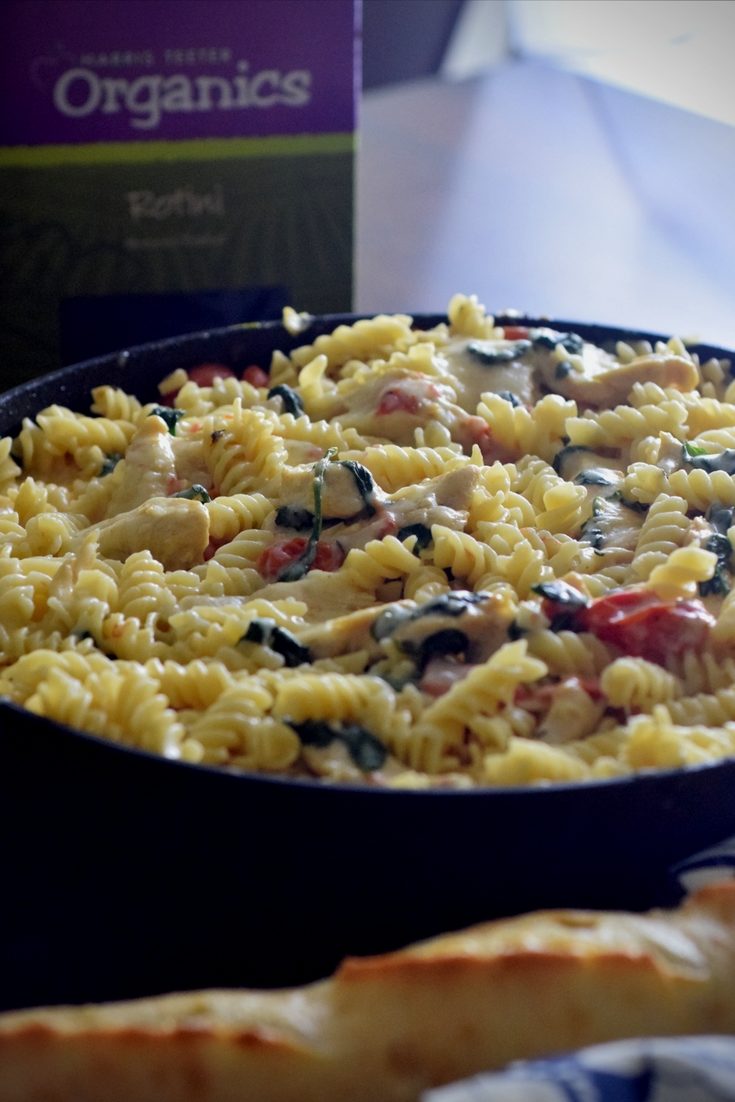 Yield:

8
Organic Chicken Spinach Pasta Recipe
Ingredients
1 TBS Salted Butter
1 Head of Garlic (peeled and diced)
2 lbs Boneless, Skinless Chicken Breasts (sliced)
1 Quart Container Harris Teeter Organic Baby Spinach
1 Pint Roma Tomatoes
2 TBS Olive Oil
1 tsp Garlic Powder
1 tsp Onion Powder
2 tsp Paprika
1 16 oz box of HT Organics Pasta (I used rotini)
2 Cups Half and Half
2 Cups HTOrganics Shredded Mozzarella
1 TBS Cornstarch
Instructions
Directions:
Melt butter in skillet and sautee garlic til lightly browned.
Add sliced chicken breast to the skillet and cook thoroughly.
Sprinkle in spinach and tomatoes- these will condense down so use more than you think you'll need.
Put pasta on to boil in pot of water.
Pour in olive oil and spices over spinach, tomatoes, and chicken; cook for 8-10 minutes or until spinach is fully wilted.
Add cream.
Strain water from pasta and add to creamy chicken mixture.
Mix well.
Add in mozarella cheese and mix thoroughly.
Cook additional 5 minutes.
Mix 1 TBS of cornstarch with 1 TBS of water in separate bowl.
Add cornstarch mix to pasta and stir quickly.
Remove pasta from heat.
Sauce will thicken as it cools.
Chicken Spinach Pasta Recipe
Do you have a Harris Teeter near you? What do you think about the expanded organic offerings?