Fantasia is one of my favorite Disney movies…especially the part with Mickey Mouse as the Sorcerer's Apprentice. That's why I love these little Sorcerer's Apprentice Mickey Cupcakes….they are the perfect Halloween treat!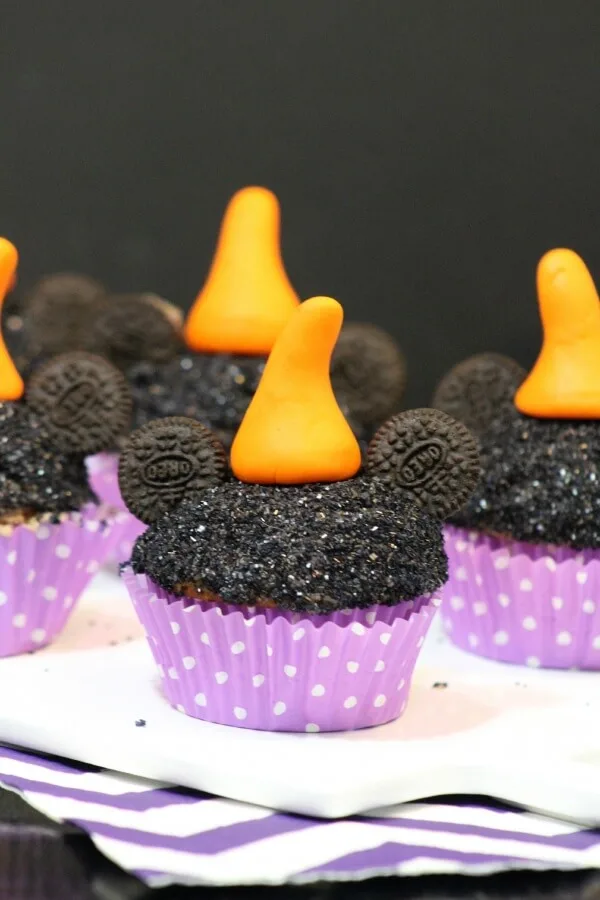 Sorcerer's Apprentice Mickey Cupcakes
A Fun Halloween Treat featuring Disney's Fantasia Mickey Mouse
Okay, so you guys now know what a TOTAL Disney geek I am…and if this is your first time visiting Serendipity and Spice and you're a big Disney fan...then follow me because I LOVE all things Mickey Mouse and Disney! My Instagram is overflowing with my favorite Disney quotes and we won't even get started with all the fun stuff I repin over on Pinterest.
Anyway, one of my favorite movies is Disney's Fantasia….especially the part with Mickey Mouse as the Sorcerer's Apprentice. There's just something so magical about Mickey anyway but to make him magical is just awesome. Every time we go to Hollywood Studios I love gazing at the big sorcerer's apprentice hat. Although, can I say what a shame it is that they built that awful stage that pretty much blocks the view of the hat? I really hate that they did that and every time we visit I hope that they've changed it. Other than the American Idol stage I love everything about Disney!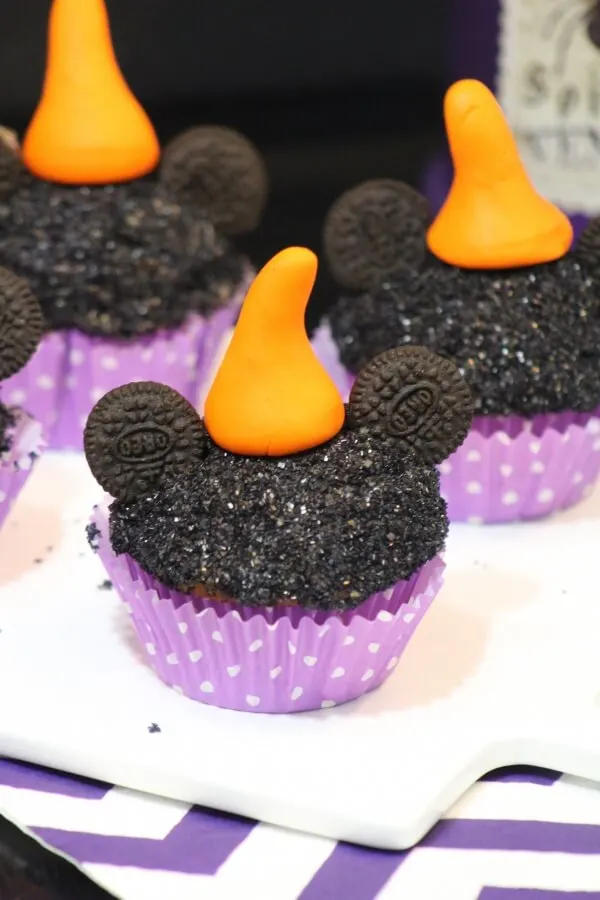 These cupcakes are no exception….I'm totally nuts about them. These Sorcerer's Apprentice Mickey Cupcakes make the perfect little treat to bring home a little Disney magic….and they're always a hit at parties….because not only are they super adorable but they're also pretty darn yummy too!
Sorcerer's Apprentice Mickey Cupcakes
Author:
Ingredients
Chocolate Cupcakes Ingredients:
1/2 C unsalted butter, room temp
1 1/2 C sugar
2 eggs, room temp
1 tsp vanilla
1 1/2 C flour
1/2 C unsweetened baking cocoa
1 tsp baking soda
1/4 tsp salt
1/2 C sour cream
1/2 C water
Frosting Ingredients:
1 C unsalted butter, softened
3/4 C cocoa powder
3 C powder sugar
3/4 C heavy cream
Extra Ingredients:
Black Sprinkles
Bag mini Oreo cookies
Orange fondant
Instructions
Chocolate Cupcake Directions:
-Preheat oven to 350 degrees. Line cupcake tins with paper liners.
-Mix the flour, sugar, cocoa, baking soda, and salt in a bowl.
-Add the eggs, one at a time, mixing after each addition. Mix in the vanilla.
-Combine sour cream and water.
-Begin to add the dry ingredients to the eggs and vanilla mixture. Alternate adding the dry ingredients with the sour cream and water mixture. Beat to combine after each addition.
-Scoop batter into cupcake paper liners until 3/4 full.
-Bake at 350 degrees for 20-25 minutes or until an inserted toothpick comes out clean.
-Allow to cool for 10 minutes while in the cupcake pan.
-Remove from the cupcake pan placing on a wire rack until completely cool.
Frosting Directions:
-Beat butter in a medium mixing bowl on medium speed or until fluffy.
-Add dark cocoa powder and powdered sugar 1/2 cup at a time until blended.
-Test to see if frosting can make and hold a stiff peak by taking a spoonful of frosting and turn the spoon upside down. If the frosting holds to the spoon then it is ready, if not fold in more powdered sugar.
-Scoop the frosting into a pastry bag with a large star frosting tip. Twist the open end of the pastry bag to push the frosting to the tip.
– Begin frosting on the outside edge of the cupcake working inward to the center of the cupcake.
Extra Directions:
-Pour the black sprinkles into a bowl.
-Dip each frosted cupcake into the bowl with sprinkles. Make sure that all of the frosting is covered.
-Add 1 mini Oreo to each side of the frosted/sprinkled cupcake.
-Tear the orange fondant into small pieces then roll it into a ball.
-Working with your hands shape the fondant into a witches hat.
-Place the hat on the center on top of the frosted cupcake.
What's your favorite Disney movie? Share in the comments below!
You may also like:
Mickey Mouse Pumpkin Cookies Recipe
Mickey's Not So Scary Halloween Party
Disney: Tips for Introducing Toddlers to Characters