Girl Scout cookies are a hot commodity that are only available once a year.  Check out these delicious Copy Cat Girl Scout Cookies Recipes that taste just like the real ones and have Girl Scout cookies all year long!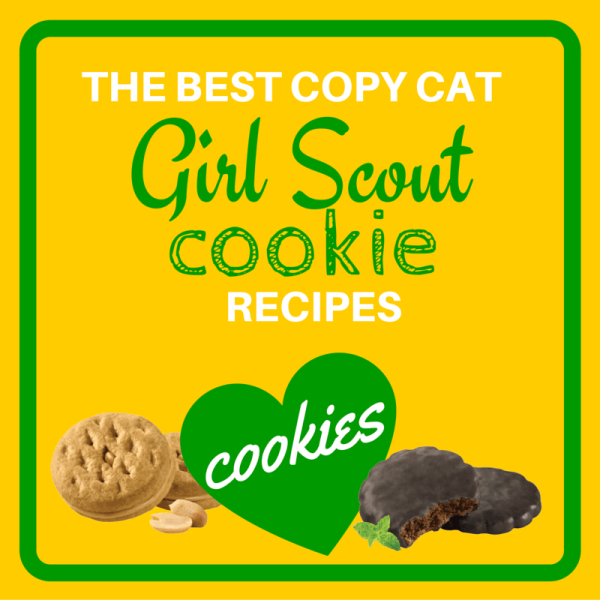 Copy Cat Girl Scout Cookies Recipes
Ah Girl Scout Cookie season…it's a glorious time of year…isn't it.  I mean, other than Christmas, when else does the entire US go on a cookie binge?!
Whoever is in charge of marketing for the Girl Scouts is a diabolical GENIUS!  Delicious cookies that you can only get ONCE a year….yeah, it's a total addiction.  My grandma buys a case to put in the freezer so she always has some when the craving hits….yep, you can freeze Girl Scout cookies!
As life would have it, just like I always crave Chick-fil-A on Sundays, I always get a craving for Girl Scout cookies in January knowing that they don't come out for another few months.  Sure, my little cousin is taking orders right now….but I still have to wait weeks on end to finally get them.
Luckily, Pinterest is FULL of copy cat Girl Scout Cookies Recipes!  I have gone through and narrowed them down, tested the out, and I bring you the BEST Copy Cat Girl Scout Cookies Recipes.  You know you can't turn down a delicious Copy Cat Girl Scout Cookie!
Thrive Market
- It's like the Costco of organics...this is where I get all of my sugar, flour, baking supplies, kids snacks, etc.
Zaycon Foods
- This is where I buy most of my meat products in bulk.  The quality is amazing and the prices just can't be beat!  I mean, $1.89 a pound for boneless all-natural chicken breasts!!  It is bulk but you can always split with a friend or make up a bunch of freezer meals like I do!