This post may contain affiliate links. We only share items that we love and make a small percentage of the sale if you choose to buy through our links- but there's never any added cost to you...our earnings go to important stuff like more coffee to survive the toddler years!
Personalized DIY Patriotic Wreath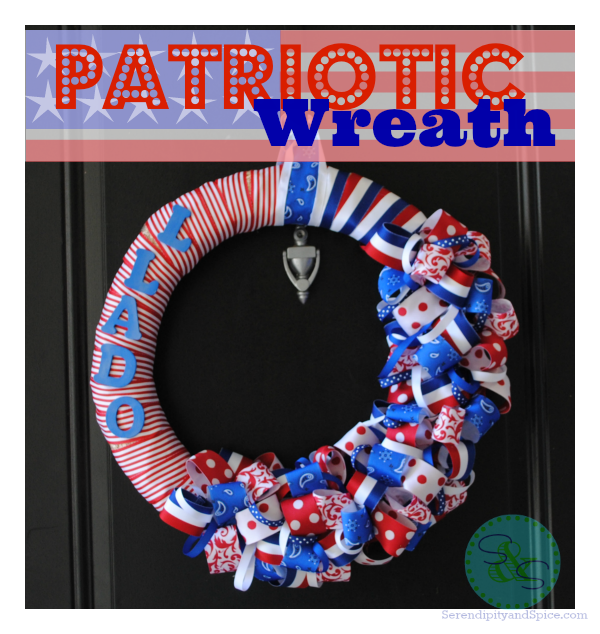 With the 4th of July right around the corner I wanted to  DIY a patriotic wreath.  One of my first pins ever was this wreath by She's Kinda Crafty—being avid Gator fans how could I not LOVE this wreath?!
I keep planning on making it but maybe closer to football season.  Anyway, I LOVE all the ribbons- but man it takes a lot of time (and ribbon) gluing all of those little ribbon cylinders all over the wreath!  So I opted to just do half the wreath and I think it turned out great!
Materials:
Foam Wreath (you can use a pool noodle and secure the ends together with ducktape—so much cheaper than buying a wreath)
3 rolls of base ribbon
3-5 rolls of ribbon for ribbonettes (that's what we're going to call the little ribbon cylinders—ok?)
Thread and Sewing Machine
Scissors
Hot Glue Gun
Wooden Letters
Paint for letters
Instructions:
Wrap the wreath with your base ribbon.  I learned that the wider the ribbon the better for this part—it takes a lot of ribbon to wrap a wreath.  Don't be afraid to mix styles and colors—just keep the red, white, and blue all the same shades of red, white, and blue (or whatever color combo you're using).
Cut your ribbon for the ribbonettes into 5-6" sections—they don't have to be perfectly the same size because you want dimension in there.  I used thick ornate looking ribbonettes and toned it down with thin solid color ribbonettes.
Now sew together the ends of your ribbonettes.  I didn't bother cutting each one after I sewed the ends together I just kept adding them on and then cut them apart at the end.

Hot glue the ribbonettes onto the wreath—no specific order—be random—it'll be prettier.  Be careful not to burn yourself too bad.
Paint your letters and let them dry.  I added a pearl finish on top of my painted letters to add a little irredescint sparkle—glitter would be pretty too!
Once your letters are dry- hot glue them on the wreath.
Enjoy your beautiful DIY patriotic wreath!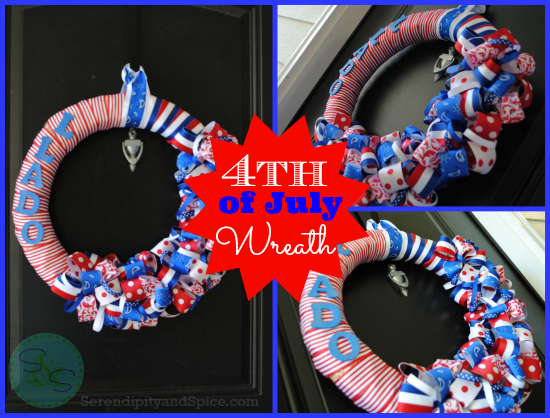 Join the Challenge
Are you ready to start spring cleaning but just overwhelmed with where to start? I'm right there with you! Join along in the 5 Day Spring Cleaning Challenge!!
The following two tabs change content below.
Melissa loves getting in the kitchen with her two children and teaching them about food, cooking, and healthy choices. She loves hosting events, traveling, and enjoying all life as to offer. Her latest cookbook "Serendipity Sweets" will be available for purchase in the fall.
Latest posts by Melissa Llado (see all)