The best cookies for fall are definitely these Pumpkin Snickerdoodle Cookies!  I love this recipe…especially the Godiva white chocolate that takes these cookies over the top!  You'll definitely want to try this pumpkin snickerdoodle cookie recipe this fall!

Pumpkin Snickerdoodle Cookie Recipe
A Delicious Fall Treat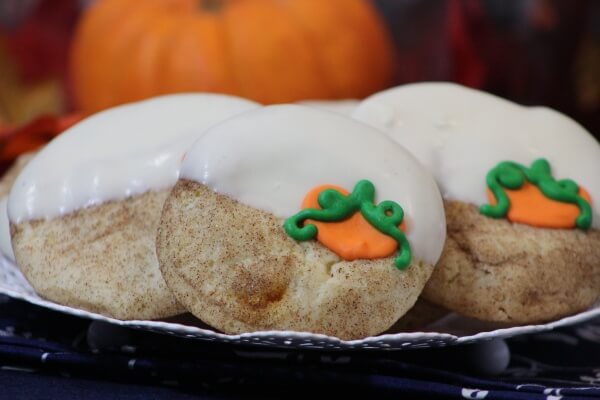 The other day I was telling you that my two favorite flavors for fall were candy corn, like the Candy Corn Popcorn Recipe I shared last week, and pumpkin spice.  Well, pumpkin spice has taken the ultimate form in these over the top delicious pumpkin snickerdoodle cookies!  To say these cookies are yummy is a total understatement!
I mean….any cookie that gets dipped into Godiva chocolate has to be AMAZING….right?!  Well, okay, I'm guess a cookie made of spinach dipped in chocolate wouldn't be all that great….but these Pumpkin Snickerdoodle cookies are FABULOUS!
There's just something so homey about snickerdoodle cookies…especially during the holidays…I mean they are pretty much a holiday staple.  But, by just adding pumpkin you can start incorporating them into the holidays even sooner.  These are the perfect little treat to make with a nice hot cup of coffee and eat while snuggling under a blanket reading a good book…..ah….that's heaven for a busy mom of two!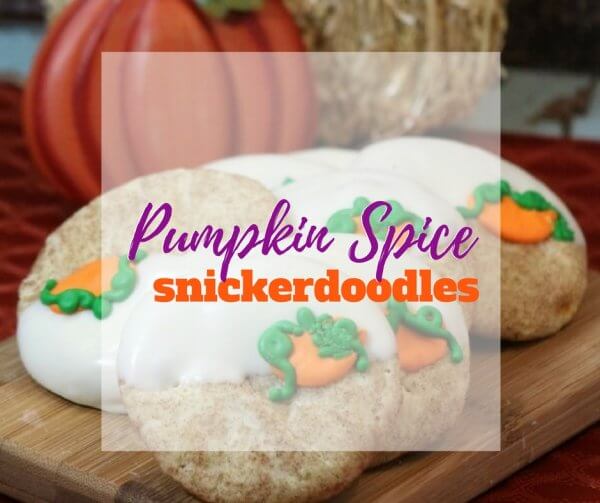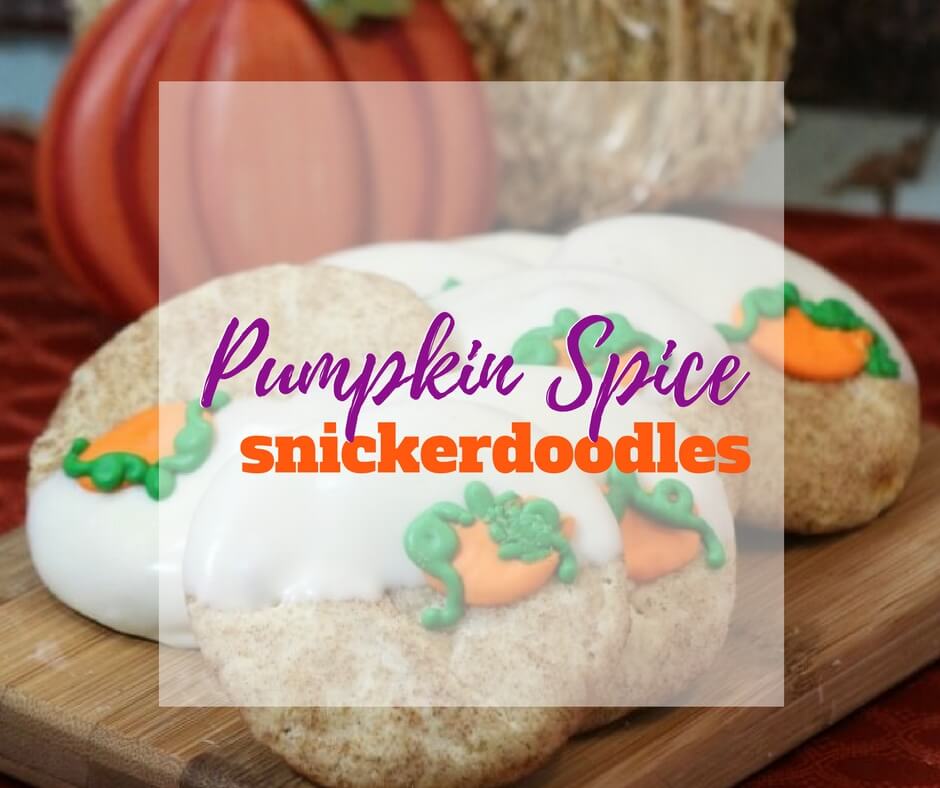 Pumpkin Snickerdoodle Cookie Recipe
Ingredients
Pumpkin Snickledoodles
Cookie Ingredients:
2 C sugar
2 tsp ground cinnamon
1 tsp ground ginger
½ tsp ground allspice
1 C butter, room temp
2 eggs, room temp
1½ tsp vanilla
2¾ C flour
2 tsp cream of tartar
1 tsp baking soda
⅛ tsp salt
1 C of pumpkin spice chips
Chocolate Ingredients:
1 bag of Ghirardelli white chocolate wafers
Icing Ingredients:
2 egg whites
1 C powder sugar
½ tsp cream of tartar
1 tsp vanilla
Orange and green gel food coloring
Instructions
Cookie Directions:
-Combine the sugar, cinnamon, ginger, and allspice.
-Using a spoon remove a half cup of the sugar mixture and put it in a bowl.
-Cream the butter and the rest of the sugar mixture until it is light and fluffy.
-Add the eggs and vanilla.
-Sift the flour, cream of tartar, baking soda and salt. Add this dry mixture gradually to creamed mixture and mix well.
-Add the pumpkin spice chips stirring well to mix throughout the cookie batter.
-Scoop the dough in a small ice cream scoop then; put these balls onto the lined cookie sheet.
- Roll each dough ball into the sugar mixture.
-Put the dough balls at least 2 in. apart on the cookie sheets.
-Bake at 350 degrees for 10-13 minutes or until edges begin to brown.
-Allow for the cookies to slightly cool while still on the cookie sheet.
-Move to a wire rack to cool completely.
Chocolate Directions:
-Using a double boiler melt the white chocolate, stirring constantly.
Icing Directions:
-Separate the egg yolk from the whites. putting only the egg whites into a mixing bowl.
-Stir in the sugar, cream of tarter and vanilla to the egg whites.
-Beating on medium for 6 minutes.
-If the icing has the appearance of soup or is yellow in color add more powder sugar, 1 cup.
-Divide the icing equally into two bowls.
-In the 1st bowl add some of the orange gel food coloring, stirring to blend in the color.
-In the 2nd bowl add some of the green gel food coloring, blend in all of the food coloring.
-Scoop all of the orange and green icing in individual piping bags with #2 tips.
Adding the pumpkins and vines:
-Dip half of each cookie into the melted white chocolate.
-Allow to dry by laying the cookies on a cookie sheet lined with wax paper.
-Using the orange and green add the pumpkin and vines to each cookie.
-Begin by using the orange icing to make the pumpkin, refer to the picture of the cookies for further examples.
-Allow the pumpkin to dry for 30 seconds before making adding the vines with the green icing.
-Allow for this to dry completely.
What's your favorite holiday cookie flavor?  Share in the comments below!
You may also like:
Mickey Mouse Pumpkin Cookies Recipe
Thrive Market
- It's like the Costco of organics...this is where I get all of my sugar, flour, baking supplies, kids snacks, etc.
Zaycon Foods
- This is where I buy most of my meat products in bulk.  The quality is amazing and the prices just can't be beat!  I mean, $1.89 a pound for boneless all-natural chicken breasts!!  It is bulk but you can always split with a friend or make up a bunch of freezer meals like I do!