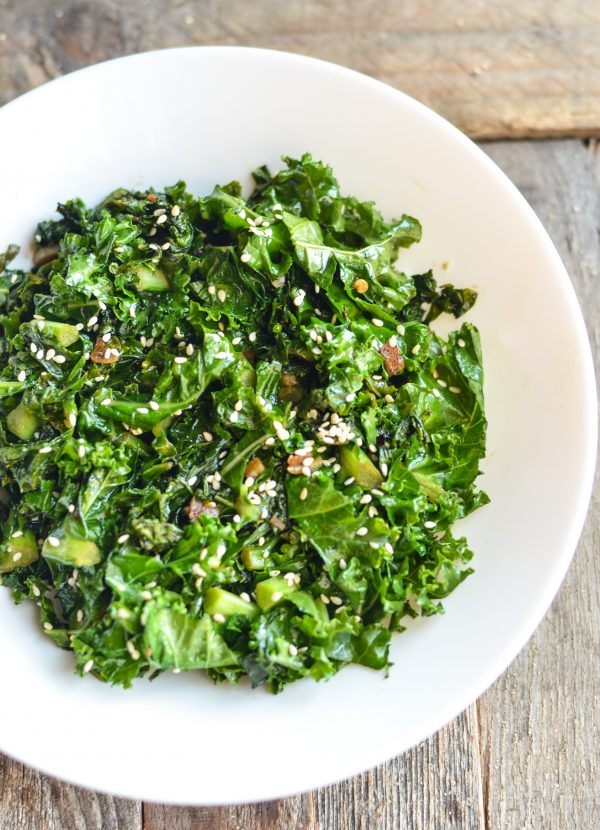 Stir-Fried Garlicky Kale with Toasted Sesame Seeds
Kale, deemed to be one of the healthiest vegetables is yet to be welcomed with open arms in our household. I have tried a few times and failed. I have tried to entice them with the fun kale chips and I have tried to hide it in pesto. So far, no luck. Hi, I am Sarani and I am back with a healthy side of Stir Fried Garlicky Kale which might just become a staple at our family meals. Fingers crossed!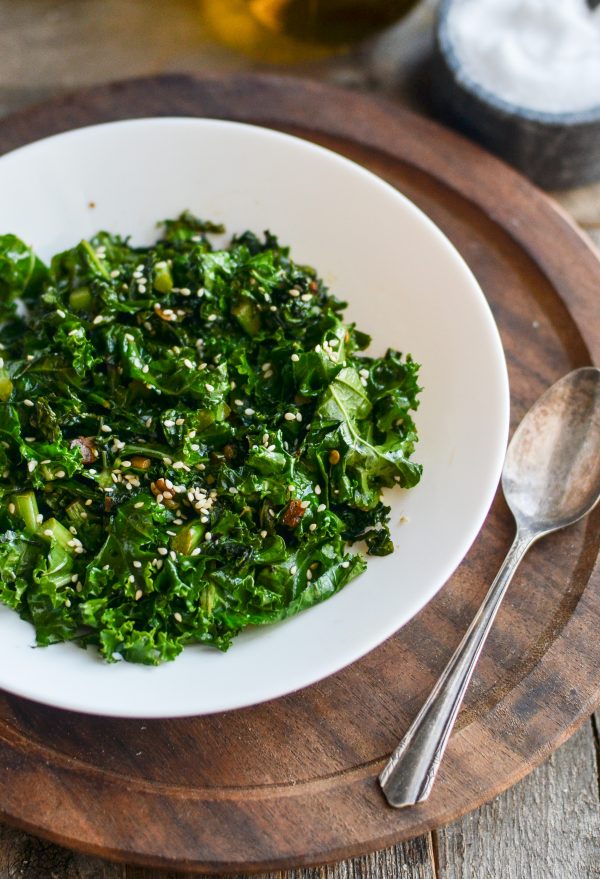 Ingredients for Stir-Fried Garlicky Kale with Toasted Sesame Seeds
A bunch of Kale, washed and chopped
1 tsp of sesame oil
2 fat cloves of garlic, sliced
1 tbsp of soy sauce
Salt and freshly cracked black pepper to taste
1 tsp of toasted sesame seeds
1/2 tsp of Chili flakes (optional)

How to make Stir-Fried Garlicky Kale with Toasted Sesame Seeds
First step to make this Stir-Fried Garlicky Kale with Toasted Sesame Seeds is to wash the bunch of kale very well. Roll the Kale leaves up into a bunch and chop with a sharp knife. Then transfer the chopped kale to a colander while you toast the sesame seeds.
While the chopped kale is hanging out in the colander, take the sesame seeds in a small skillet and toast them on medium heat for 3-5 minutes till lightly browned. Keep tossing as you toast the seeds. Toasting the sesame seeds will add an extra layer of flavor.
Now heat the sesame oil in an skillet on medium high heat and fry the garlic pieces till fragrant. Now add the chopped Kale leaves (+ stems) and cook till the leaves start wilting. Next add the soy sauce and season with salt, freshly cracked black pepper and red chili flakes. Toss to combine everything.
Transfer the Kale leaves to a bowl and lastly, sprinkle the toasted sesame seeds on it. Serve warm.
I am planning to serve the Stir-Fried Garlicky Kale with Toasted Sesame Seeds with a side of mashed sweet potatoes and baked tilapia.
Hope the family likes it!
Thrive Market
- It's like the Costco of organics...this is where I get all of my sugar, flour, baking supplies, kids snacks, etc.
Zaycon Foods
- This is where I buy most of my meat products in bulk.  The quality is amazing and the prices just can't be beat!  I mean, $1.89 a pound for boneless all-natural chicken breasts!!  It is bulk but you can always split with a friend or make up a bunch of freezer meals like I do!