The CobraCo Two Tiered Garden Cart is the perfect gift for mom that loves gardening. Read on for the extensive review of the CobraCo Two Tiered Garden Cart.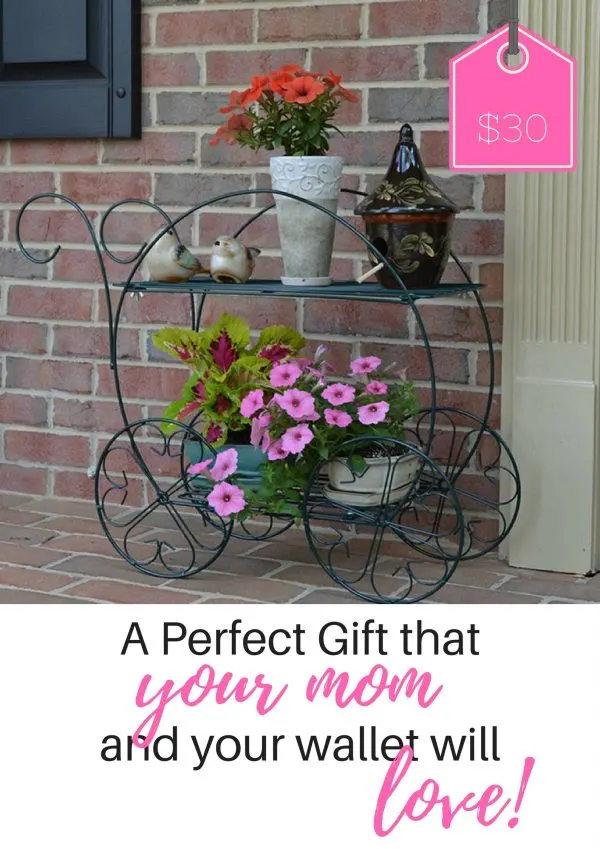 CobraCo Two Tiered Garden Cart
A Perfect and Affordable Gift for Mom
Does your mom enjoy displaying flowers and plants in her yard? But they are stacking up on her walk ways and porch because she has nothing to display them on?
The quaint CobraCo Two Tiered Garden Cart is the perfect gift for moms who love their yard. Its simplistic yet beautiful design makes it perfect for any outdoor space. Providing both an aesthetic appeal and a practical place to store her colorful flowers, this is going to look especially stunning in spring and summer.
It comes in a stylish deep hunter green color and has been constructed to be super-durable and rust resistant. Measuring 26 inches long, 25 inches tall and 10 inches wide, it's suitable for all yards and gardens, large or small.
Offered as part of the sensational CobraCo specialty outdoor décor collection, it provides a brilliant display space for potted plants and flowers. Made from vinyl coated steel, this cart is guaranteed to last for years to come. No need to cover it up in harsh weather conditions either so storage won't be an issue.
The cart doesn't come pre-assembled, but it doesn't require extensive DIY. In fact, she'll be able to put it together within 15 minutes. You can't tell from the picture, but it's actually pretty small so it would best suit being placed in the porch way.
There are 4 large wheels added to the carts design, but they are simply there as a decorative statement. They don't move so she won't need to worry about it blowing away on windy days. However, it has been noted that without plants the cart is a little flimsy. So if she doesn't want it to blow away she will need to store potted plants to weigh it down.
If she loves displaying her plants and flowers, this is the ideal gift. It has a very welcoming, chic design that gives the space it is placed in, a delicate, attractive ambience.
Both of the shelves provided are slotted and the top shelf is larger than the bottom. Customers have suggested storing heavier potted plants on the bottom shelf to help weigh it down properly.
No matter what style yard or garden she has, the hunter green finish expertly blends in with any décor. The slatted shelves have also been designed to prevent rainwater building up and drowning the plants.
This can be bought and used alone in the garden, or it can also be used alongside other fun pieces.
What's great about this cart is the level of detail that's been placed into creating it. The four wheels feature elegant scroll work in the form of heart shapes, which really captures the eye and adds to its 'cute' appeal. Overall the CobraCo Two Tiered Garden Cart FC100 is a fantastic Mother's Day gift sold at a very reasonable price.
Also available on Amazon