This post may contain affiliate links. We only share items that we love and make a small percentage of the sale if you choose to buy through our links- but there's never any added cost to you...our earnings go to important stuff like more coffee to survive the toddler years!
Make this Sweet Kale Salad with Pretzel Crusted Chicken Recipe for a delicious and healthy meal that's ready in a flash!  This sweet kale salad with pretzel crusted chicken recipe is a favorite for the whole family.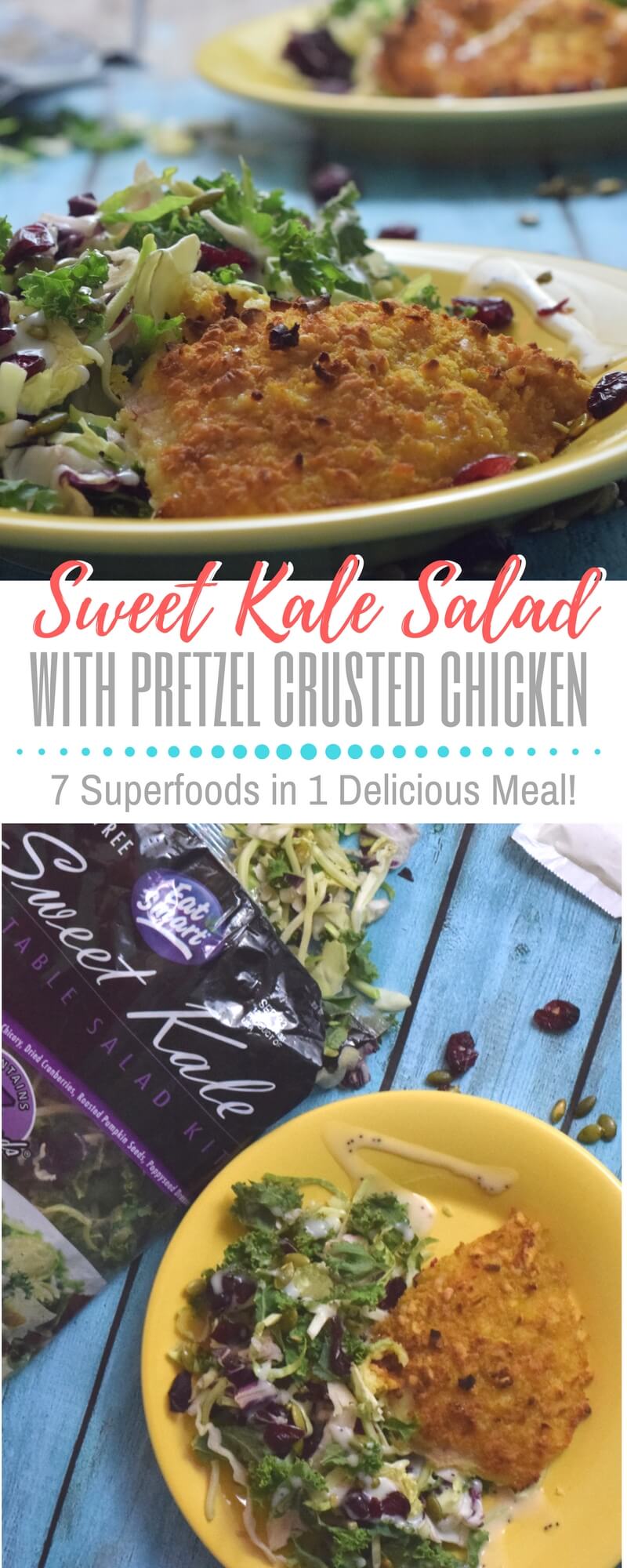 This post was sponsored by Eat Smart as part of an Influencer Activation for Influence Central and all opinions expressed in my post are my own. I received product samples to facilitate my review.
Sweet Kale Salad with Pretzel Crusted Chicken Recipe
A Healthy Meal that's Ready in a Flash!
As you know, this year has been all about taking baby steps to a healthier lifestyle– which means being more active, taking better care of myself as well as my family, and eating healthier.  Well, the eating healthier part has been a lot easier and a lot more delicious than I expected.
I've always been a meat and potatoes kinda gal.  But lately I've been trying to cut out so much meat and potatoes by doing Meatless Mondays, Fish Fridays, etc.  We're really focusing on trying new veggies and through this have discovered that we really do love kale, brussel sprouts, asparagus, etc.  Which is so funny because, as a kid, I thought all of these were "yucky"….but they're not!  When made right, they're all so delicious!
A couple of weeks ago I got to try the Eat Smart Gourmet Vegetable Salad Kits and now I'm totally in LOVE.  Usually I'm not a salad kit kinda girl.  If I'm going to make a salad then I'll buy all of the ingredients and build a salad on my own….but that gets really expensive so I don't do it very often.  But the Eat Smart Gourmet Vegetable Salad Kits make creating a delicious salad so simple….everything is delicious and blends together perfectly.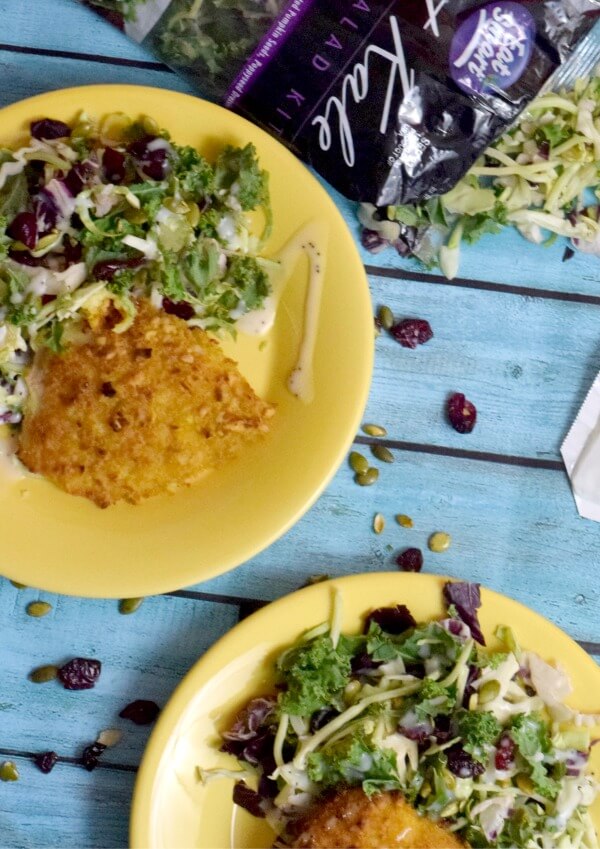 Typically I don't do salad kits because they have a funny taste or the flavors don't mix right or the dressing is gross.  But, that's not the case with Eat Smart Gourmet Vegetable Salad Kits.  I was pleasantly surprised at how delicious the popp yseed dressing was and how it paired perfectly with the mix of heart healthy salad greens (7 Superfoods are in this salad!)….plus, the flavors were unexpected yet delicious.
For this recipe I used the Sweet Kale Eat Smart Gourmet Vegetable Salad Kit and it was incredible!  The kale mixed with broccoli, cabbage slaw, and brussel sprouts then topped with roasted pumpkin seeds and dried cranberries complemented my pretzel crusted chicken perfectly….and the poppy seed dressing….oh the poppy seed dressing….it was so good that I may have drizzled it all over my chicken too! 😉
The Eat Smart Gourmet Vegetable Salad Kits come in 5 different flavors and I can honestly say…they're all delicious.  There's no weird "salad kit" taste (you know what I'm talking about…right), the flavors are all unique and blend perfectly….and they're so EASY to make a fast, healthy meal that's good and affordable (they run about $5 and you can find  Eat Smart Gourmet Salad Kits at these retailers).  Seriously, even my picky kids gobble up these salads!  I now keep them in my fridge at all times for a simple lunch.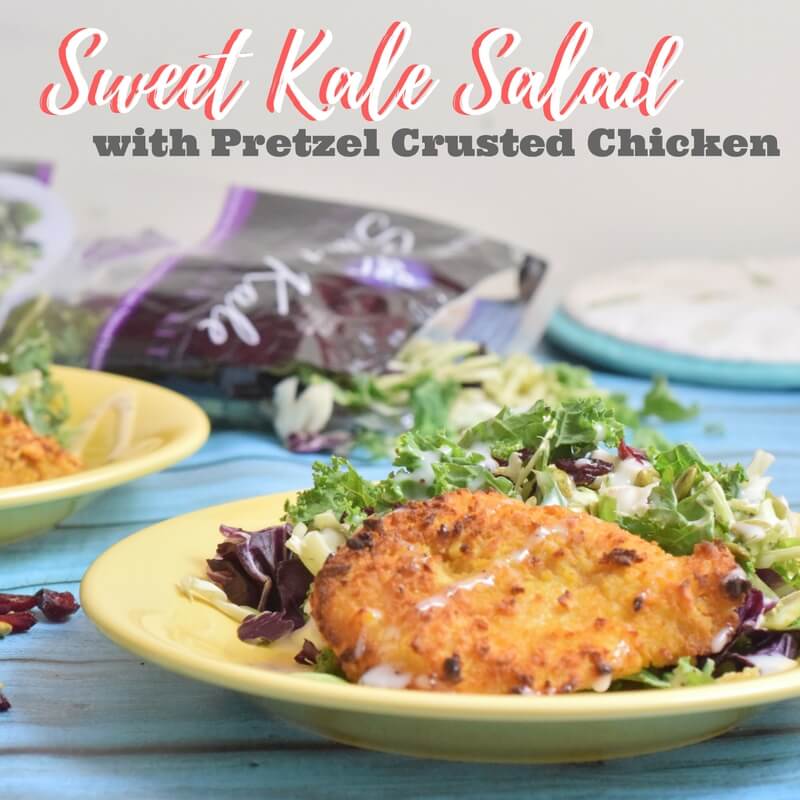 Ready for how to make this Sweet Kale Salad with Pretzel Crusted Chicken Recipe?

Sweet Kale Salad with Pretzel Crusted Chicken Recipe
Ingredients
1 Eat Smart Gourmet Vegetable Sweet Kale Salad Kit
1 Cup Salted Pretzels (crushed finely)
1 Egg
1 Cup Water
1 lb. Boneless Skinless Chicken Breasts
Instructions
Preheat oven to 350 degrees.
Spray baking sheet with non-stick cooking spray.
Mix egg and water in a bowl until combined.
In a separate bowl crush pretzels.
Dip chicken into egg wash mixture and coat with crushed pretzels.
Place chicken on baking sheet and bake at 350 for 20 minutes or until internal temperature of chicken reaches 165 degrees.
Place Eat Smart Gourmet Vegetable Sweet Kale Salad green on a plate.
Top with nut and cranberry mix.
Remove chicken from oven and place on salad.
Top with dressing from Eat Smart Gourmet Vegetable Salad Kit.
Now, for the fun part….. 
Eat Smart Gourmet Vegetable Salad Kits
is giving away a $50 AMEX giftcards and a package of each of the salad kits to TEN lucky winners!  Enter below:
WIN a $50 AMEX Giftcard and All 5 Eat Smart Gourmet Vegetable Salad Kits
Eat Smart Gourmet Vegetable Salad Kit Giveaway
I-C will randomly select winners from all program entries and will facilitate fulfillment of the winning prizes (10)
Join the Challenge
Are you ready to start spring cleaning but just overwhelmed with where to start? I'm right there with you! Join along in the 5 Day Spring Cleaning Challenge!!
The following two tabs change content below.
Melissa loves getting in the kitchen with her two children and teaching them about food, cooking, and healthy choices. She loves hosting events, traveling, and enjoying all life as to offer. Her latest cookbook "Serendipity Sweets" will be available for purchase in the fall.
Latest posts by Melissa Llado (see all)