The BEST Disney Halloween Short Cartoons
Mickey and the Gang Bring Halloween Fun in these Disney Halloween short cartoons!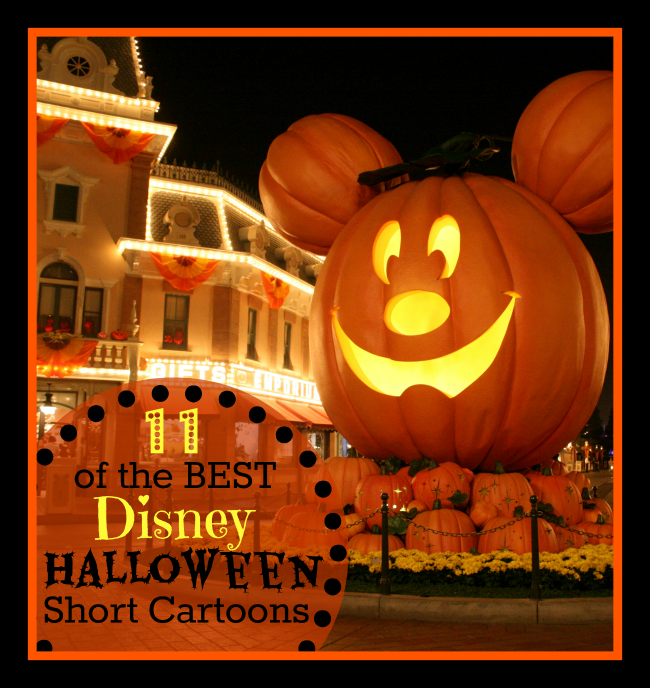 Okay, so obviously you know I'm head over heals in love with Disney! I could literally do Disney 24/7…..in fact there are several days that I've woken up to the Disney Channel and have gone to bed to the Disney Channel….it's THE station in our house!
Over the years Mickey Mouse has evolved over and over but he's still the same adorable mouse that he was in Steamboat Willie! I love The Mouse and all things about The Mouse and I especially LOVE The Mouse during Halloween and Christmas!
Today I share with you the BEST Disney Halloween Short Cartoons ever! These Halloween cartoons are less than 10 minutes each and they all bring back fond memories of my childhood…..I'm hoping to instill the same fond memories in Little Man and pass down the joy that comes from The Mouse!
Does anyone remember DTV?
Ahhhh….Disney's version of MTV in the mid 80's….so much fun! How about The Monster Mash:
Or anyone remember Thriller????
One of my all time favorites has to be Donald Duck Trick or Treat…..I love the little old witch!!
It's amazing that this next cartoon was made all the way back in 1929 but Disney has always been WAY ahead of the game….the Silly Symphony: The Skeleton Dance is one of the first Halloween cartoons I can remember watching!
Probably the MOST well known Disney Halloween short cartoon has to be Lonely Ghosts….I used to watch this one over and over again…now Little Man requests it over and over again!
Jump ahead to 1995– a time when many of us were done watching the Disney channel as children– and here's a fantastic short featuring Mickey and Minnie dating with Pete and a fun twist on Frankenstein's Monster…..check out Runaway Brain:
Another classic Mickey film– one of his firsts– The Haunted House from 1929:
Another goody that used to scare me as a child but now is hilarious is Donald Duck and the Gorilla:
Oh Goofy….the trouble you find yourself into…..
And the newest in the Mickey Halloween line up is the newest, just released: Ghoul Friend
So what do you think? Did these bring back fond childhood memories? Did I miss any of your favorite Disney Halloween short cartoons?