Surviving Disney: Toddlers and Characters
How to Introduce Toddlers to Disney Characters in Person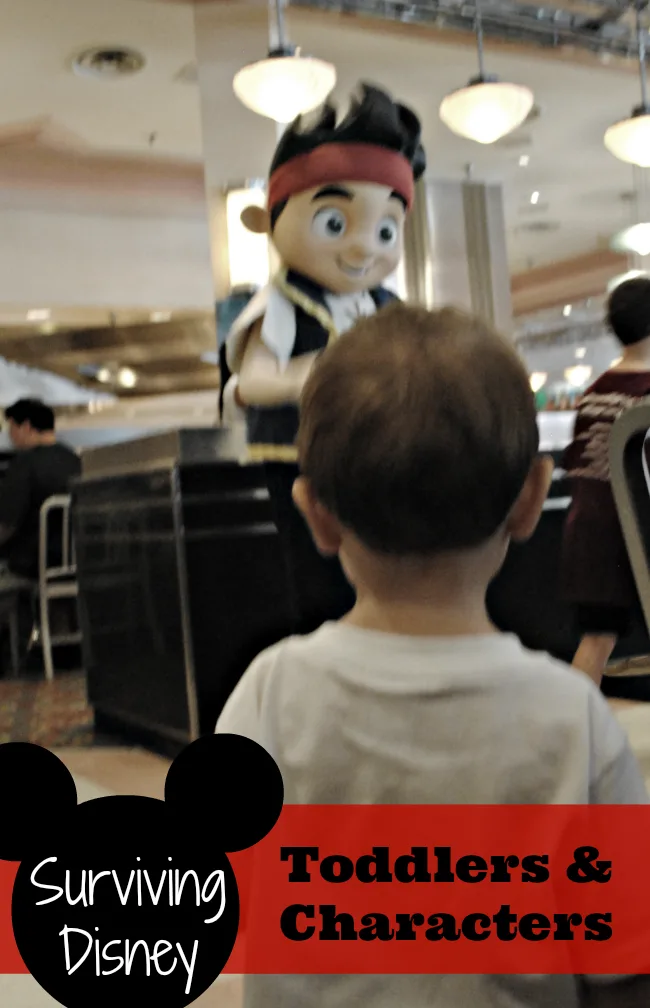 Welcome to my series on Surviving Disney with Toddlers! If you've missed part of the series make sure you check out How to Stay Cool at Disney and When is the Best Time to Visit Disney World for more tips about Disney!
One of the main attractions to Disney World is the excitement of your child meeting their favorite cartoon characters in person! I think it's just as fun for the parents as it is for the kids– nothing brings greater joy as a parent than seeing your child's face light up in disbelief as the magic of Disney unfolds right before their eyes!
Disney Jr. is a staple television channel in our house– it's on when the TV is on! So Little Man just adores Mickey Mouse, Jake and the Neverland Pirates, Sophia the First, and the newest: Henry Hugglemonster! Seeing these characters in real life and being able to touch them was quite exciting and overwhelming and scary all rolled into one monsterous emotion! So I'm going to share some tips for helping your toddler deal with the reality of seeing these imaginary characters up close and personal…
1. Start talking about meeting the characters before your trip begins.
Every day we would watch Mickey and Jake and Sophia and the rest of the gang. Every day while watching the show I would tell Little Man "Guess what??? We're going to go meet so and so next week! Do you want to give so and so a hug and kiss?" Of course he would look at me like I was crazy and just laugh…but I'm sure somewhere in the back of his head he was thinking "Has Mom just lost it or am I really going to meet Jake? That would be soooooo cool…..but Mom's probably just crazy….maybe I should tell Dad…..if only I knew how to talk!" Yeah, Little Man and I have long conversations like that together all the time….I may need a little more adult interaction….
2. Start from far away and slowly move closer.
We started with shows and parades before the actual meet & greets and character meals. This helped Little Man compartmentalize the fact that now the characters were live. They went from being on TV to being on stage and in the parade…..so now they are real. The first time Little Man saw Mickey in real life he started squealing and pointing as if saying "OMG….there's Mickey…..Mom, look, he's real, he's really real….Mom it's MICKEY!!!!" I was so excited to see that he was so excited and not afraid……but as the real Mickey got closer the less enthusiastic Little Man became. By the time we were to the point of touching Mickey Little Man was safely tucked between my legs and holding on for dear life. So take it slow!
3. Don't force your child to interact with the characters.
I know it's hard not to try to talk your child into getting closer to the characters or forcing them to get in the picture– trust me, I've done it too. It's hard for us as parents because we shelled out a pretty penny for this experience and we want them to participate in as much as possible and enjoy it damn it! But, I learned on this trip that if I let Little Man have his space and become comfortable with the characters on his own without me forcing him- he warmed up much quicker– by day 3 he was ALL about meeting the characters!
4. Parents go first.
Show your little one that the characters aren't scary….show how friendly they are! Be the first to walk up to the character (leaving the Little One with a spouse or family member), give the characters hugs, talk to them, talk to your child, wave, smile, show your child that it's a fun experience!
5. Don't force a character to stay so your child can warm up.
The characters are taught not to overstep with the children. They approach with caution and if they see your child is about to freak out they politely wave and walk on to the next child…..this is standard protocol that Disney has put in place. The characters don't want to scare your children– so don't worry, at the character meals the characters will come back around so you'll most likely get another chance.
6. Go to Hollywood and Vine for the BEST character experience for little ones!
We have done many of the character meals and I must say that Hollywood and Vine is my FAVORITE for toddlers! Hollywood and Vine features the Disney Jr characters so Little Man immediately recognized Jake, Special Agent Oso, and Handy Manny….I'm hoping they'll replace June with Doc McStuffins and/or Sophia since June isn't really recognizable without the other Little Einsteins. Anyway, Little Man recognized most of the characters and he felt comfortable with them. They encourage the kids to get up and dance every 15 minutes or so….this really makes the interaction fun and casual.
7. Relax & Have Fun
You may not get that perfect shot of your child embracing Mickey with open arms but you'll still have a wonderful trip to remember! And who knows…maybe later in the week….. once your little one relaxes and feels more comfortable with characters……. you'll be at a parade and the most amazing experience will happen: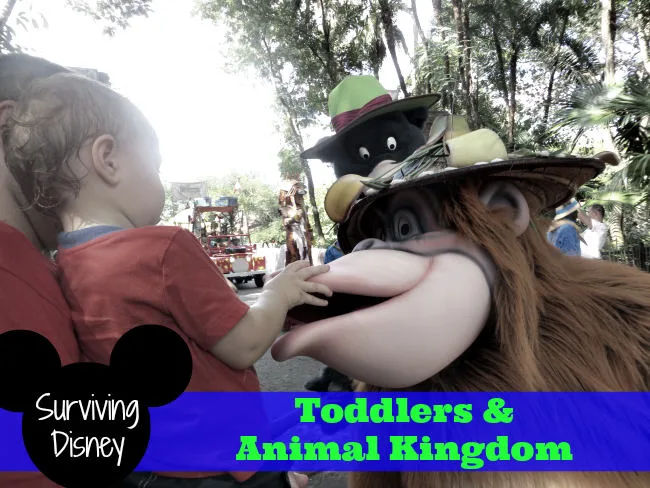 8. Order Your Disney World Custom Map
Order your free set of Disney World Custom Maps to get your family excited about visiting the most magical place on Earth! I ordered ours before our first trip and had them framed at Michaels….now they're on display in our playroom as a fun reminder of our trip!



Do you have any tips for helping your little one with meeting characters for the first time?? Share in the comments below!
Up Next:
When is THE BEST Time to Visit Disney World?