These breakfast tacos are a delicious and nutritious start to the morning. Pair with an 8oz glass of milk for a good source of protein to start the day!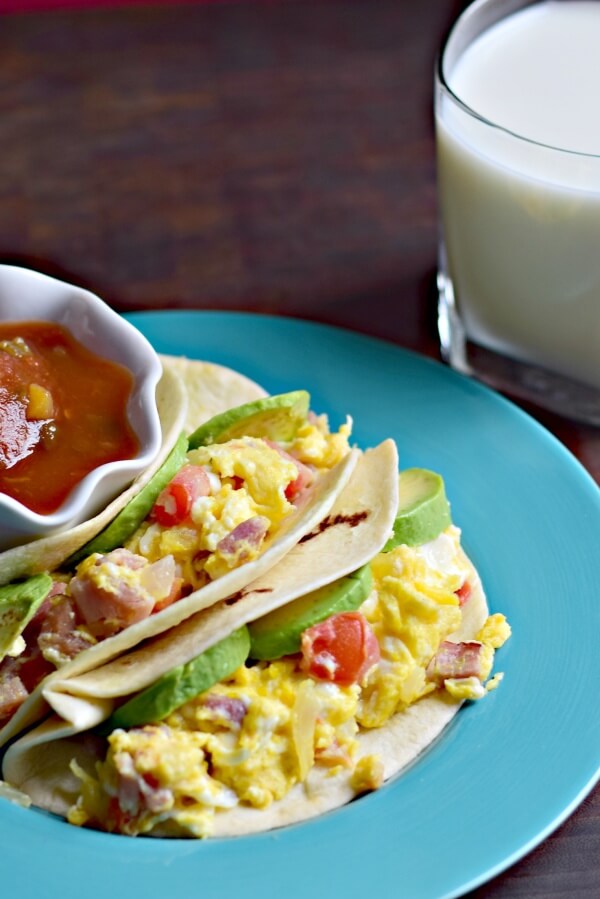 "This post was sponsored by Milk Life on behalf of Influence Central."
Breakfast Tacos Recipe
Start Your Day Off With a Protein Jump Start
(Read to the bottom to learn how you can win a FitBit Flex!)
Growing up I was always told that breakfast was the most important part of the day. You've been there– right?
Well, I never really put much stock into the old saying until I was well into my adult years and had children of my own to "nag" about the importance of the meal. We spend so much time as adults stressing the importance of breakfast to our children but often times we forget to stress about the why it's so important. Still with me? I'm so guilty of skipping breakfast.
Naturally, we find ourselves telling our friends and family that breakfast should be the biggest meal of the day, thus making it the most important– however the reasoning might not be as clear as you might think.
One big reason that breakfast should be your most important meal of the day is simply because of the amount of protein that's recommended per meal on a daily basis. On average, most people might cram about 13 grams of protein in at breakfast time but really we should aim for a whopping 25-30 grams of protein per meal, especially at breakfast time.
That's why I LOVE pairing this super simple Breakfast Tacos recipe with an 8oz glass of milk…it's how I get my morning protein! Hey, milk really does do a body good!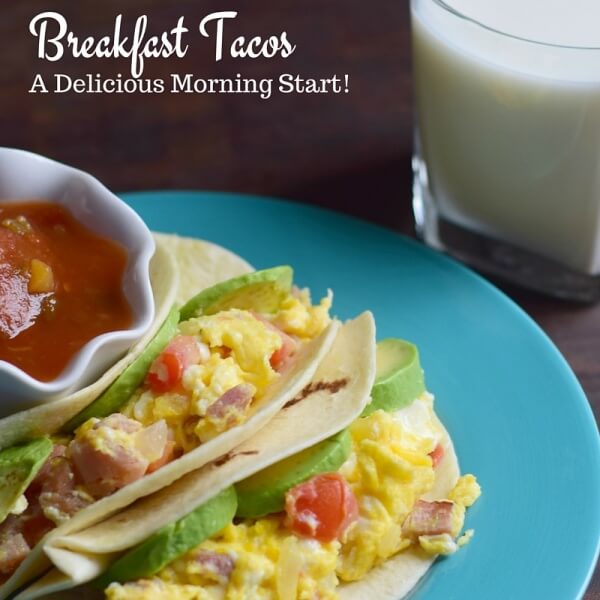 One sure-fire way to make sure you get your morning protein to help stay fuller longer is to simply pair an 8oz glass of milk with your breakfast of choice. Yes, it's really that simple–just add in a glass of ice cold milk and your breakfast goes from having that puny percentage of protein to closer to the recommended serving your body deserves.
Are you getting your recommended 30 grams of protein with your breakfast each morning?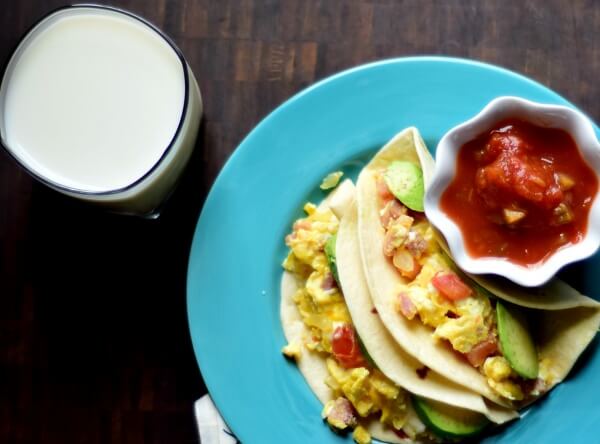 A common error that a lot of people seem to make is putting all of their key protein intake into their evening meal and really, it should be the opposite, you should aim to make breakfast your main protein provider! Backloading protein at dinner can affect how your body uses it. These days many experts are recommending that you space our your protein intake throughout the day to make the most of the important benefits it provides.
Did you know that getting 25-30 grams of protein before noon can also help energize your morning ahead and that it helps you feel fuller after a meal rather than burning it off quickly and becoming hungry again soon after eating?
No matter how you decide to get your milk intake for the day, you can't go wrong by pairing it with your favorite breakfast foods. Whether it be in a cup, in a glass, mixed into a smoothie or poured into your favorite protein dense cereal, milk is a wonderful way to jump-start your entire day as well as your new year! You can visit the Milk Life website for more information, recipes, and tips. So, you ready for this delicious Breakfast Tacos recipe to pair with your glass of milk?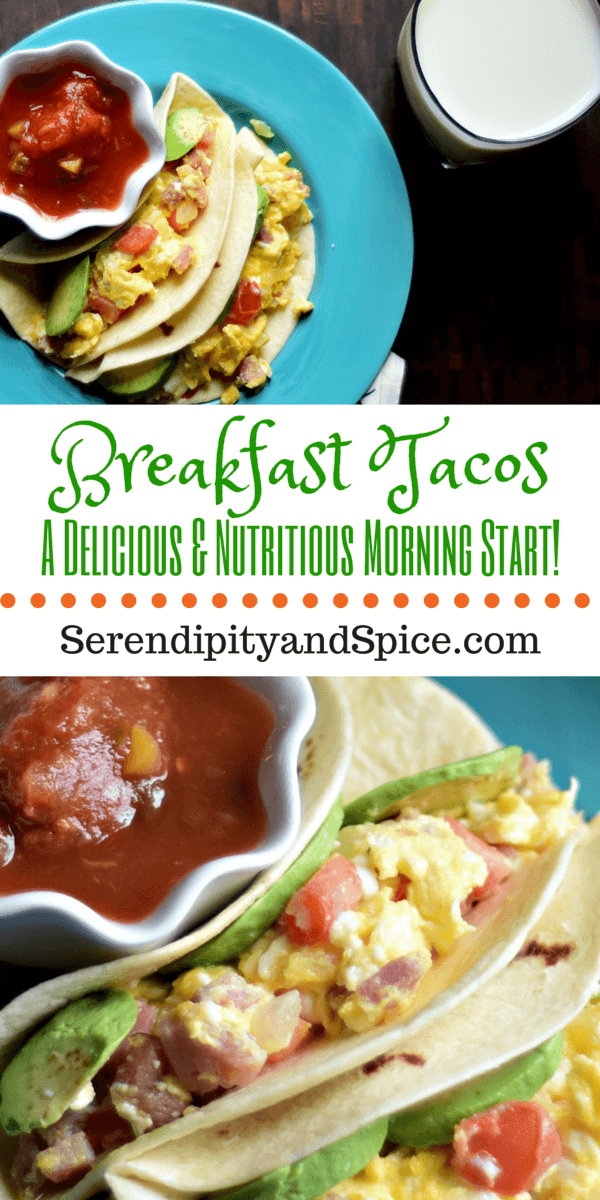 Breakfast Tacos Recipe
Breakfast Tacos Recipe #MyMorningProtein ad
Author:
Prep time:
Cook time:
Total time:
Ingredients
2 Taco Shells
1/4 TBS Butter
2 Large Eggs
1/4 cup diced tomato
1/8 cup diced onion
1/8 cup diced ham
1/4 cup shredded cheese
1/4 cup sliced avocado
Instructions
Melt butter in a non-stick skillet.
Sautee onion and ham.
Add in tomato and eggs.
Scramble together onion, ham, tomato, and eggs.
Once eggs are cooked through- top with cheese.
Place egg mixture in taco shells.
Top with avocado.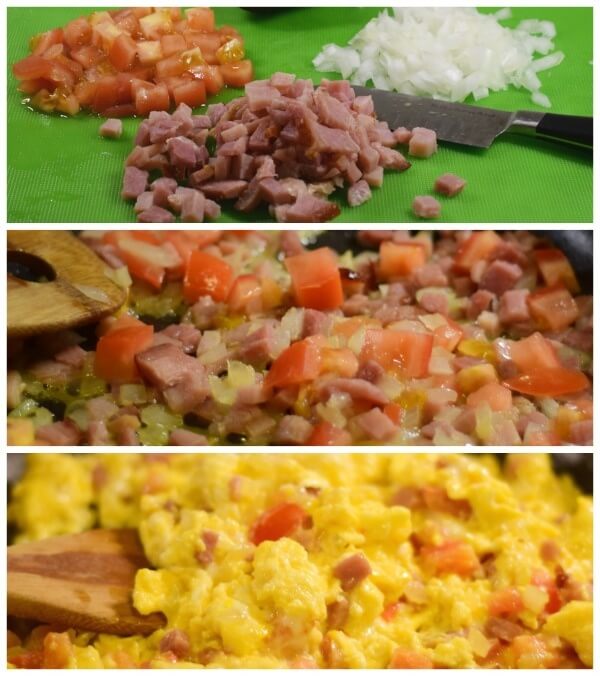 Join me in the #MyMorningProtein challenge and make the decision to boost your protein intake in the mornings by adding an 8oz glass of milk to breakfast.
How do you get your morning protein? Share in the comments below!
For more information and recipes about getting your morning protein visit the Milk Life website.
Now, for the FitBit Flex giveaway! Enter the rafflecopter below!
Additional Resources
Milk Life website: www.MilkLife.com/morningprotein
Facebook: https://www.facebook.com/milk
Twitter: https://twitter.com/milklife
Pinterest: https://www.pinterest.com/milk/ Instagram: https://instagram.com/milklife/