These Bunny Bottom Easter Cupcakes from scratch are so adorable for Easter! A delicious Easter cupcake recipe made from scratch and the icing is homemade too!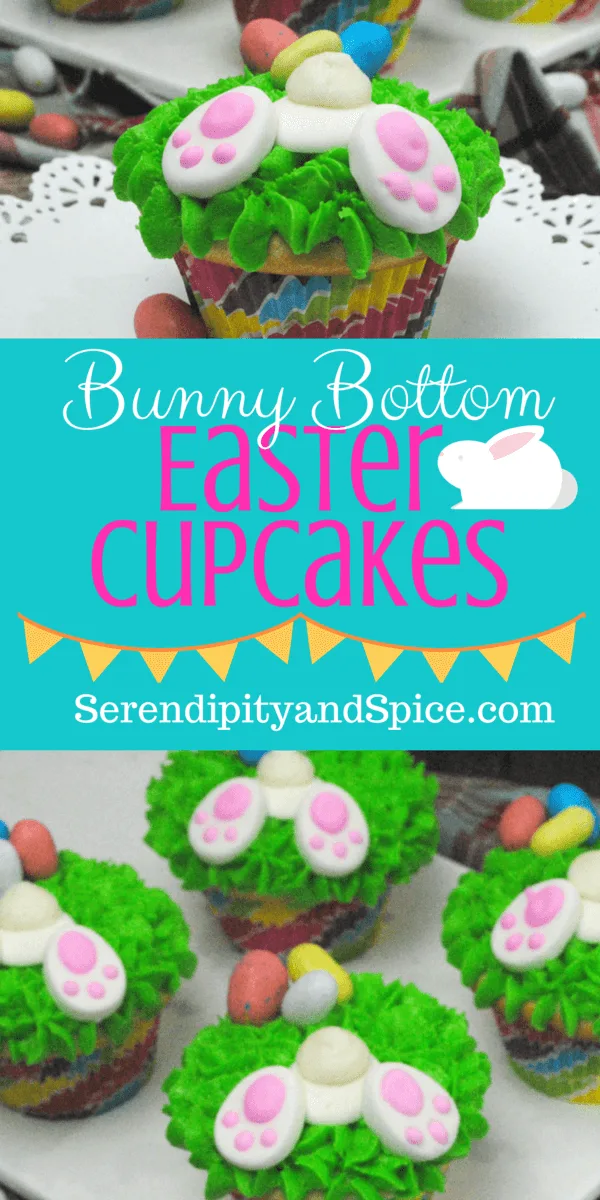 Bunny Bottom Easter Cupcakes from Scratch
Make these delicious homemade cupcakes and icing from scratch for Easter!
A friend of mine made these adorable Bunny Bottom Easter cupcakes from scratch and I'm sharing with you the recipe and instructions for making your own! They are so stinking cute….the Easter bunny has burrowed into his hole and all that shows is his fluffy tale and giant rabbit feet. I mean, how CUTE are these to have for your Easter dessert table?!
And they're so simple to make! You know me, that's my favorite kind of recipe!
Bunny Bottom Easter Cupcakes from Scratch
Ingredients
Vanilla Cupcake Ingredients:
1/2 C unsalted butter, room temp
2 egg white, room temp
2 eggs, room temp
2 C flour
1 tsp baking powder
1/2 tsp salt
1/4 tsp baking soda
3/4 C buttermilk
1 1/2 C sugar
1 tsp vanilla
Green Vanilla Frosting Ingredients:
1 C soft unsalted butter
4 + C powder sugar
4 TBSP heavy whipping cream
Grass Green gel food coloring
1 bag of small Easter malted eggs
Wilton Icing Decorations Bunny feet
1 package of white chocolate wafers
Instructions
Vanilla Cupcake Directions:
Preheat oven to 350 degrees. Line the cupcake tin with paper liners.
Whisk flour, baking powder, salt, and baking soda in a medium bowl.
Beat butter with an electric mixer on medium to high for 30 seconds in a separate mixing bowl.
Add the sugar and vanilla to the butter while continuing to beat until well combined.
Add egg whites, and eggs one at a time, beating well after each addition.
Alternate, the flour mixture and buttermilk to the butter mixture, beating on low speed until everything is blended together.
Scoop the batter into the lined cupcake tins until 2/3 rds filled.
Bake at 350 degrees for 18-20 minutes.
Remove cupcakes from the oven and allow to cool in the pan for about 10 minutes.
Transfer cooled cupcakes to a wire rack allowing to cool completely.
Grass Green Vanilla Frosting Directions:
Cream the butter and powder sugar until it looks light and creamy.
If it doesn't cream add several drops of the heavy whipping cream until it creams.
Test to see if the frosting can form and hold a stiff peak by taking a spoonful of frosting and turning the spoon upside down. If the frosting stays on the spoon it is ready if not then....
Add more powder sugar 1/2 C at a time.... mix well.
Remove 4 tablespoons of whiting frosting. Place in a bowl and set aside.
Spoon the white frosting into a piping bag with a medium sized tip.
Add several drops of the grass green gel food coloring. Mix well to incorporate the color thorough out the frosting.
If ready scoop the frosting into a pastry bag with a large star tip.
Twist the open end of the pastry bag to push the frosting to the star tip.
Start by frosting on the outside edge of the cupcake working to the center of the cupcake.
Place the white chocolate wafer on the frosted cupcake as displayed in the picture.
Place the bunny feet below the the white chocolate wafer.
Dollop a drop of white icing on the center of the chocolate wafer.
Place the malted Easter eggs, in a set of three together.