These candied caramel chocolate cupcakes are AMAZING! If you love Milk Duds candy then you'll love this candied caramel chocolate cupcakes recipe.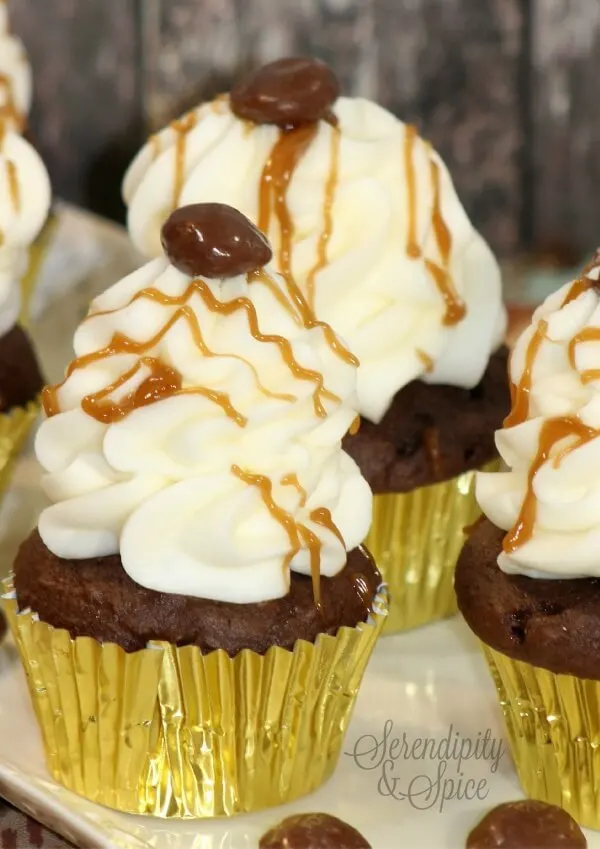 Candied Caramel Chocolate Cupcakes Recipe
A little bit of caramel with lots of chocolate in a delicious little cupcake!
I remember, as a kid, whenever we would go to the movies my dad would get a box of Milk Duds as his candy of choice…in addition to our big family tub of popcorn and drinks. This was back when a trip to the movies cost about $25 for a family of 4….now if we go all out with our kids it's close to $100! Isn't it crazy how much prices have gone up?! And, of course, now I sound like my grandfather….(cue gruffy old man voice) "well back in my day we paid 2 pennies for a box of candy while walking 10 miles in the snow to get to the town's only radio just to hear the news…."
Anyway, instead of going out to the movies I've started to embrace movie nights at home. But we can watch a movie anytime so to make it special I jazz things up a little bit with themed treats and loads of fun!
These candied caramel chocolate cupcakes are a fun way to include a classic movie candy with a new treat….but be careful….you may not be able to eat just one!
Candied Caramel Chocolate Cupcakes Recipe
Ingredients
2/3 cup cocoa
1 tsp baking soda
1 cup boiling water
1/2 cup unsalted butter, melted
1/3 cup vegetable oil
1 3/4 cup sugar
1 1/2 tsp vanilla extract
3/4 tsp salt
2 large eggs
2 large egg yokes
1/2 cup heavy cream
1 3/4 cup all-purpose flour
Caramel Sauce:
1 1 /2 cups sugar
1/4 cup water
6 Tbsp unsalted butter (room temp)
1 cup heavy cream
Caramel frosting:
1 cup unsalted butter, (room temp)
4 cups powder sugar
3/4 cup Caramel Sauce, (cool completely)
1 tsp vanilla extract
Directions
Preheat oven to 350 degrees.
In large heat mixing bowl, mix cocoa powder and baking soda.
Add the boiling water and mix until bubbles subsides and mix is well blended, allow to cool for 5 minutes.
In a second large mixing bowl, use a electric hand mixer on low speed, add melted butter, vegetable oil, granulated sugar, vanilla and salt and mix.
Stir in eggs and eggs yolks, mix well until its all well combined
Fold in cocoa mixture then blend in heavy cream.
Slowly add in flour and blend until combined, make sure to scrape the sides and bottom of bowl.
Divide batter among 24 paper lined muffin cups, filling each cup about 2/3 full.
Bake in the oven for 2o minutes.
Remove from oven and allow to cool in muffin tin
Transfer to wire rack to cool.
Cool completely
Frost with caramel frosting ( recipe below ) , drizzle with caramel sauce ( recipe below )
Top with Milk Duds
Salted caramel frosting:
In the bowl of an electric stand mixer fitted with paddle attachment, whip butter on medium-high speed until pale and fluffy, about 3 – 4 minutes.
Add powdered sugar and blend on low speed until mixture forms a stiff peak.
Add caramel sauce and vanilla and whip on medium-high speed until light and fluffy about 2 minutes.
Caramel sauce:
In a 3 quart saucepan, heat sugar and water over medium to high heat stirring to dissolve sugar.
Once mix reaches a boil, stop mixing and allow the sugar mix to boil until it reaches a dark amber color.
Once the sugar mix reaches a dark amber color, add butter and mix until butter has melted then remove from heat.
Carefully pour in cream and mix it till it bubbles
Mix until mix is smooth.
The caramel will need to cool several minutes then pour into a mason jar to cool completely then refrigerate.
PRINTABLE RECIPE ON THE NEXT PAGE