These Garden Vegetable Breakfast Cups are packed full of delicious, good for you, veggies! The kids gobble them up without even realizing all the good vegetables inside.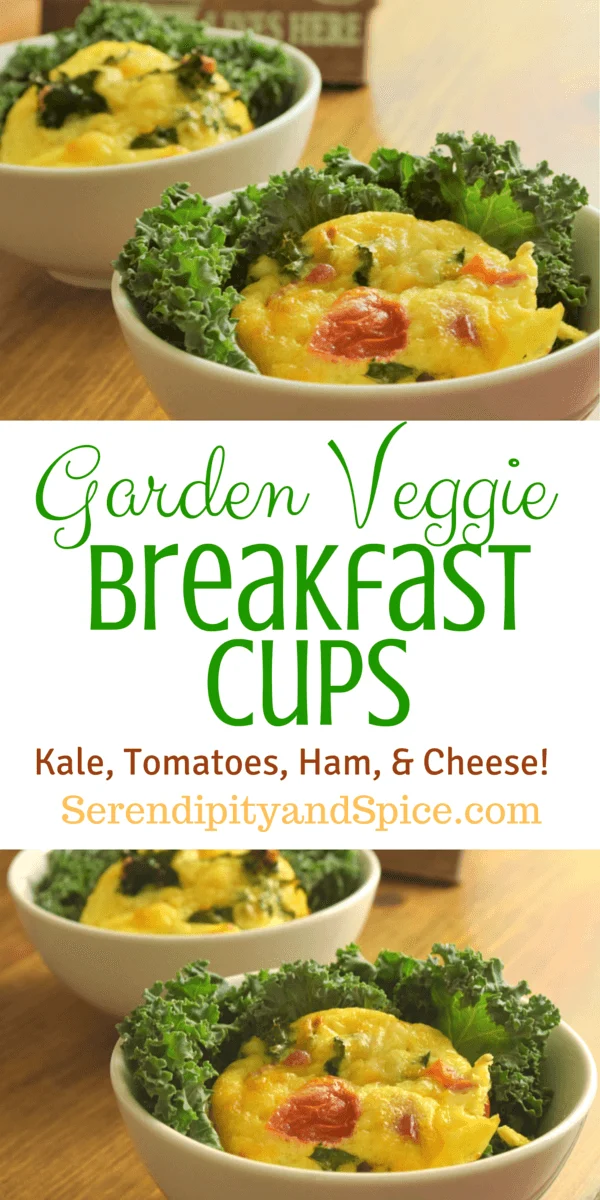 *This post may contain affiliate links. You can read my full disclosure policy for more information.
Garden Vegetable Breakfast Cups Recipe
Hidden Veggies for Breakfast in a Delicious Little Cup!
Do you ever get tired of eating the same old thing for breakfast? I do! In my house it's oatmeal or cereal during the week. On the weekends we splurge and Hubs will make pancakes one day and I'll make eggs with biscuits the other. Every once in a while I venture out and make one of my signature breakfast recipes like the Stuffed Breakfast Peppers or my Breakfast Boats…but we typically stick with the 5-6 item rotation. So I decided to switch things up this weekend and try out this Garden Vegetable Breakfast Cups recipe….and it was a HIT!
Anytime I can hide veggies in a meal that's a total mom win for me! And these veggie cups hide a LOT of veggies….including kale!!! Yep, I got my kids to eat kale without a single complaint….I'm totally rocking the Super Mom vibe right now!
Now, before you make these you'll want to invest in some silicone baking cups…trust me! Every time I cook eggs in the muffin tin they stick…seriously, it doesn't matter how much non-stick cooking spray I use…they always stick. But with silicone baking cups they pop right out! I love these silicone baking cups because you get some super cute star shaped ones that are fun for the kids….and they're super cheap too!
Okay, ready for this yummy recipe?!
Garden Vegetable Breakfast Cups Recipe
Garden Vegetable Breakfast Cups
Author:
Prep time:
Cook time:
Total time:
Ingredients
5 Large Eggs
1/4 Cup Diced Ham
1 Kale Leaf
1 Medium Tomato
1/2 cup Cheddar Cheese
Instructions
Spray silicone baking cups with non-stick cooking spray.
Preheat oven to 350 degrees.
In a bowl, remove eggs from shell and scramble with a fork.
Add in diced ham.
Tear kale off of the stem and cut into pieces.
Dice tomato.
Add kale, tomato, and cheese to the egg mixture.
Mix ingredients together well.
Fill silicone baking cups half way with egg mixture.
Bake at 350 degrees for 25 minutes or until egg is cooked through.
The great thing about these breakfast cups is that you can mix it up with whatever ingredients you prefer! What ingredients have you tried? Share in the comments below!
You May Also Like:
Copy Cat Cracker Barrel Hashbrown Casserole