This year we're doing something different for school during the month of December. Instead of worrying about spelling, writing, grammar, and all the other "boring" school stuff….we're diving into a unit study about winter holidays around the world. Yesterday we learned about Christmas in Germany and it was so much fun.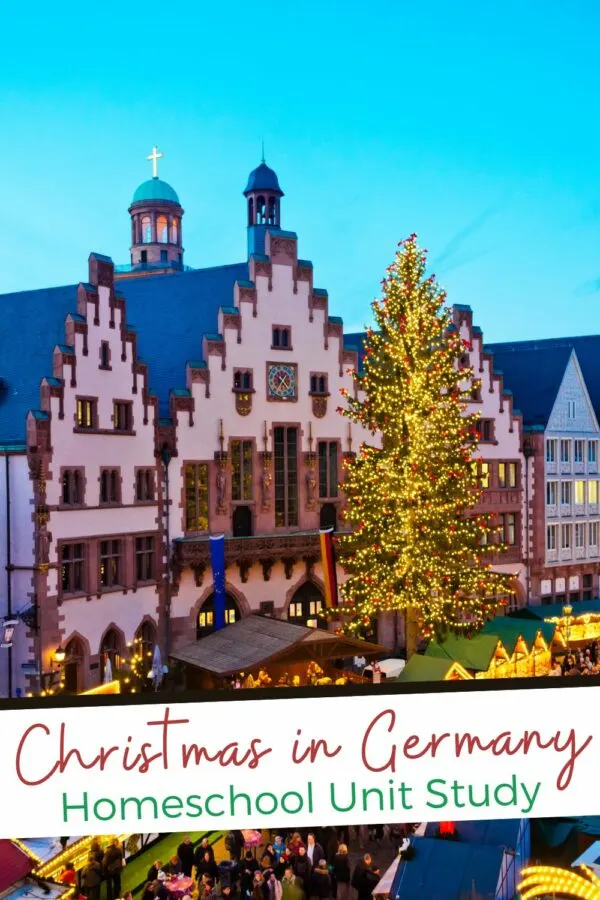 Christmas In Germany Unit Study
Germany is the perfect country to begin a unit study about Christmas around the world! So many fun traditions come from Germany and my kids were beyond excited to learn more and more and more. We literally spent the WHOLE day learning about Christmas in Germany and recreating some German magic in our own home.
For the bones of this unit study, I'm using Barefoot Within the Trees' A Childs Guide to Christmas Around the World Unit Study. Her guide is AMAZING! It's so beautiful and packed full of information, activities, and resources. My kids love listening to Gnomen- the gnome who shares about his travels around the world during the holiday season.
In addition to the guide from Barefoot Within the Trees, I've pulled together some more resources that allowed us to really dive deep into Christmas in Germany.
We started our day off with a delicious German inspired breakfast. A popular German breakfast is apple pancakes….so we made pancakes for breakfast with a side of sliced apples. Now, my kids are currently 8 and 11, so doing authentic right now is a waste of food. They are definitely in that picky eater stage of childhood so any recipes we use I've tweaked for their tastes. The goal here is exposure and recognition not authenticity….I'll strive for more authenticity when they're a bit older. Do what works for your family…that's the beauty of this homeschool journey!
After breakfast we dove into our unit study and listened to Gnomen share about his travels to Germany and explain how the Germans celebrate Christmas.
I found this fantastic YouTube video where Feli from Germany explains some of the differences between German and American Christmas traditions. Note: she does mention the "myth of Santa" but doesn't come out and say Santa isn't real…my kids didn't pick up on it and they're pretty observant to stuff like that…but just a little warning.
Making a Secular Advent Wreath
After learning about some German Christmas traditions we made an advent wreath.
There are so many variations of the advent wreath and the kids had a blast creating their own version. We talked about how Catholicism plays a huge role in German culture and the shaping of their traditions. The advent wreath is a beautiful way to think about and display character traits we need in the world.
At the beginning of every week leading up to Christmas, German families gather around the advent wreath…which is normally at the dinner table. They talk about the meaning of the candle for that week, they light the candle, and sing carols together. The lighting of the advent wreath is a time of togetherness.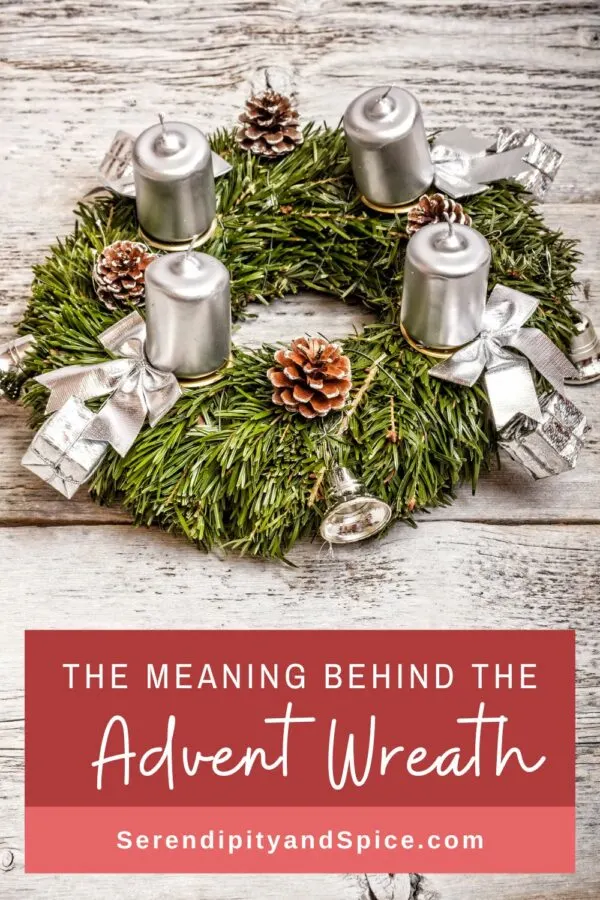 The first candle represents Hope. We talked about what "hope" means to us. My kids had so many fun ideas behind the meaning of "hope"….my son is obsessed with Minecraft and said "hope" to him means "keeping his character alive during a zombie attack". Which is totally right! LOL! Hope is about looking forward to the future and wanting good things to come.
The second candle represents peace. We talked about what "peace" means and how we can create more peace in the world. Of course, my comedian daughter responds, "let mommy have her coffee BEFORE we start bickering". So we dove into being nice to our siblings and thinking before we act!
The third candle represents love. So we talked about how we show love to other people…whether it's through random acts of kindness, doing community service projects, calling a friend, or just being there for each other.
The fourth candle represents joy. In unison both of my kids said "joy is happiness". We came up with a list of ways we could spread happiness to others this holiday season.
After having lighthearted fun with making the advent wreath, we dove into the darker side of Christmas in Germany and explored the myth behind Krampus.
Learning About Krampus
I was worried that Krampus may be a bit too scary of a subject for my kids but they LOVED learning about the lore. This video does a great job explaining Krampus without getting too scary. If your kids are sensitive give it a pre-screen ahead of time.
Barefoot Within the Trees also has a fun little Krampus art project the kids did after learning about him. My kids were so fascinated with Krampus and the logistics of him being St. Nickolaus' partner…we could have dived deeper if I could find materials that weren't so scary.
Next year I'll probably do a mini-unit on scary Christmas myths like Krampus, Pere Frouettard from France, and others. Here are some books I have on order for next year's studies.
Traditional German Decorations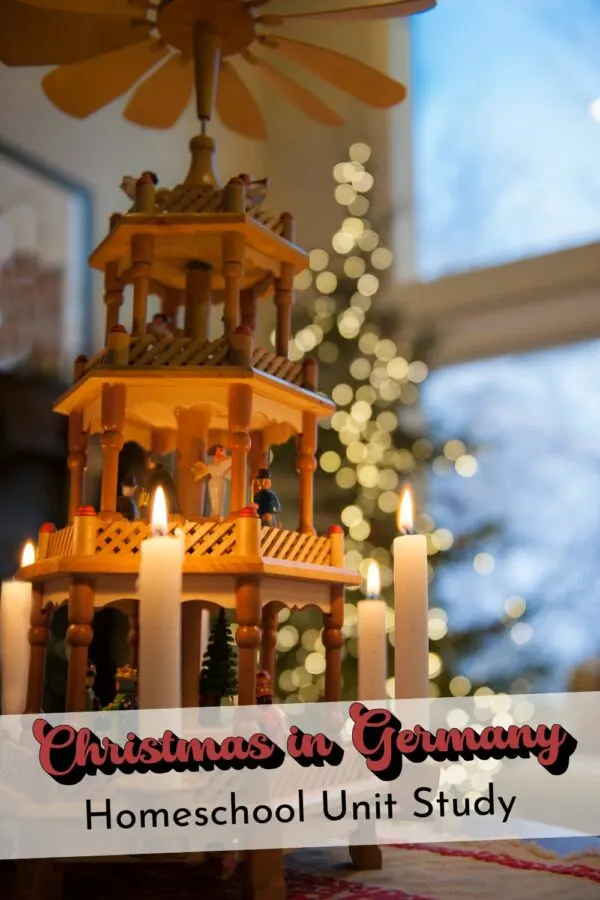 After learning about Krampus and what happens to naughty children in Germany, we discovered traditional German Christmas decorations.
This Christmas Candle Carousel kit from Kiwi Crate is perfect because it lets the kids create their own Weihnachtspyramide or German Christmas Pyramid. The Weihnachtspyramide dates back to the 16th century and is believed to be the inspiration for our current custom of the Christmas tree.
The candles below create heat which then turns the blades of the fan.
Another popular Christmas decoration found in German homes are Rauchermen aka German Christmas Smokers. Rauchermen are little incense burners that fill the house with amazing holiday scents. I couldn't find any crafts but there are tons of adorable Rauchermen out there!
German Food for Christmas
My favorite part about our Christmas Around the World study is all of the food! There are so many delicious recipes and goodies to try for each country!
In addition to recipes, if you have Aldi or Lidl nearby you're in luck…I found so many goodies to try and they were cheap! I of course picked up a stollen…I will admit, the choices were overwhelming.
Picking up a stollen is like saying "I'll pick up cookies or a cake". There are so many flavors and variations of German stollen! After about 15minutes of looking through all of my choices I finally just grabbed the butter one…I figure it's best to keep it simple. I also found several different types of cookies, gingerbread, and marzipan.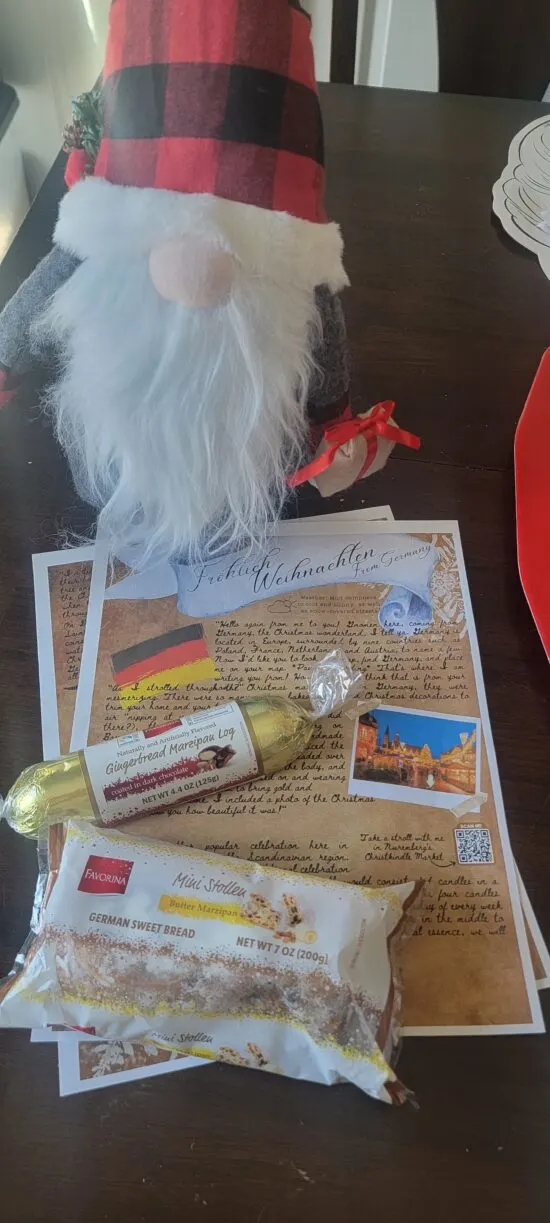 Since my kids can be a bit picky when it comes to food, I made a German-inspired dinner. I picked a few German items that I knew my kids would like and then just cooked them the way we normally eat them. My theory behind this is not necessarily to give them an authentic experience….we can do that when they're older….my theory is mainly to have them associate the foods with the country. So I made potato salad, kielbasa, stuffing, and pretzel rolls.
We finished off our study of Christmas in Germany with a little bit of history and the story of the Candy Bomber.
Learning About the Candy Bomber of WW2
No study is complete without a little bit of history, right?! Well, this story embodies the true meaning of Christmas and is so heartwarming.
I was shocked to learn about the Berlin Candy Bomber and am surprised I wasn't taught this story growing up because it is such a heartwarming story! There's even a children's book written by Tom Brokaw all about this beautiful story of kindness during a time of war.
I don't want to ruin the story for you, but the gist of the story is that there's a US soldier stationed at a base near Germany during World War 2. One day he sees a bunch of refugee children by the fence watching the soldiers load the planes with supplies to drop for civilians stuck inside Germany.
He approaches the children and gives them some gum he had on him but he doesn't have enough for all of the children. Long story short, he collects candy from fellow soldiers and they create tiny parachutes using hankerchiefs and deliver the candy to the kids by dropping it from the plane. Word spreads about this act of kindness and it turns into a HUGE operation where a team of pilots fly around drop candy all over Germany. Seriously, watch the video with some tissues and enjoy a little Christmas magic with the kids.
After watching the video we created our own little parachutes using napkins and tested out dropping them from the upstairs window. It was a fun STEM project to add into this study about Christmas in Germany.