As Thanksgiving approaches, we all look forward to indulging in a feast of traditional dishes. However, amidst the savory delights and rich flavors, it's important to balance our meals with something light, refreshing, and nutritious.
A Thanksgiving fruit salad is the perfect addition to your spread, bringing a burst of vibrant colors and flavors to the table.
Let's delve into a delightful Thanksgiving fruit salad recipe that will elevate your holiday gathering.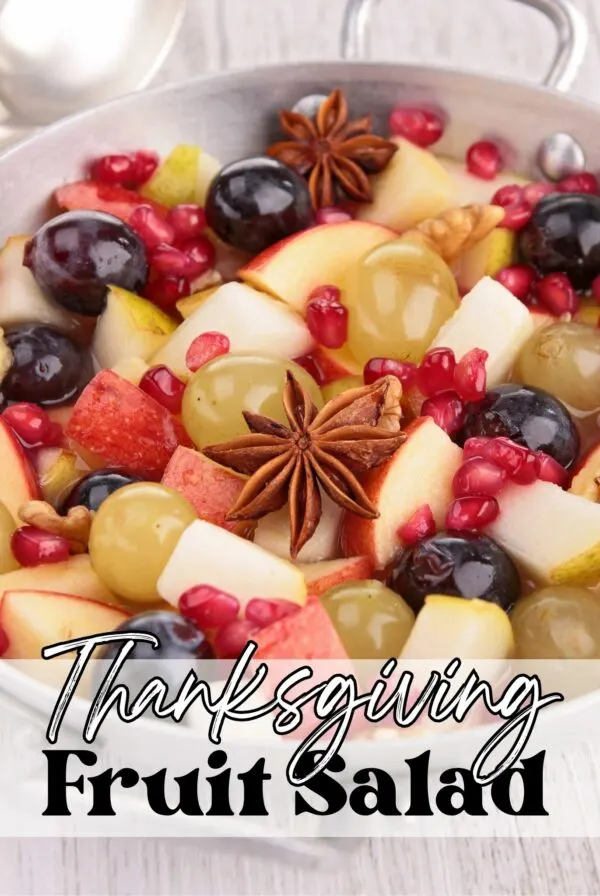 Table of Contents
Choosing the Perfect Ingredients for Thanksgiving
Fruits For the Salad
4 cups mixed berries (strawberries, blueberries, raspberries, and blackberries)
2 cups seedless red grapes, halved
2 apples, cored and diced
2 pears, cored and diced
1 cup pomegranate seeds
1 cup chopped pecans or walnuts (optional)
Fresh mint leaves for garnish
A Light Mix For the Dressing
1/4 cup honey
1/4 cup fresh orange juice
Zest of one orange
2 tablespoons fresh lemon juice
1 tablespoon lime juice
Making the Perfect Thanksgiving Fruit Salad
Prepare the Fruit: Start by washing and drying all the fruits thoroughly. Hull and slice the strawberries, halve the grapes, and dice the apples and pears. Place them in a large mixing bowl.
Add Pomegranate Seeds and Nuts: Gently mix in the pomegranate seeds and chopped pecans or walnuts into the bowl of mixed fruits.
Prepare the Dressing: In a separate bowl, whisk together the honey, fresh orange juice, orange zest, lemon juice, and lime juice until the honey is fully incorporated. Adjust sweetness and tanginess to your liking.
Combine and Toss: Pour the dressing over the mixed fruits and gently toss until all the fruits are coated evenly.
Chill: Cover the bowl and refrigerate the fruit salad for at least 30 minutes to allow the flavors to meld and the salad to chill.
Garnish and Serve: Before serving, garnish the fruit salad with fresh mint leaves for a burst of additional flavor and a beautiful presentation.
Tips for a Delicious Fruit Salad
Feel free to customize the fruits based on your preferences and seasonal availability.
Add a splash of pomegranate or cranberry juice to enhance the flavors and colors of the salad.
Adjust the sweetness of the dressing by adding more or less honey to suit your taste.
For an extra crunch and nutrition, add a sprinkle of chia seeds or flaxseeds.
FAQs For Thanksgiving Fruit Salad
Can I prepare this fruit salad in advance?
Yes, you can prepare the fruit and dressing in advance. However, it's best to toss the salad with the dressing just before serving to maintain its freshness and texture.
Can I use frozen fruits for this recipe?
While fresh fruits are recommended for optimal flavor and texture, you can use frozen fruits if fresh ones are not available. Thaw and drain them well before using.
How long can I store the fruit salad in the refrigerator?
The fruit salad can be stored in an airtight container in the refrigerator for up to 1-2 days. However, it's best when served fresh.
Can I use different types of nuts in the salad?
Yes, you can use your preferred nuts or a combination of different nuts like walnuts, almonds, or pecans to suit your taste.
Can I make a larger quantity of the dressing and store it for future use?
Certainly! The dressing can be prepared in a larger quantity and stored in an airtight container in the refrigerator for up to a week. Shake well before using.
How can I make this salad more festive for Thanksgiving?
Consider adding a sprinkle of cinnamon or nutmeg to the dressing for a warm, holiday flavor. You can also incorporate a handful of dried cranberries for a seasonal touch. Or mix in a couple of star of anise to add a bit of flavor.
Why Make a Thanksgiving Fruit Salad
Including a Thanksgiving fruit salad in your holiday spread is a wonderful way to offer a refreshing and nutritious option among the hearty dishes. This delightful recipe brings together a medley of seasonal fruits, nuts, and a tangy-sweet dressing to create a burst of flavors and colors.
Enjoy this fruit salad as a light and refreshing addition to your Thanksgiving feast, leaving your guests craving for more of this healthy treat.
Printable Recipe for Thanksgiving Fruit Salad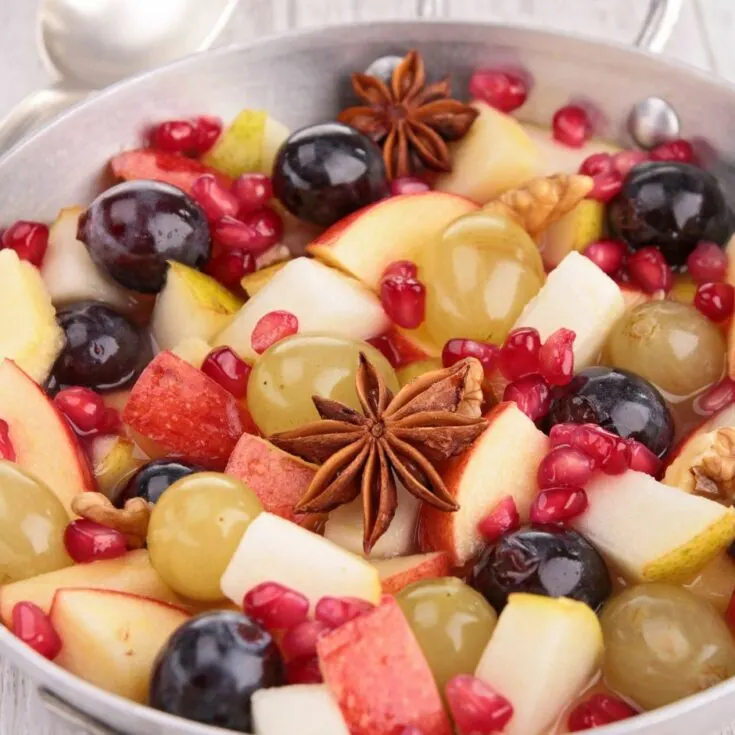 Yield:

8
Thanksgiving Fruit Salad
Serve this Thanksgiving Fruit Salad either with dinner or dessert for a lighter treat everyone will love!
Ingredients
Mixed berries (4 cups)
Red grapes (2 cups, halved)
Apples (2, diced)
Pears (2, diced)
Pomegranate seeds (1 cup)
Chopped nuts (1 cup, optional)
Fresh mint leaves for garnish
Star of Anise for Garnish
Honey (1/4 cup)
Fresh orange juice (1/4 cup)
Orange zest (from 1 orange)
Fresh lemon juice (2 tbsp)
Lime juice (1 tbsp)
Instructions
Wash and prepare the fruits.
Mix fruits, pomegranate seeds, and nuts in a bowl.
Whisk together the honey, orange juice, orange zest, lemon juice, and lime juice to create the dressing.
Toss fruits with the dressing.
Chill for 30 minutes.
Garnish with fresh mint and serve.
Tips:
Customize fruits based on preference.
Add juice for extra flavor.
Adjust sweetness of dressing.
Add seeds for crunch and nutrition.
More Delicious Recipes for Thanksgiving