If your mom loves to garden then the Gorilla Carts Heavy-Duty Garden Poly Dump Cart will make a wonderful gift. When it comes to gifts for mom getting something practical can be straight from the heart!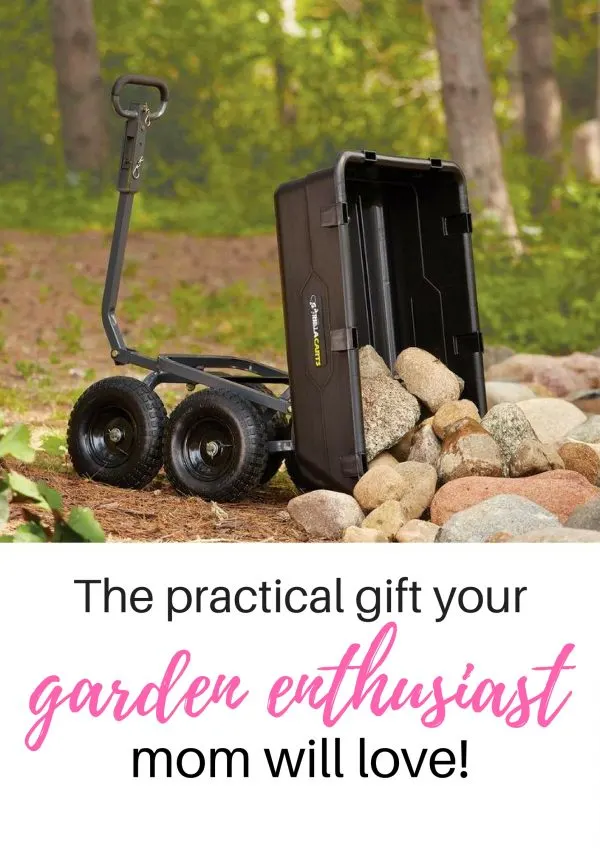 Gorilla Cart GOR866D Heavy-Duty Garden Poly Dump Cart
A Practical Gift for Mom Straight from the Heart
Working in the garden requires a lot of digging and dumping old plants and soil. Without the proper equipment this can add time or effort to the task. Does your mom love to plant and sow in her garden?
Give her something to make her gardening easier this Mother's Day with the brilliant Gorilla Carts GOR866D Heavy-Duty Garden Poly Dump Cart with 2-in-1 Convertible Handle. If she loves gardening but has a hard time with the heavy lifting, this is the perfect gift you can give her this Mother's Day.
Capable of holding up to 1,200 pounds, this cart makes moving soil, gravel and plants quick and effort-free. Gardening can be hard work, especially when you have a lot of heavy dirt to transport.
Not only is it extremely practical and convenient, but it also has a nice stylish design. Built with a steel frame and high strength poly, it's suitable for use all year round. No matter what the weather throws at it, she won't have to worry about rust or wear and tear.
Even the wheels come with an exceptional quality design. Featuring pneumatic turf tires, they'll easily maneuver over any terrain. A 1-year limited warranty is also included for peace of mind.
Being a heavy-duty cart, you'd expect it to be fairly heavy to pull around. However, thanks to the padded pull handle, it's comfortable to use. Another practical benefit of the handle is that it comes with a patented 'D' shape design, allowing it to be hooked up to an ATV or lawn tractor.
It doesn't just carry soil and gravel either; it also dumps them! So you're really giving her a 2-in-1 present here. It's advertised as being great for the light duty homeowner or for the commercial duty professional.
You'll be saving her time in the garden, as well as reducing fatigue. This means she'll get a lot more done in a less amount of time than she would without it.
It's worth keeping in mind that while the main dimensions state the cart measures 40 inch in length, this applies to the bottom only. The top is actually slightly shorter, measuring around 38 inches. So if she plans on carrying logs around in it for example, she wouldn't be able to fit 40 inch logs inside the cart.
Everything on the cart bolts into place which is actually an improvement of previous models. In the past customers have complained about welds breaking, but there doesn't seem to be any on the latest models.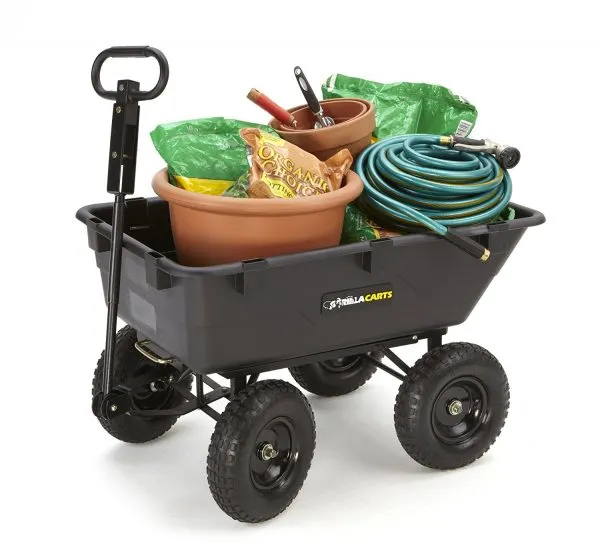 Overall the Gorilla Cart GOR866D Heavy-Duty Garden Poly Dump Cart is a thoughtful and practical gift for the mom who enjoys to garden. She'll love that you've made her job easier with this useful dump cart and the fact it's guaranteed to last for years is a major bonus.