Yesterday I brought you the BEST Christmas Cookie Recipes and today I'm bringing you the most Delicious Homemade Candy Recipes! Tis the season for baking all sorts of delicious treats!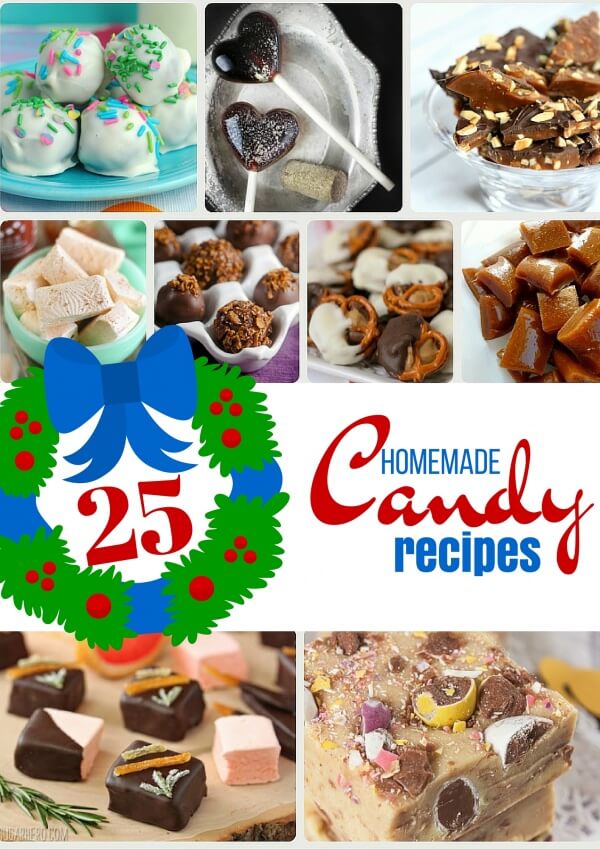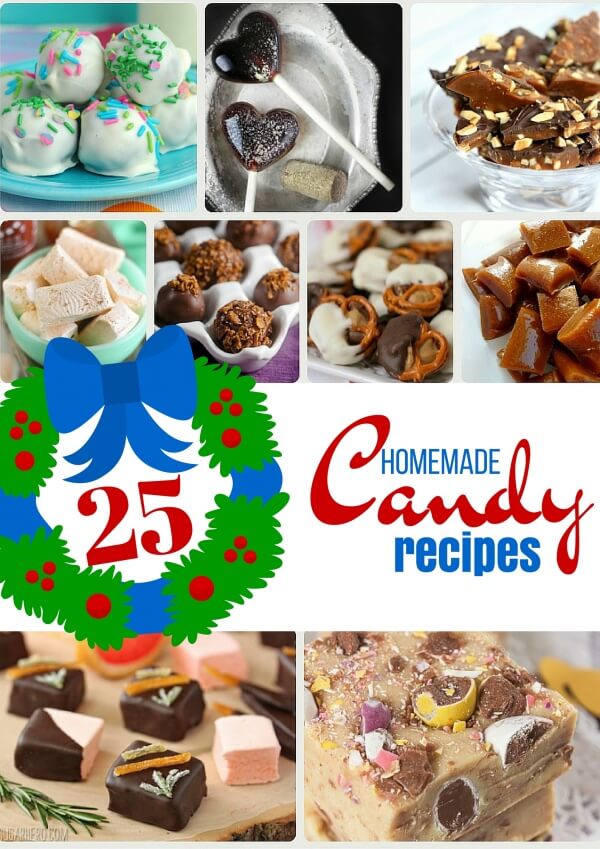 25 Delicious Homemade Candy Recipes
Yummy Treats that are Easy and Delicious!
My favorite part of the holiday season is getting in the kitchen and baking delicious treats with my family! Whether it's cookies galore, scrumptious cakes, or these delicious candy recipes there's just something so special about sharing that time with your family. I truly believe that the kitchen brings people together….it's a natural gathering place in our house. When we gather in the kitchen to cook or bake there's just so much fun, laughter, and conversation happening that wouldn't normally happen if we're gathered around the tv.
So I bring you 25 delicious homemade candy recipes that you can easily make this holiday season!
Delicious Homemade Candy Recipes
Healthy Delicious – Maple Bacon Truffles
Simply Stacie – White Chocolate Truffles
Raining Hot Coupons – Salted Caramels
Raining Hot Coupons – Homemade Cadbury Eggs
The Life You Live – Girl Scout Cookie Thin Mint Truffles
Living on a Dime – Party Mint Peppermint Patties
Oh Nuts – Nutella Candy Hearts
Sugar Hero – Grapefruit Marshmallows
Sprinkle Bakes – Red Wine Lollipops
Sprinkle Bakes – Sriracha Orange Marmalade Marshmallows
Love Bakes Good Cakes – Pistachio and Cranberry Bark
Love Bakes Good Cakes – Microwave Peanut Brittle
Our Best Bites – Apple Cider Caramels
Our Best Bites – Easy Cream Cheese Mints
Cookies and Cups – Crock Pot Candy
Lil Luna – Pretzel Snickers Bites
Eat. Drink. Love. – Dark Chocolate Fruit & Nut Cups
The Frugal Navy Wife – Homemade Candy Buckeyes Recipe
Averie Cooks – Old-Fashioned Butter Mints