This is a Sponsored post written by me on behalf of Dollar General for SocialSpark. All opinions are 100% mine.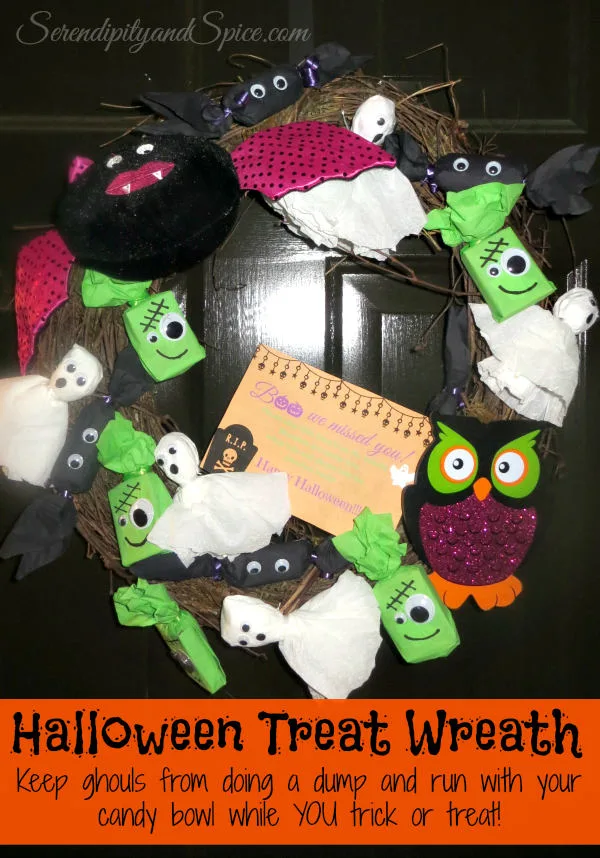 DIY Halloween Treat Wreath Tutorial
An Inexpensive, Cute, and Practical Halloween Decoration!
Can you believe it's almost time for Halloween??? I LOVE this time of year!! The weather is perfect, the colors are beautiful, the food is delicious, and there's pumpkin spice EVERYTHING! I mean, what's not to LOVE?!
Anyway, now that Little Man is the perfect age for trick or treating we're REALLY excited about Halloween this year! Hubs and I were talking about taking him around the neighborhood and we realized….if we're BOTH taking him around the neighborhood trick or treating then WHO is going to be at our house handing out the candy??
I know, the easy option is just to set out a bowl of candy with a little sign that says "Take ONE Please"….but we all know that there's a group of teenage ghouls out there that will run from house to house dumping the bowls of candy in their bags leaving nothing for the cute little monsters. It never fails…there's always some every year! Well, I found a way to combat that issue this year!
Instead of setting out a bowl of candy I've attached the treats to a wreath. It makes it just a little bit more difficult to get the treats and the older kids are less likely to dump and dash. Pretty smart huh?! Yep, I'm pretty proud of my genius self over here! 😉 Now, I didn't make it impossible to get the treats off the wreath but I'm hoping it will deter people from taking more than one or two….plus, not all of the treats are candy which is nice for many parents (like me) whose little monsters have WAY too much candy!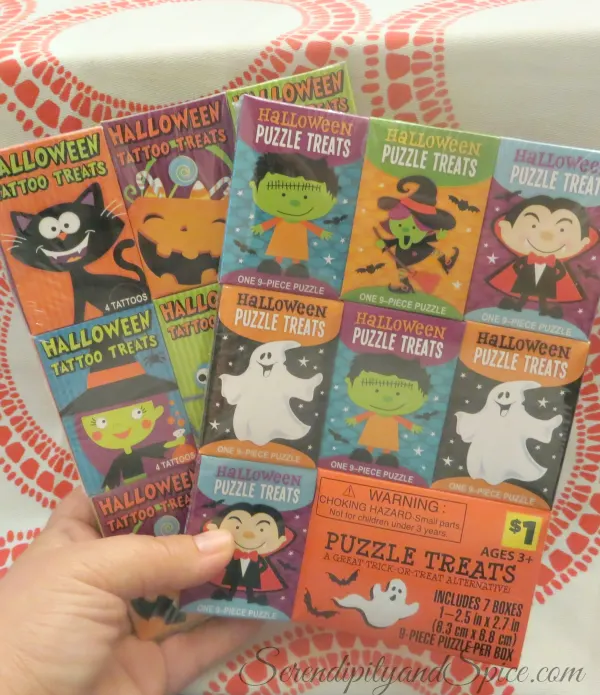 I found these cute little treat boxes of puzzles and tattoos at Dollar General and knew they would be PERFECT for the treat wreath! I mean, you get a whole pack of them for $1….that's so affordable…and they make the PERFECT Frankenstein's Monsters! Of course I did make some candy treats for those that would prefer candy….you'll see that I just made a little note on the sign so parents would know which is which.
So, remember the vine wreath that I've used for like the last 2 years in multitudes of ways? Yep, that awesome little wreath is back! It was perfect for being able to easily hang the treats on sort of like Christmas ornaments on a tree. Plus, it didn't cost a thing!
To make the treat wreath I gathered the rest of my supplies from Dollar General….Halloween at Dollar General is a great place to find all the supplies you need and stay within an affordable budget!
Supplies Needed and Cost:
Treats- 7 pack for $1
Candy- $2-$6 bag
Green Napkins (Frankenstein's Monsters) $1
White Napkins (Ghosts) $1
Black Napkins (Bats) $1
Present Ribbon Pack $1
Cute Plush Bat Decor $2.50
Adorable Wooden Owl Decor $1
Squiggley Eyes (already had some at home)
Black Marker
Christmas Ornament Hooks (already had some)
White Elmer's Glue $1
Directions:
Make your treats into fun Halloween Characters by wrapping them in the napkins.
For Frankenstein's Monsters: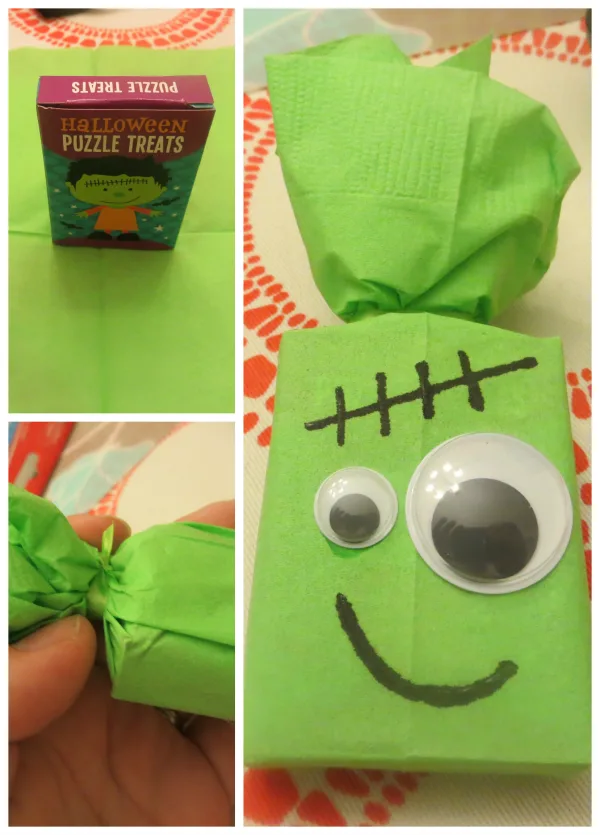 Use green napkins and wrap around box- tie end together with ribbon to seal.
Add 2 different size squiggly eyes using a drop of glue.
Draw mouth with black marker.
For Ghosts: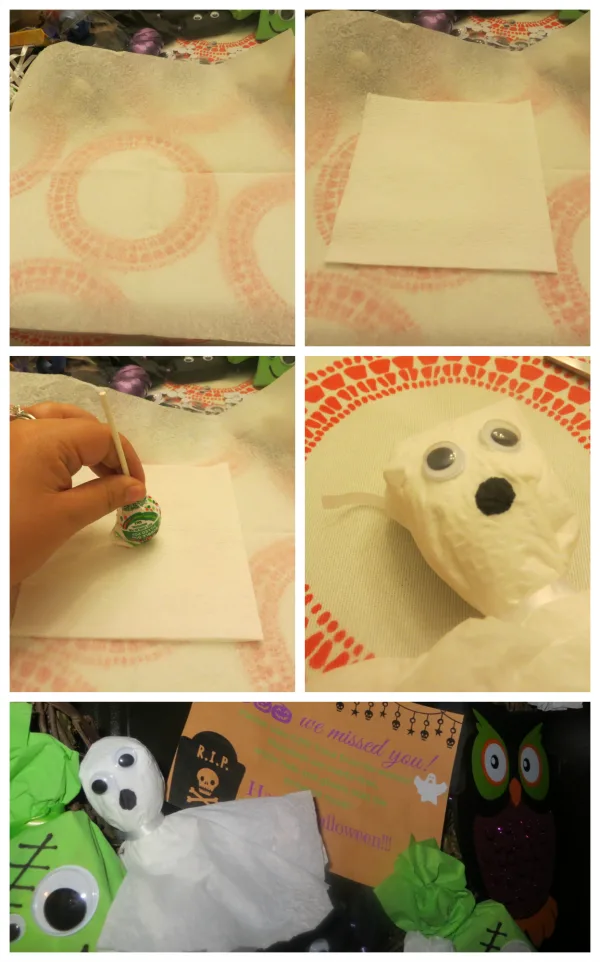 I like to make ghosts using blow pops, tootsie roll pops, or any suckers because they make the perfect round head.
Take 2 white napkins and leave the first one folded and unfold the second one…that way your wrappers don't show through.
Wrap around top of sucker and tie a bow with the ribbon.
Trim excess napkin if it's too long.
Add Squiggly eyes using a drop of glue.
Draw a mouth with your marker.
For Bats: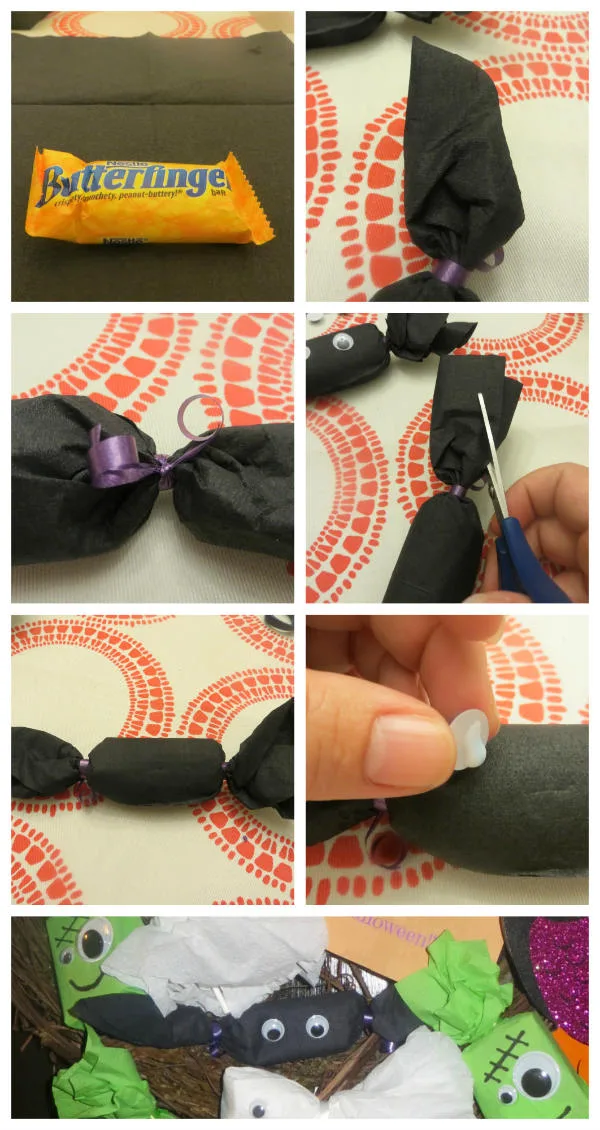 I like to use the fun size candy bars to make the bats.
Take the black napkins and roll the candy bar up in the napkin.
Tie each end with a piece of ribbon.
Trim ends of napkin and fluff to make the ends look like wings.
Add squiggly eyes with a drop of glue.
Next, just arrange everything on your wreath however you wish. I just used some floral wire that I had laying around to secure the decorative owl and bat. For the treats I placed ornament hooks around the wreath and hung the treats from the hooks.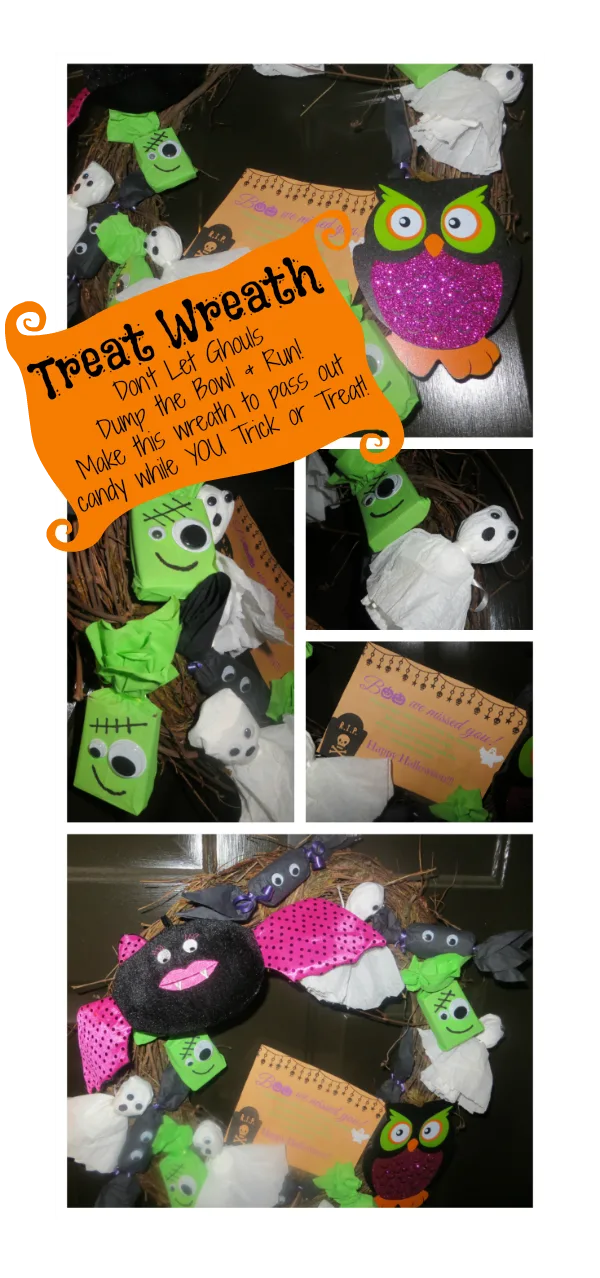 Finally, I made a cute little sign that says "Boo, we missed you! Please take ONE treat from the wreath! Monsters are candy free while Bats and Ghosts hold the sweetest of treats! Happy Halloween!!"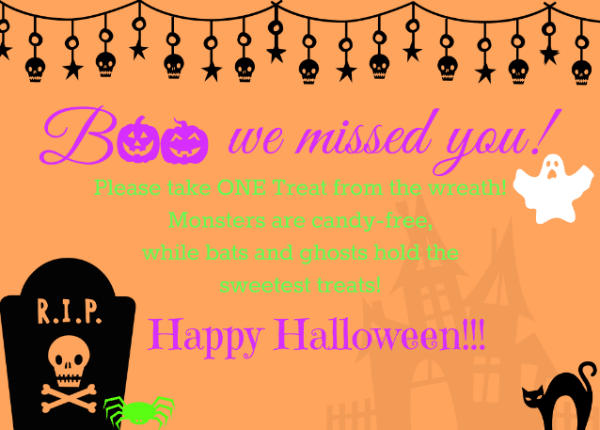 So there you have it….no more dump and run candy heists! 😉
Find Other Inspirations on Dollar General Pinterest
What's YOUR Favorite Halloween Treat? Share in the comments below!
You may also like:
The BEST No Carve Pumpkin Ideas
Free Halloween Printables 4 Pack