Be surprised at these easy to make macarons. I always thought French macarons were difficult to bake but they are actually surprisingly simple. Impress friends and family with these easy to make macarons!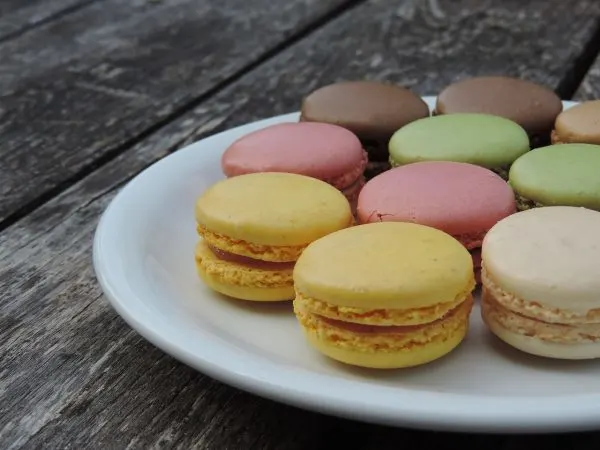 Easy to Make Macarons
A Surprisingly Simple French Cookie Recipe
Oh….macarons….how I love these little French cookies! They're so light and airy with just the perfect amount of sweetness! With their hefty price tag at bistros and bakeries I always assumed these little gems were extremely difficult to make….boy was I wrong!!
Macarons do take a little more TLC than your typical chocolate chip cookie but they're not so difficult that you become frustrated with disaster after disaster. In fact, the first time I made this easy to make macarons recipe my macarons turned out perfect the first time!!
Ingredients
3/4 cup almond flour
1 cup powdered sugar
2 large room temperature egg whites
1 pinch cream of tartar
1/2 cup Sifted White Sugar
Optional: gel food coloring for bold colors
1 cup unsalted butter
3 1/2 cups powdered sugar
Optional: flavor extracts
Instructions
Preheat oven to 300 degrees
Sift almond flour and powdered sugar together-- repeat 3 times. Set aside.
Whisk egg whites until foamy.
Add cream of tartar and beat until soft peaks form.
Reduce speed and gradually add white sugar.
Once all of the sugar has been added, increase the speed and beat until stiff peaks form.
Sift flour mixture over whites. Discard any lumps or coarse bits that remain.
Fold mixture together-until just combined . The batter will be very stiff.
Add in food coloring to create desired cookie color....gently fold in coloring.
Transfer mixture to a piping bag and fill macaron cups.
Let macarons stand uncovered for 15 minutes to form a crust.
Bake the macarons 18-20 minutes.
Buttercream Filling:
Beat together butter and powdered sugar until fluffy.
Add in flavoring.
Transfer frosting to piping bag.
Once cookies are cool, pipe buttercream frosting onto cookie and create a sandwich.
The key to perfect macarons is having the right baking supplies. I love this silicone macaron cookie sheet because it takes all of the guesswork out of baking macarons. I know exactly how to space them, how far to fill them, and when they're done they easily pop out of the silicone molds. Macarons are very fragile so I think a silicone baking sheet is a must have!


See…easy peasy!! Now that I know I can easily whip these macarons up at home I'm going to be making them for holiday gifts! Simply grab a pastry box add a bow and you have an elegant gift for teachers, friends, and family.