Food Blog University is an all inclusive conference that's not just for food bloggers. It's a weekend of good food, great friends, lots of blogging, and loads of learning. Learn the secrets to taking your blog from hobby to full time business.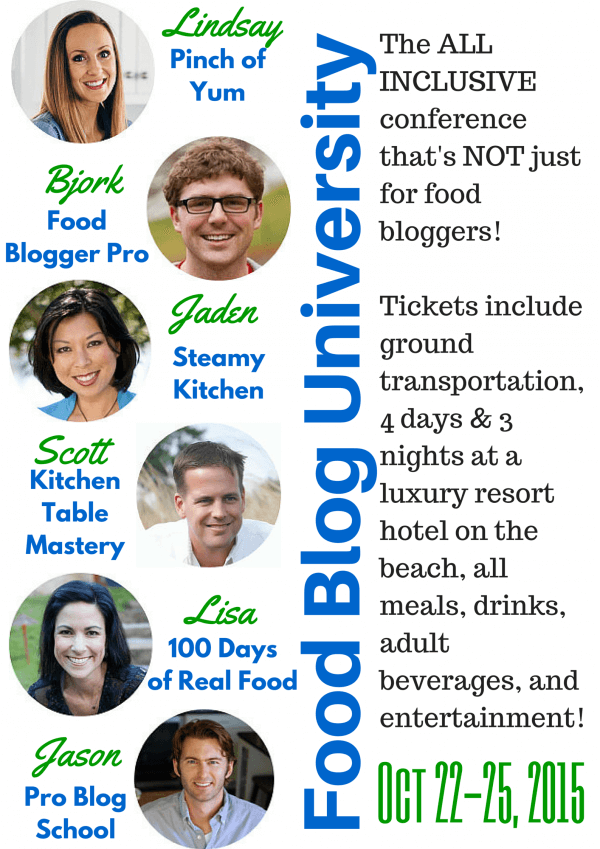 Food Blog University Conference
An All Inclusive Blogger Conference in Cancun Mexico!
Hi guys! I'm so excited to tell you about this new conference that I'm a part of…it's called Food Blog University and it's an all inclusive conference that's NOT just for food bloggers (don't let the name fool you). The Food Blog University Conference was started by fellow bloggers Melissa of Serendipity and Spice and Diana of Eating Richly. FBU15 will be held in Cancun, Mexico the weekend of October 22-25, 2015. And it's sure to be a blast! It's all about learning how to grow your blog to the next level and learning the secrets of some power blogging couples on how they turned their blogs into successful family businesses.
So what is an all inclusive blogger conference?
This year's conference will be held at the luxurious Dreams Riviera Cancun Resort and Spa located right on the beach. When you purchase your ticket you'll receive ground transportation from the airport to the hotel and back, 4 days & 3 nights accommodations at the Dreams resort, all the food & drinks you could possible consume (they have 6 award winning restaurants plus several bars and buffets throughout the property…even room service is included), all premium adult beverages, nightly entertainment, kids club (bring the kids and check them into the kids club for the conference sessions!), conference sessions, an excursion, taxes, gratuities, and more!
Just think if you went to a conference in the states how much you would spend between hotels, transportation, drinks with friends, childcare, etc. You would wind up spending the same amount or more…..except this time you'll be in paradise and learning in an intimate atmosphere (tickets are limited to 50 bloggers to give you individual time with the speakers).
So who are these fabulous Food Blog University speakers?
Food Blog University has an all star line up of speakers! Each of the speakers has taken their blog and turned it into a successful family business. The men behind the women were able to quit their corporate jobs and are now passionate about helping their wives be as successful as possible and share the secrets to that success with YOU!
Jaden & Scott Hair of Steamy Kitchen and Kitchen Table Mastery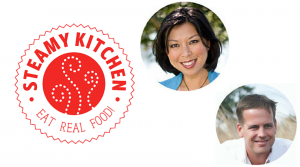 You have probably seen Jaden on television as she currently appears on ABC's Daytime Show twice a month cooking up some of her delicious dishes and she was one of the stars from ABC's Recipe Rehab. She also has been featured on the Today Show, CBS Early Show, Martha Stewart Living Radio, Oprah.com, and Parents Magazine. Jaden has been named one of the hottest women in food, one of the best food bloggers on Forbes.com as well as The Daily Meal.
Jaden has written several cookbooks including The Steamy Kitchen Cookbook, Steamy Kitchen's Healthy Asian Favorites, and Healthy Chinese Take Out: Favorite Recipes. She is also the co-founder of Food Blog Forum and has started the mastermind group Kitchen Table Mastery with her husband Scott.
Scott and Jaden are passionate about teaching bloggers how to negotiate with Brands and know your worth. They are open books and eager to share all of the secrets to their success. You can learn how to turn your blog into a six figure income by following their advice….you definitely don't want to miss out on getting to know Jaden and Scott!
Lindsay & Bjork Ostrom from Pinch of Yum and Food Blogger Pro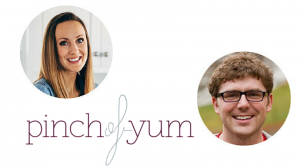 I don't think you can log onto Pinterest without seeing a delicious mouthwatering treat from Pinch of Yum! Lindsay is an amazing food photographer and taught herself everything she knows. Her passion lies in sharing those secrets with you. Lindsay has written several books including Tasty Food Photography (my bible!), Everyday Healthy, and The Creamy Cauliflower Sauce ECookbook.
Bjork started sharing Lindsay's income reports and saw a thirst from bloggers for more knowledge about how to achieve success so he started Food Blogger Pro. He was able to quit his job and now they are a power blogging couple that reports incomes in the high six figures. Can you imagine making $30,000 in ONE month…yes, what most teachers make in a year the Ostroms make in a single month! I know I want to learn their secrets to success….don't you?!
Join us at Food Blog University where Lindsay will be sharing tips and tricks for improving your photography skills. There will be hands on sessions and a chance to work closely with Lindsay to really learn and improve your photos. Bjork will be sharing the technical side of blogging and ways to make money beyond sponsored posts and ads.
Lisa and Jason Leake of 100 Days of Real Food and Pro Blog School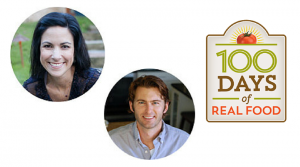 Lisa is the New York Times Best Selling Author of 100 Days of Real Food where she chronicles her journey and shares recipes on how she improved her family's eating habits by giving up processed foods. Her passion lies in teaching others the simple steps they can take to lead a healthier lifestyle and pay attention to what they eat.
As 100 Days of Real Food continued to grow Lisa started enlisting the help of her husband Jason. As he started helping her with the technical and business side of her blog he started placing his entire paycheck into a savings account to see if they could live off her income alone. After just 8 months he was able to quit his job because her income surpassed his own. They have turned 100 Days of Real Food into a family business and even have help that they regularly employ.
Seeing the need of transparency in the blogging world Jason decided to start Pro Blog School. He loves sharing and helping other bloggers reach their full potential with their blogs.
Have you ever thought about writing a book? Lisa is going to share her secrets to publishing success! Don't miss out….you could be the next New York Times Best Selling Author with her as your mentor!
So Where Is Food Blog University Taking Place?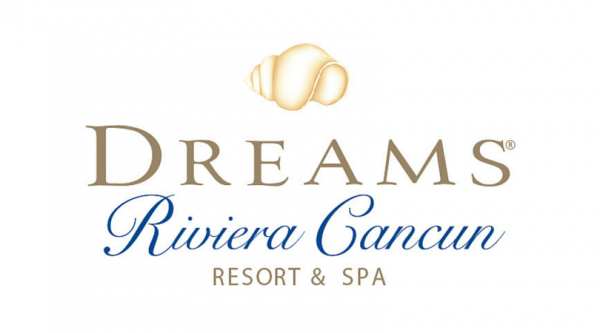 Food Blog University will be held in the luxurious Dreams Riviera Cancun Resort and Spa. Enjoy well-appointed amenities, reservation-free dining, daily activity & entertainment programs designed for all ages and so much more. All the fun is wristband-free!
With your FBU ticket you'll receive 4 days and 3 nights of luxurious accommodations in a Deluxe Garden View room– additional nights and upgrades are available for a fee…email Melissa@FoodBlogUniversity.com for any questions regarding upgrades and extended stays.
The resort is right on the beach with crystal clear blue waters….if you've never been to Cancun you need to go…the water is just exquisite! You'll receive unlimited dining at six gourmet restaurants, a buffet, a grill, and a cafe. Plus, don't worry about racking up a bill with after dinner drinks! There's unlimited international & domestic top-shelf spirits served at six festive bars and lounges.
Experience true luxury with pool and beach wait service, daily refreshed mini-bar with soft drinks, juice, bottled water & beer, Daily maid service and all taxes and gratuities are included! There's even an Explorer's Club for the kids….open until 10pm. So let the kids go for supervised fun without worrying about the cost of childcare. The resort will even have extra staff on hand so you can utilize the kids club during our conference sessions!
Tickets are on sale until August 15, 2015. Don't delay…this is an intimate conference with a maximum of 50 attendees….get your ticket before they're gone!