Enjoy summer fun with friends and family while letting #HelloFresh worry about the age old question "What's for dinner!" Read about my Hello Fresh review and how it simplifies my summer cooking plans.
Hello Fresh Box Review
Make sure your #SummerIsSocial with Hello Fresh Meals
This month I got the fantastic opportunity to work with Hello Fresh and review a few of their summer meals. Let me just say….I'm totally addicted! The concept is that you can save time and headaches by letting Hello Fresh take care of dinner while still getting a healthy and fresh homemade meal. Hello Fresh takes all the prep work of deciding what to cook, gathering ingredients at the grocery store, figuring out portion sizes, and delivers you a box full of fresh ingredients to make dinner.
How it works:
Choose your meals by the Wednesday the week before you want your meals shipped. Every week there are new delicious recipes for you to chose from.
Place you order online.
When your meals arrive all the ingredients for each meal are found in their own separate bag. The meats (they also have vegetarian options) are located on the frozen side of the cooler box while the fresh fruits, veggies, and spices are found on the cool side of the cooler.
Toss each bag in the fridge along with all the meats.
Each night pull out one bag and follow the directions on the recipe card to make a simple meal in just minutes.
I love that there's no searching for ingredients because they have EVERYTHING there! If the recipe calls for balsamic vinegar then there is a tiny bottle of balsamic vinegar in your baggie. If the recipe needs honey then there's a tiny jar of honey in the bag. Hello Fresh makes sure that you have every ingredient and just the right amount so there's no waste.
Cooking with Kids: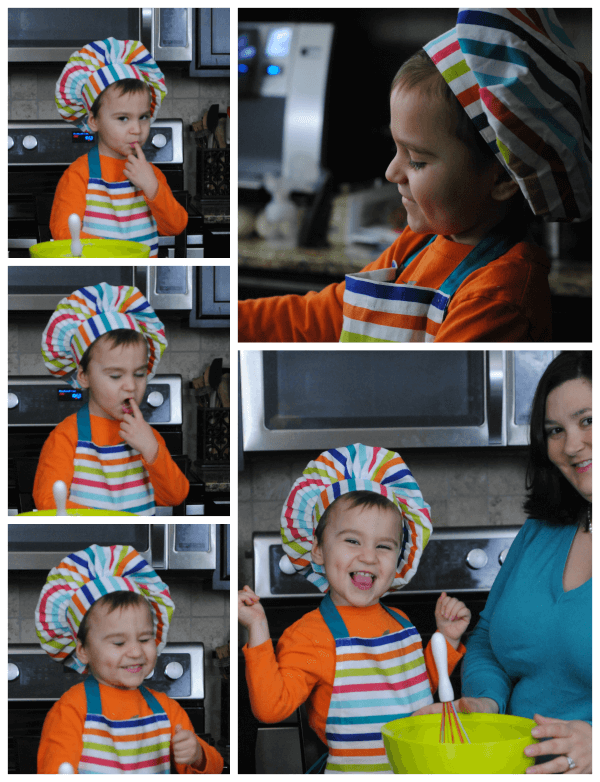 This is a great program for getting kids in the kitchen! You guys know that I love bringing Little Man into the kitchen to help out (it's so rewarding and is a great bonding experience). Whenever a new box arrives he's at the door jumping for joy to see what goodies we have in it to make….oh yeah, he now recognizes the white and brown boxes! He'll watch the UPS man pull the box out of the truck and start yelling "Mommy, our dinner box is here, we can make dinner now!!!" It's so adorable! Although, UPS usually delivers around 11am so I have to explain to Little Man that we have to wait until dinner time…..the concept of time isn't really all that relevant to a 3 year old's world.
Anyway, we'll unload our box and talk about what each item is and how delicious it's going to taste. Then we decide which meal to make for dinner. Since all the ingredients are already in the bag there's no prep work for me to do to get ready to cook with Little Man….we can get right to it….which saves a ton of time!
By getting him involved in the cooking process I've opened his eyes to so many new and delicious foods. It's amazing the change that it's made from taking him from a super picky eater to trying everything because HE helped make it.
I was really impressed with all of the meals that we received. The ingredients truly were FRESH and perfectly ripe. Everything was packaged securely and kept at the correct temperature for shipping. Hello Fresh meals are the perfect way to keep summer social because these meals save you so much time in planning and prep work.
Some of the amazing meals that I got to try were:
Seared Steak and Crispy Potato Salad with Tomatoes, Green Beans, and Shallot Pan-Sauce
Coconut & Macadamia-Crusted Tilapia with Zucchini, Red Bell Pepper, and Cilantro-Lime Forbidden Rice
Warm Spinach & Spicy Chorizo Salad with Blistered Tomatoes and Feta-Crusted Corn on the Cob
Garlic Lime Chicken with Avocado Salsa Verde and Spiced Honey-Butter Corn:
Peruvian Shrimp Ceviche Tacos with Pico de Gallo and Avocado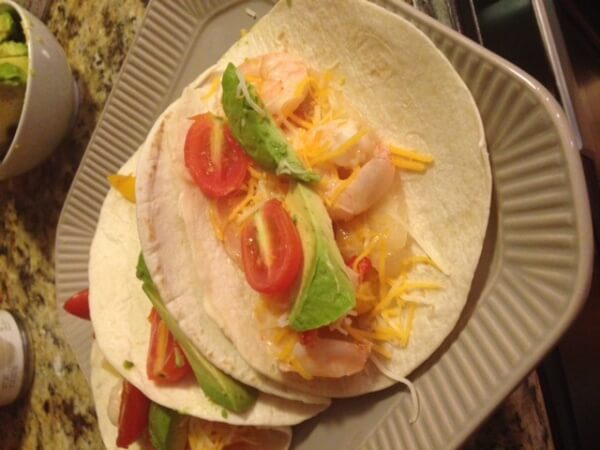 Pan-Seared Pork Chops with Pineapple-Serrano Relish and Spicy Cheddar Grits
Right NOW through 8/31/15 you can save 40% off your first Hello Fresh box by clicking one of the links above or using code 40SYS.
Take a look at the Hello Fresh site and tell me which meal you would love to try! Share in the comments below!