Quinoa is considered a super food and when cooked properly it's super delicious. I have a new found love for quinoa so I've rounded up some healthy and simple quinoa recipes that your family is sure to love!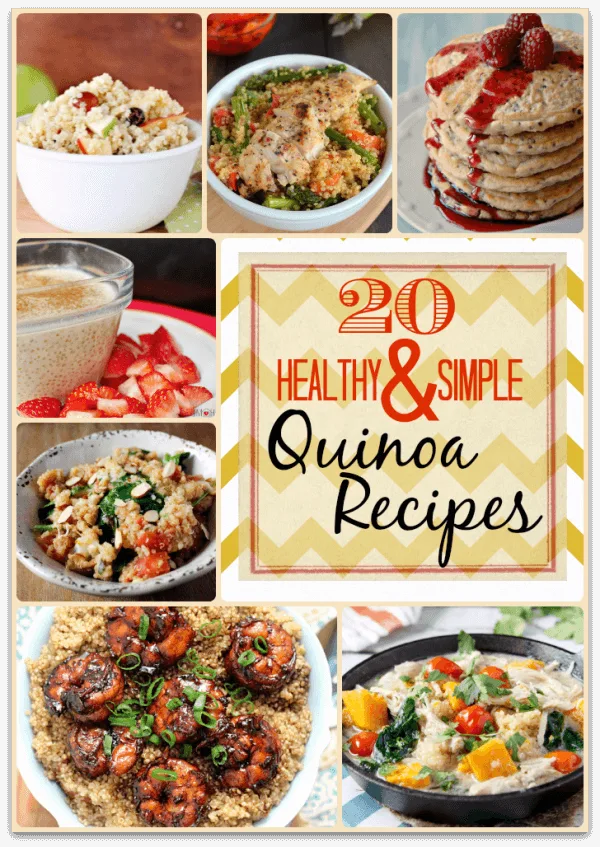 Healthy and Simple Quinoa Recipes
Last week I shared with you my new obsession with quinoa. I know, I'm a little late to jump on the quinoa band wagon…truth be told I was holding out and refusing to jump onto the most current food fad. I really thought that quinoa was going to taste like cardboard and would fade out as quickly as it jumped on the foodie scene. But, Hubs and I tried quinoa for the first time a few weeks ago and we were shocked….when cooked properly it tastes really good!
The key to cooking quinoa is making sure that you don't overcook it and turn it into mush. Plus, you have to pair it with the right flavors to give it the kick it needs. If you've never had quinoa and are just starting out, like us, it's got a great earthy nutty taste. The easiest way I have found to cook it is in my Garlic Parmesan Simple Quinoa Recipe— it's quick, simple, and the flavors are delicious…it's pretty fool proof.
So, in my new love of quinoa I've compiled a list of healthy and simple quinoa recipes….I hope you enjoy them!
Serendipity and Spice- Roasted Garlic Parmesan Simple Quinoa Recipe
Chocolate Covered Katie – Quinoa Pizza Bites
Sweet Little Kitchen – Cheesy Quinoa and Spinach Bake
Shared Appetite – Slow Cooker Thai Chicken and Coconut Quinoa Stew
Jo Cooks – Chicken Enchilada Quinoa Bake
Southern in Law – Roasted Pumpkin and Feta Quinoa
Southern in Law – Cheesy Quinoa Stuffed Portobello Mushrooms
Recipe Girl – Roasted Vegetable Quinoa
The Girl Who Ate Everything – Slow Cooker Quinoa Chicken Chili
Love Bakes Good Cakes – Fruit and Almond Quinoa with Apple Vinaigrette
Carolyn's Homework – Quinoa Pilaf
The Kitchen McCabe – Red Quinoa Pancakes
Eat Drink Love – Honey Lime Chicken Bowls
Inside Bru Crew Life – Roasted Red Pepper Asparagus Quinoa
Five Heart Home – Quinoa Pudding with Coconut Milk and Maple Syrup
Julie's Eats and Treats – Zesty Sriracha Shrimp Quinoa
Alida's Kitchen – Jalapeno Popper Quinoa Bites
The Wholesome Dish – Quinoa Crust Pizza
Wonky Wonderful – Gluten-Free Quinoa Pizza Bites
Eat Good 4 Life – Broccoli Quinoa Casserole
Damn Delicious – One Pan Mexican Quinoa
Have you jumped on the quinoa bandwagon yet? What's your favorite way to make quinoa? Share in the comments below.
Here is my favorite new cookbook this month….it's 75 Tried and True Freezer Meals from Six Sisters Stuff….I'm always looking for super simple recipes and this cookbook is packed full of them! It's only 4.99 and worth every penny!!